Podcast: Play in new window | Download
Subscribe: RSS
Over Labor Day weekend, LIV Golf had the professional golf stage all to itself with its golf tournament being held in Boston.  One week earlier, the PGA Tour season came to a close in Atlanta as Rory McIlroy backed-up the Brinks truck to claim his $18 million first place check at the Tour Championship.
With the PGA Tour taking a pause over the Labor Day weekend, the upstart LIV Golf group had a great chance to reach interested golf fans at home via television.
That is, assuming you could find them.

Though the 48 golfers competing in the new LIV Golf tournaments are being compensated beyond their wildest dreams, home television viewers aren't so lucky.   For this inaugural season, the men's golf events are only available on either the LIVGolf.com website or via their dedicated You Tube Channel.
FIRE UP THE COMPUTER!  I'M WATCHING SOME LIV GOLF!
I brokered a deal to bring my wife's laptop into the living room on Saturday and Sunday afternoon.  I watched the LIV Golf Boston tournament on her computer while keeping tabs on the opening weekend of the college football season on our living room television.   In return, she had the use of the living room both nights to watch old movies while I retreated back to my "Man Cave" to watch more college football.
It was definitely worth the effort – especially during Sunday's final round.
The LIV Golf Boston event delivered an exciting finale which featuring a three-man playoff.  As the sun was slowly setting in New England, Dustin Johnson rolled in a 35-foot eagle putt on the first hole to win the tournament's $4 million first prize.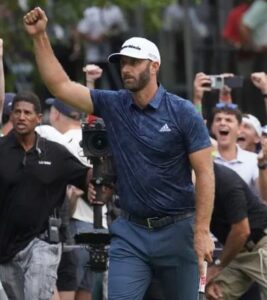 DJ was part of the winning team called the "4 Aces GC" with teammates Patrick Reed, Talor Gooch, and Pat Perez.  Each of those four players pocketed an additional $750,000 as part of the winning team which finished 32-under par for the 54-hole event.   The 4 Aces GC team has captured three of the first four team events on the LIV Golf tour this year.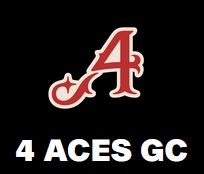 Perhaps the Feds should try to break-up this money making golf monopoly!
Apparently, I wasn't the only one who discovered LIV Golf over the Labor Day weekend, either.  Though I have yet to read an official estimate of total television viewership, the You Tube channel indicated that nearly 900,000 people watched the final round from Boston Sunday.
You Tube regulars may scoff at "only" receiving 900,000 views.  I'm pretty sure my son and daughter-in-law would tell me that their favorite movie reviewer or home cooking star racks up at least that many views in an average You Tube week.

I watched the coverage last weekend on the LIV Golf website.   Though I have been unable to find any published reports about the viewership, I'll guess that the LIV Golf website probably had a similar amount of internet viewing traffic as You Tube.
To put Sunday's LIV Golf viewership into better perspective, the PGA Tour's final round of the Tour Championship the previous week had about 3.6 million viewers.  As a reminder, the PGA Tour's television coverage aired nationally on NBC and Golf Channel (also owned by NBC).
In golf vernacular, the PGA Tour's television coverage has to "spot" the internet-only LIV Golf coverage at a full 36 handicap (two shots per hole) advantage.
In other words, you really have to be motivated to find and watch LIV Golf on television.  Once you find it, it doesn't take long to notice some positive features in the TV coverage.
From the kitchen, my lovely wife immediately chimed in Saturday and asked, "Is that David Feherty on the coverage?"  Indeed, it was!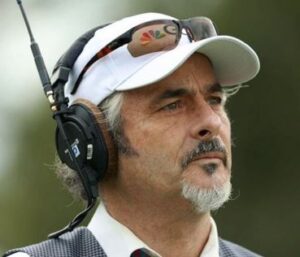 David Feherty was a long-time European Tour golfer who was talented enough to have played in one Ryder Cup event during his professional career.  He has become better known as a non-traditional golf analyst on weekly network telecasts.  Always quite observant and often funny, Feherty quickly became a fan favorite over the past 25 years while working for CBS Sports and, later, for Golf Channel/NBC.
HERE COMES THAT "M" WORD AGAIN…
Like so many of the golfers who have bailed out of the PGA Tour to come to LIV Golf, David Feherty was offered a sizable sum of money to jump ship.  When recently asked about leaving NBC for LIV Golf, the affable Feherty provided a very honest answer.
"Money," he said.  "People don't talk about it. I hear, 'Well, it's to grow the game'. BS – they paid me a lot of money."
Those of us who appreciate Feherty's knowledge and wonderful wit are getting a full dose of it on the LIV Golf coverage.  He is now the lead voice heard on the new tour's telecasts.  That's quite an improvement from his former days being relegated to a walking on-course reporter or stuck on a TV tower overlooking the green for CBS and NBC.
"It's an opportunity to be myself again," Feherty said. "It's become more and more difficult, especially in sports broadcasting, to have any kind of character. Charles Barkley can say pretty much anything he wants, because it's, 'Oh, that's just Charles.' And it is just Charles. But I have become more and more guarded over the last few years.
He continued, "Our lives are being shaped by small groups of mean-spirited people who have no sense of humor. We're in danger of losing our national sense of humor because of this."
In addition to David Feherty's easy going Northern Ireland banter, the LIV Golf television graphics are fascinating to watch.   The left portion of your TV screen features the leaders and, on a rotating basis, the LIV 4-man team scores are shown, too.  There is also a countdown clock at the upper left hand side of the screen indicating how many holes are left to be played that day.
The graphics are in color and do not detract attention away from the golf being played at the moment.   It's definitely an improvement over traditional network television coverage.
The established PGA Tour is taking note.  Let's see how long it takes for an improved on-screen graphics package to appear on the CBS and Golf Channel/NBC coverage of the PGA Tour.
DON'T BLINK!
Another major improvement in the television coverage for LIV Golf is one which is likely change eventually.  At the moment, there are no commercials to interrupt the television coverage for LIV Golf.  Enjoy it while you can!
LIV Golf features a shotgun start which places the 48 golfers (16 groups of three) at 16 different holes to start play.  It's just like a corporate "scramble" outing.  This eliminates any advantage that a morning tee-time golfer had over the guy who may have played in the afternoon in 30 MPH winds.
The televised golf coverage is also shorter.  Five hours (though still a bit too long) is the norm.
As part of its TV production, LIV Golf provides frequent updates on the other players around the golf course.  Every ten minutes, a graphic will appear saying, "Don't Blink!" as the production team rolls a minute of recent highlights from around the golf course.  You'll see a montage showing long birdie putts or other exceptional shots.  You see a lot of golfers in this manner.
Though the PGA Tour won't admit it, LIV Golf has brought some much needed competition.
On the other hand, it's easier to look good when you have a seemingly endless supply of money.
I have previously stated that LIV Golf is destined to become the biggest money loser in the history of professional sports.  However, the innovation has been quite fun to observe.
THERE'S NO "I" IN TEAM
Here's another example.  Pro golfers on the PGA Tour who start their final round near the bottom of the field don't see a lot of difference in their paycheck whether they shoot a good score on Sunday or a mediocre final round score.
In the 2021 Houston Open, a golfer who finished in 50th place (Brice Garnett) shot a final round 68 to earn $18,638 for the week.  Henrik Nordlander finished in 67th (last place) after posting a final round 78 and still won $15,825.   A $3,000 difference is significant.  It just isn't much of an incentive for the bottom-of-the-field PGA golfers to perform their best on Sunday prior to leaving town.
In contrast, the LIV Golf team competition encourages the golfers near the bottom of the field to post a good score to help their team win extra money.  The individual golfer's daily score matters as part of the team score and the bonus money paid after the competition concludes.
Though 52-year old Phil Mickelson (LIV Golf's $200 million man) has struggled to break par in most rounds during 2022, his daily score means something to his team (Hy Flyers GC) every round.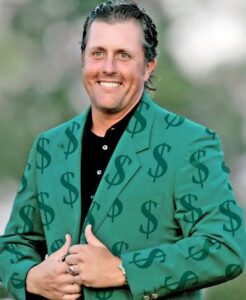 The LIV Golf team competition is keeping the golfers and fans engaged every day.  Instead of the golfer quickly heading to the rental car after signing his scorecard, they are sticking around to congratulate or console their teammates afterward.
It's a bit like watching a college golf team compete in an important match.  They encourage each other on the golf course.
Though many detractors will continue to point a finger at the financial source of the LIV Tour's deep pockets (Saudi Arabia financing), let's give some credit to LIV Golf's remarkable rise in less than six months.
In February, 2022, the LIV Golf Tour had no star golfers signed-up yet.  By late summer, the PGA Tour was suddenly making some quite significant changes which will financially benefit the golfers of the PGA Tour.
Who would have guessed that Phil Mickelson, Dustin Johnson, Bryson DeChambeau, Brooks Koepka, and the #2-ranked player in the world, Cameron Smith, would have left the PGA Tour to join this brand new venture?
If someone offered you a life-changing guaranteed signing bonus to come to work for them, most people I know would at least politely listen to the sales pitch before making a final decision.
The next 54-hole LIV (which is "54" in Roman numerals) golf event is coming to the Chicago area on the weekend of September 16-18.  The PGA Tour had hosted the Western Open (which later became the BMW Championship) golf tournament in Chicago for over one hundred years.
Not anymore.  Chicago has been pushed off the PGA Tour schedule since 2020 and isn't on the 2023 schedule, either.  Expect thousands of enthusiastic golf fans to support next week's LIV event in the Windy City.
If you want to watch LIV Golf events from home, just make sure your internet connection is working.

And, whatever you do, don't blink!