Podcast: Play in new window | Download
Subscribe: RSS
Just four years ago, the hearty fans of the University of Nebraska were so thrilled about their new head football coach that they sold-out 86,000 seat Memorial Stadium for a football game in just 90 minutes after the tickets were put on sale.
This wasn't for a game against a national power such as Ohio State.  Those tickets were sold for the school's annual spring intrasquad football game!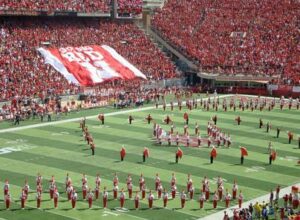 After Nebraska had completed a disappointing 4-8 season in 2016, the school's new head football coach was coming back home after leading the University of Central Florida to a perfect 13-0 season.
Scott Frost, the former Cornhusker quarterback on the school's last national championship team in 1997, was returning to Lincoln.  Nebraska fans could feel the magic again.  Scott Frost's previous coaching job at the University of Central Florida resulted in a miraculous turnaround.
Most people (including me) figured that Scott Frost was the perfect hire to do the same for Nebraska.
Frost was a tough and focused college football player at Nebraska.  Over the years, he morphed into a steely-eyed, determined college football coach whose ability to recruit and motivate his players helped lead UCF to its perfect 13-0 season in 2017.
Though UCF was left out of the four-team College Football Playoffs, Coach Frost and the university declared themselves to be National Champions anyway.  The UCF football stadium still has the "2017 National Champions" sign along the side of the press box today.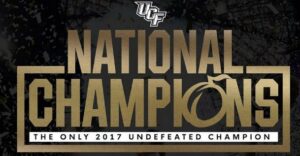 Scott Frost's alma mater beckoned.  Nebraska offered their former quarterback-turned-coach a generous 7-year, $35 million contract to come home and help to remake Big Red football into a national power once again.
Hope for the football program soared higher than the corn in the Midwest.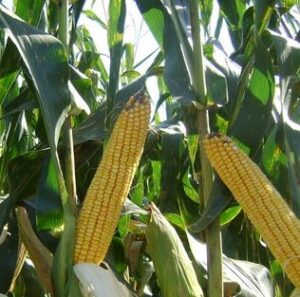 Nebraska football simply wasn't used to having losing teams.  In the thirty-year span from 1968 through 1998, the Nebraska Cornhuskers never lost more than four games in a single season.
In the last 17 years between 2004 and 2021, Big Red has lost at least four football games in each and every season.
Husker Nation's grain elevator dropped from a fully-loaded silo to a nearly empty ground floor during the past decade.
The University of Nebraska football fans are the envy of nearly every college football athletics director.
OH YES, THEY CALL IT "THE STREAK!"
The Huskers own the longest home field sellout streak in NCAA history.  We're talking about 385 consecutive sellouts at Nebraska home games.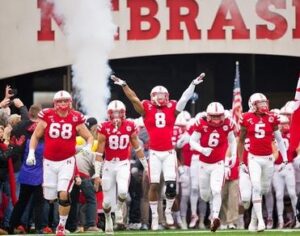 Yes, the football team has sold out 86,000 seat Memorial Field for every home game since 1962.  Nebraska's streak is now at 60 years and counting.  It is a huge source of pride for the school and its football fans.
Nebraska's home sellout streak began under President Kennedy and has stretched through the presidencies of Johnson, Nixon, Ford, Carter, Reagan, Bush, Clinton, George W. Bush, Obama, Trump and now Biden.
That streak has also covered the Nebraska coaching tenures of Bob Devaney, Tom Osborne, Frank Solich, Bill Callahan, Bo Pelini, Mike Riley, and now Scott Frost.  The current Director of Athletics Trev Alberts is also a former Nebraska football player.  He is quite aware of "The Streak" as it began long before his football career ended in the early 1990's.
Two months ago, Trev Alberts mentioned the pressure of maintaining the school's legendary sellout streak:
"It doesn't stress me out.  Because I will tell you, as I mentioned before, sitting in the Big Ten Athletic Director meetings yesterday, every one of the ADs talks about our fan base, how incredible our fans are and that experience when we go to Memorial Stadium, so it's really important to us."
Indeed it is!
In addition to being the most loyal and patient fans in college football, the Nebraska football supporters may be the most polite, too.
They are well known for sharing food and pregame beverages with visiting fans.  They proudly say, "Good luck on the game today" to tailgating visitors prior to kickoff.  After the game ends, the sellout crowd (which always stays to the end) cheers for the opposing team (yes, even the many teams which have beaten Nebraska in recent years) as they exit the field of play once the game ends.
Husker Nation is very proud of its game day traditions.
The fabled football program is large, loud, faithful, respectful of opponents, and, yes, quite proud.  When the Big Red band plays "There is No Place Like Nebraska", Cornhusker fans sing the song and really mean it.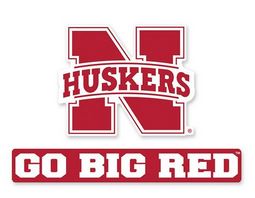 After Scott Frost was hired to become the latest football coach four years ago, the school's fans have been forced to learn another word.  Patience.
Though Nebraska's loyal football supporters continued to fill the 86,000 seat Memorial Stadium for every home game in hopes of finally seeing Coach Scott Frost return the football team into a winner, it simply didn't happen.
Four consecutive losing seasons ensued after Scott Frost came home trying to revive the football program of his alma mater.  Beginning in 2018, Nebraska has posted records of 4-8, 5-7, 3-5, and 3-9 in 2021.
After Saturday's ugly loss to Georgia Southern, the Huskers are off to a woeful 1-2 start in 2022.
BUM PHILLIPS FAMOUSLY SAID, "THERE'S TWO KINDS OF COACHES…"
Scott Frost already knew that he was on the hottest of football coaching hot seats starting this season.  His football contract called for him to be paid $15 million (three years of pay) if he was terminated prior to October 1, 2022.  After that, the amount dropped in half to $7.5 million.
After Saturday night's nationally televised 45-42 loss in the final seconds to Georgia Southern of the Sunbelt Conference (a team which was 3-9 last season), Nebraska's Director of Athletics had seen enough.  Having one former Nebraska football legend (AD Trev Alberts) fire another former Nebraska football legend (Coach Scott Frost) must have been a difficult conversation.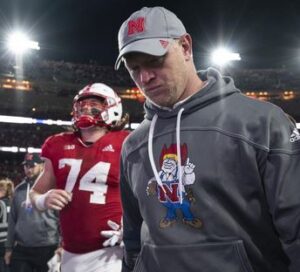 It was also quite expensive.
Why would the school decide to hand its former football coach $15 million today instead of simply waiting for three more weeks (October 1) and then pay the departing coach $7.5 million to hit the bricks?
It's all about the optics.  Nebraska is going to openly advertising its coaching vacancy on national television this weekend.
On Saturday, Nebraska will host the University of Oklahoma.  When these two schools were playing in the same conference (the Big 12 and its predecessor, the Big Eight), Nebraska versus OU during November was considered must-see television for most college football fans around the nation.
Nebraska and OU played football against each other every season (including during World War II) from 1921 through 1997 (the year of Nebraska's last national championship).
In the eyes of Husker Nation, last weekend's loss to lowly Georgia Southern was finally the proverbial last straw.   When Oklahoma comes into Lincoln this Saturday to renew a long-time rivalry, it will be interim coach Mickey Joseph (who was LSU's wide receivers coach under Ed Orgeron) at the helm of the Big Red football team.
Though Nebraska may have the classiest fans in major college football, the school did not want to tarnish its image on national television this weekend.  It's quite possible that the stadium would have been filled with "Fire Frost" signs featured during Saturday's telecast (11AM on Fox).
In order to avoid the potential for ugly optics at the game this Saturday, the school apparently felt like it was worth paying Coach Scott Frost that extra $7.5 million due if he was fired prior to October 1.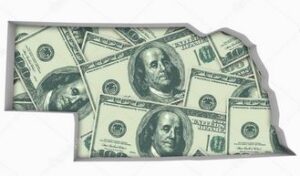 My logical side wants to know why Nebraska's AD didn't hold a press conference on Monday to announce that Scott Frost will be terminated at or before the end of this season.   Everyone (the coaching staff, the players, and the fans) deserved to know that a change is coming for next season.
That would have solved the "optics" problem for this Saturday's game against OU and avoided paying so much unearned money to the departing football coach.
Is the team really going to perform any better by promoting an assistant coach to run the squad through the end of the year?  Or, is does it just look too "cheap" to tell the fans of the program that you are saving $7.5 million by asking the current coach to continue doing his job for the entire football season?
Given that we are talking about Nebraska (the most polite major college football program in America), I believe that Big Red fans would have continued to support the team for the remainder of this football season.  They might have even appreciated the candor of the Director of Athletics for saving the program $7.5 million toward the next football coach.
WHO'S NEXT?
The rumor mill is already running wild with ideas about who will become the next head football coach at Nebraska.   An Omaha newspaper recently speculated about popular coaches such as Baylor's Dave Aranda (I don't see it), Iowa State's Matt Campbell (perhaps), Cincinnati's Luke Fickell (loves Ohio – unlikely to move), Kansas State and former North Dakota State coach Chris Klieman (I'm liking that idea), Kentucky's Mark Stoops (a turnaround specialist but why would he leave the SEC?), and others.
The media is also hyping the name of Urban Meyer.  Yes, the same man who was fired before the end of his first season as the head coach of the Jacksonville Jaguars.   Sure, Meyer had great success as a college head coach at Utah, Florida, and Ohio State, but his candle burns out very quickly.
Hiring Urban Meyer would cost Nebraska a small fortune.  Big Red may love their football, but I can't see them overpaying to make such a risky hire.
Someone who is currently coaching in the Midwest makes the most sense to me.  Nebraska has officially put out the "Help Wanted – Head Football Coach" sign for other coaches to see.
This is a great job for the right fit.  A little more than four years ago, Scott Frost certainly seemed to be the right fit for the University of Nebraska.  This week, Frost exits Lincoln with his $15 million going away present.  Meanwhile, the search for the next new football coach is underway.
Nebraska could become one of the best jobs in America for the right person.  Just in case it isn't, though, the next coach should include a lucrative early termination clause in his contract!