Podcast: Play in new window | Download
Subscribe: RSS
How much longer can you take this, Dallas Cowboys fans?
I have written before about the legendary "Curse of Tom Landry" (the long-time Cowboys coach who was fired in February, 1989 by the team's new owner – Jerry Jones).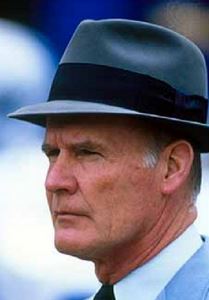 Perhaps it is possible that there may be some truth about this alleged curse.
Ever since the beloved Tom Landry passed away in February, 2000, the Dallas Cowboys have not appeared in the NFC Championship game or the Super Bowl.
During the first thirty years of the Super Bowl era, the Dallas Cowboys appeared eight times between 1966 and 1995.  After going 5-3 in those season finales, Dallas hasn't come close to appearing in the big game since the year 1995.
That streak is now at 26 years, and the outlook for 2022 in Dallas is looking bleaker by the day.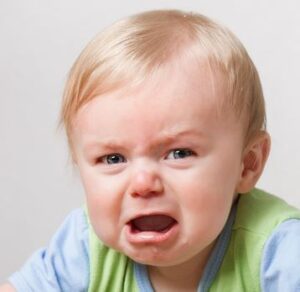 After the Dallas Cowboys opening game 19-3 home loss to Tampa Bay last Sunday, it's nearly a guarantee that "The Streak" will reach 27 years by this season's end.
Some of my long-time Dallas Cowboys friends firmly believe that the real problem in Dallas has been the team's overconfident, micromanaging and perpetually meddling owner, Jerry Jones.  Ol' JJ and his family firmly control and run the Dallas Cowboys organization.
If the former Arkansas Razorback football player was simply an employee, Jerry Jones (and his family) would have been fired years ago and sent back to Fort Smith to operate the family's oil interests.
Millions of Dallas Cowboys fans would be thrilled to help him transition back to the oil patch.
Last year, the Dallas Cowboys actually had their fans excited in going 12-5 during the regular season and qualifying for the NFC playoffs.  Of course, Dallas (at home) lost to San Francisco in the first round to end the season and extend the curse.
True blue Dallas Cowboys fans are incredibly loyal to this football team.
Every year for the past few decades, the team's devoted fans remind me of Charlie Brown as he tries to kick that football.  Then Lucy (played by Jerry Jones) pulls the ball away from Chuck at the last minute.
Cowboys fans keep buying those tickets and supporting their favorite team, but the Jones family's combination of management ineptness and buzzard luck compounds the problems.
Here's a good example.
You would think that the ownership of an NFL team which went 12-5 last season would know that they were finally getting close to making a championship run.  By adding a few key pieces here and there, perhaps 2022 might be the season when the Dallas Cowboys would finally get a chance to play in the NFC Championship game and, perhaps, the Super Bowl.
Entering this season, the Dallas Cowboys were expected to rise to the top of the NFC East.  Playing in a perennially weak division featuring the morbid New York Giants (one winning season in past nine years) and awful Washington Football Team (five straight losing seasons), the Dallas Cowboys' only legitimate threat in 2022 was expected to come from those pesky Philadelphia Eagles.
Instead of adding a few major personnel upgrades to the football team in 2022, the Dallas Cowboys management (the Jones family) sent the team's top wide receiver for the past few years (Amari Cooper) to the Cleveland Browns.
Despite his impressive recent receiving totals, the 28-year old Cooper's contract was costing Dallas $20 million per season.  When added to the money paid to starting quarterback Dak Prescott ($40 million/year) and running back Ezekiel Elliott ($18 million), the Dallas Cowboys were paying nearly 40% of the team's salaries to just three of the 53 players on the current roster.
Who do you think agreed to pay those players all of that money?  Yep, the Bank of Jerry Jones.
Dallas received only a fifth round draft pick from Cleveland in the trade for Amari Cooper.  So, what did the Cowboys do to replace their #1 receiver?
Not very much.
Dallas signed former Pittsburgh Steelers wide receiver James Washington as a free agent.  Ol' JJ inked this former Oklahoma State Cowboys wide receiver at a bargain basement cost of $1.1 million for one year.
James Washington started 25 of his 60 games for the Steelers from 2018-2021, but his receiving and touchdown totals were less than stellar.  Unlike Dallas, the Steelers seem to draft and develop a few talented wide receivers every year.  James Washington had become expendable.
Even if James Washington might be able to help the Cowboys, Dallas fans will have to wait for another two months to see him play.  The wide receiver fractured a bone in his foot during preseason and has been placed on the injured-reserve list to start the regular season.  Ouch.
Then there's the story of wide receiver Michael Gallup.  The Cowboys' former third round draft pick suffered a torn ACL (knee injury) during last year's playoff loss to San Francisco.  Gallup had knee surgery in February.
Just one month after Gallup's surgery, Dallas Cowboys owner Jerry Jones gave the wide receiver a 5-year, $62.5 million contract extension.  Jones did this without any knowledge of how well Michael Gallup's knee would respond after surgery.
Gallup did not play in the preseason.  He has been making slow progress.  The latest word indicates that Gallup may (perhaps) return to the Dallas line-up in Week #3.
Dallas Cowboys owner (and self-declared chief medical officer) Jerry Jones recently offered a few comments about Michael Gallup's knee during his weekly radio show prior to the team's first regular season game against Tampa Bay: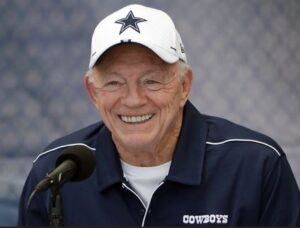 "If this were the Super Bowl, Gallup would be lining up and playing, If Tampa were the Super Bowl, he would be lining up and playing. And, so, we're going to be cautious — not cautious, but conservative — with him. He won't be out there against Tampa, but if it were the Super Bowl, he would be out there. He's that ready."
Yeah, right.
Financially speaking, Dallas saved $20 million by sending Amari Cooper (the team's top receiver) to Cleveland.  However, the Cowboys upped the salary of Michael Gallup, the team's second-best receiver, to nearly $13 million per season and replaced Amari Cooper with Pittsburgh Steelers cast-off James Washington for $1.1 million per year.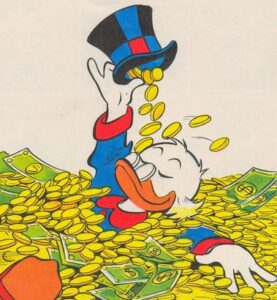 Congratulations, Jerry!  You saved yourself $6 million this year.
However, there is no question that the team's wide receiving group is weaker than it was just a year ago.  Is this what savvy owners do to help their team to win the NFC Championship this year?
The Jones management team expected that their 2020 first round pick, CeeDee Lamb (who makes $3.5 million) would continue to make additional progress toward becoming an elite NFL receiver in 2022.
Unfortunately for Dallas Cowboys fans, NFL teams are now targeting CeeDee Lamb as the new #1 receiver (instead of the departed Amari Cooper).  CeeDee may be speedy, but he is now seeing more double-teams than he did during his first two NFL seasons.  Uh-oh.
During Dallas' Week 1 loss at home against Tampa Bay on Sunday night, Lamb caught just two passes for a measly 29 yards.
Compounding the offensive woes for the Dallas Cowboys, quarterback Dak Prescott suffered a fractured right thumb on his throwing hand during the fourth quarter of Sunday night's loss to Tampa Bay.   Prescott has undergone stabilization surgery this week.  He now hopes to be available to play again in about four weeks.
Dak Prescott wasn't exactly shredding Tampa Bay's defense prior to his injury, though.  He completed 14 of 29 passes for just 134 yards with no touchdowns and one interception in a 19-3 home loss to the Buccaneers.   Prescott's quarterback rating of 47.2 was #32 (out of 32 starting quarterbacks in the NFL) after Week 1.
Nobody twisted Jerry Jones' arm to give Dak Prescott (a fourth round draft pick in 2016) a new $40 million per year contract last season.
The Cowboys running game (aka Ezekiel Elliott) was not much better.  Zeke carried the ball ten times and gained 52 yards for the night.   After Dallas took a 3- 0 lead in the first quarter, the team's offense sputtered for the remainder of the game.
Looking ahead, the Dallas Cowboys (0-1) will host the defending AFC champion Cincinnati Bengals this Sunday at 3:25 PM on CBS.   Quarterback Joe Burrow will lead the 0-1 Bengals into town looking to get on the winning track once again.
The hometown Cowboys will be quarterbacked by…Cooper Rush?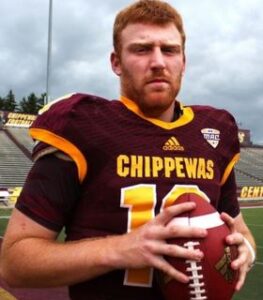 Cooper Rush had a solid college football career at Central Michigan, but he went undrafted in 2017.  The Cowboys signed Cooper Rush to the roster, and he has been a back-up quarterback ever since.  Rush was cut by the Cowboys at the end of this year's preseason, but Dallas immediately reclaimed for the practice squad.
Translated – the other 31 NFL teams didn't want to sign Cooper Rush, either.
On Sunday, a 5-year veteran clipboard holder for the Dallas Cowboys will be the starting quarterback.   Cooper Rush will be taking snaps without having wide receivers Michael Gallup and James Washington available.  Yikes.
After Dallas hosts Cincinnati, the Cowboys travel to New York to play the Giants, return home to play Washington, visit the Super Bowl champion Los Angeles Rams, and then travel to Philly to play the Eagles.
By that point in the season, the Dallas Cowboys will probably be no better than 2-4 in mid-October.  Perhaps quarterback Dak Prescott and wide receivers Michael Gallup and James Washington may have returned to the line-up.
The remaining schedule for Dallas after week 6 doesn't look intimidating.
Other than back-to-back road trips to play at Green Bay and at Minnesota in November, the Cowboys will play traditionally weak teams such as Detroit, Chicago, Houston, and Jacksonville in addition to the relatively benign trio of NFC East opponents.
Though things may look bleak today for the Dallas Cowboys, there remains a chance that this team (barring new injuries) could make a late season recovery to finish at 9-8 or better.
There is also a chance that the Dallas Cowboys' season is about to implode, and they may become one of those awful teams vying for the first pick in next spring's NFL draft.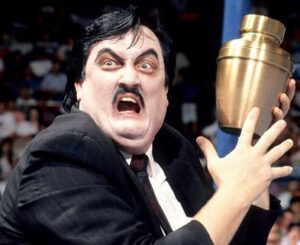 Sadly for Dallas Cowboys fans, there remains just one certainty.  Jerry Jones and family will still be running the NFL franchise.
Until someone hands ol' JJ a hefty check for about $7 billion to purchase the team, Dallas Cowboys fans are going to remain stuck with an attention-seeking ringmaster of his very own circus.
The Curse of Tom Landry continues!