Podcast: Play in new window | Download
Subscribe: RSS
No, it isn't college basketball season already.  It's just been a long time since the college football programs of the Duke Blue Devils or the Kansas Jayhawks have mattered very much.
This Saturday at 11AM on FS1, these two well-known basketball schools will have their under-appreciated 3-0 college football teams on display and competing in Lawrence, Kansas.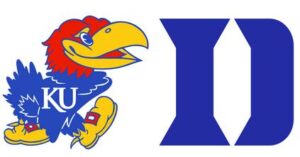 Prior to the start of the 2022 college football season, the hearty fans of both universities had good reason to be wary.  It's been a long time since either Duke or Kansas football had been very good.
From 1995 through 2007, Duke's football team was horrible.  The Blue Devils won 22 games and lost 117.
Coach David Cutcliffe arrived in Durham in 2007.  During his 14 years leading the Blue Devils football program, the Duke football team significantly improved.  Duke appeared in six bowl games over a seven season span between 2012 and 2018.
Alas, all good things come to an end.
The Dukees have not been to a bowl game since the 2018 team visited Shreveport to grab a 56-27 victory over Temple in the Independence Bowl.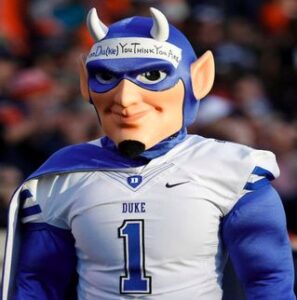 Over the next three years, Coach David Cutcliffe's Blue Devil football teams finished 5-7, 2-9, and 3-9.  The long-time football coach agreed it was time to step aside after the 2021 season.
Duke's new football coach is Mike Elko.  Coach Elko is 44 years of age, but he has never been a head football coach at the college level before this season.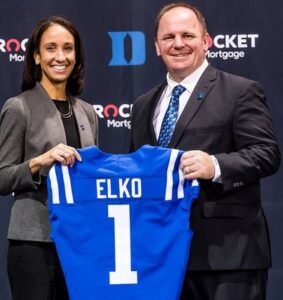 Duke football fans were hoping for improvements, but Coach Elko is exceeding the early expectations.
Mike Elko came to Duke after a long history as an exceptional defensive coordinator at the FCS (small college) and FBS (large school) levels.  His most recent job was the defensive coordinator at Texas A&M where his teams were ranked #9 and #20 in the country during the last two seasons.
Starting the 2022 football season, Coach Mike Elko is a perfect 3-0 as a head coach at Duke.
His Blue Devils have shut-out Temple 30-0, won at Northwestern 31-23, and easily defeated North Carolina A&T 49-20 last weekend.  The team's defense is ranked 23rd nationally.
Duke's football team now travels to Kansas on Saturday for a nationally televised encounter with the equally surprising Kansas Jayhawks.
This football game feels as if we are looking at two teams staring at one another in a mirror.  Neither school could have envisioned such a successful start to their 2022 season.
Kansas is also a surprising 3-0 coming into Saturday's game with Duke.   The football team has outperformed most fans' expectations through its opening three games.
Last Saturday, Kansas fell behind 14-0 at the University of Houston.  By the time the game ended in Houston, it was KU taking home a convincing 48-30 win over the stunned Cougars.
Kansas football is for real in 2022.
Like Duke, Kansas is primarily known as a basketball powerhouse.  The Jayhawks are the current men's basketball champions after winning this spring's Final Four.  The Jayhawks basketball team has spoiled its fans by being a participant in the NCAA March Madness every season since 1989.  That's 33 years and counting.
Success in college football is quite another matter in Lawrence, Kansas.
Over the past 40 seasons, the Kansas Jayhawks football team has played in just six post season bowl games.  The football team hasn't posted a winning record or bowl appearance since 2008.  That's fourteen years for long-suffering KU football fans.
The last Kansas football team to post a winning record was back in 2008 under Coach Mark Mangino.  If his name sounds familiar, it's because Mangino was the last Kansas coach to lead the football team to a few years of national recognition.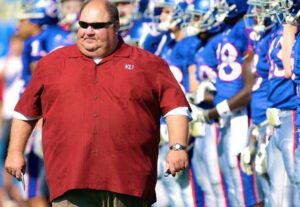 In 2007, the Kansas Jayhawks went 12-1 and won their Orange Bowl match-up against Virginia Tech.  Coach Mark Mangino was later named the AP national "Coach of the Year" for returning Kansas football to relevance.
In the following year, Kansas went 8-5 in 2008 and made another bowl appearance.  The program then fell to 5-7 in 2009.
By 2009, several reports had surfaced accusing head football Coach Mark Mangino, the feisty and rotund gentleman who weighed well over 300 pounds, of being too aggressive at times with some of his football players.  Other reports circulated around the school's campus indicating that Mangino wasn't exactly charming at all times when dealing with other KU campus staffers.
As these reports continued, Kansas University and Mark Mangino reached a mutually agreeable exit agreement as the football coach left following the 2009 football season.
Though Mark Mangino was considered college football's equivalent of "kryptonite" for several years, the fiery coach returned to the sidelines in 2013 as an assistant coach at Youngstown State.  He then moved to Iowa State to become the team's offensive coordinator.  The Cyclones head coach released Mark Mangino during the middle of his second season at Iowa State.  Mangino is now 66 and retired from college coaching.
After Coach Mark Mangino's surprising exit from Kansas, the Jayhawks have fallen on hard times.  KU hired and fired Turner Gill (5-19 in two seasons), Charlie Weiss (6-22 in two+ seasons), and David Beaty (6-42 in four seasons).
In 2019, LSU football fans were surprised to learn that Kansas had hired the Tigers' former head coach Les Miles.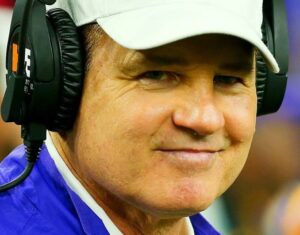 Though Coach Miles led Kansas to an upset victory at Boston College early during his first season as head coach, the team finished 2019 with a disappointing 3-9 record.
It got worse.
Kansas went a winless 0-9 in the COVID-affected 2020 football season.  The KU football team under Les Miles gave up 46 points per game – the worst defense of any major college football team in 2020.  Coach Miles was fired after just two seasons in Lawrence, Kansas.
Beginning in 2021, Kansas hired a new football coach who had recently turned around another underachieving football program.
Lance Leopold had transformed the University of Buffalo Bulls from a perennial loser into a winning program.  In just six seasons, Coach Leopold took the relatively unknown college football team to three straight bowl games and a brief ranking in the AP Top 25.
He didn't come to Kansas as a nationally known college football coach, but Lance Leopold might become one very soon.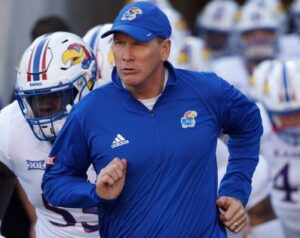 Though Kansas posted a rather dismal 2-10 record in Coach Leopold's first year in 2021, the football team gained a lot of national respect during KU's televised game against #3 Oklahoma.  Kansas jumped out to an early lead and stood toe-to-toe with Oklahoma for three quarters.  Though KU retained a 17-14 lead ending the third quarter, Oklahoma rallied late to post a 35-23 win.
Those of us watching this football game on television saw a Kansas football team which was starting to mature as the players and the electric home crowd captured a glimpse of what the future of Jayhawks football could become.
Wait no more, Kansas football fans!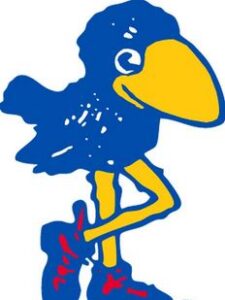 The Jayhawks remain undefeated at 3-0 in the second season of Coach Lance Leopold.  Kansas has won two impressive road games at West Virginia and at the University of Houston as part of their impressive start to the 2022 football season.
The triumphant and unbeaten Kansas Jayhawks are returning home to Lawrence this Saturday to face the equally surprising 3-0 Duke Blue Devils.
The athletics department at Kansas is also thrilled.  KU, which rarely sells-out its home football games, is hoping that this Saturday's game will bring a capacity crowd.
About the only people who aren't excited about this Saturday's match-up are the decision-makers at ESPN.  The network's legendary College Football Game Day program announced they are passing-up a visit to Lawrence on Saturday in favor of covering 3-0 Tennessee vs. 2-1 Florida in Knoxville.
Boo on ESPN!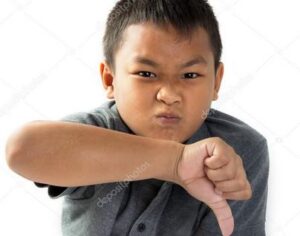 Through the first three games in 2022, the Jayhawks are averaging 53 points per game (yes, the football team).  Unlike so many pass-oriented teams in college football today, KU is doing it the old fashioned way.  The Jayhawks have rushed the football for over 200 yards in each of its three games.  KU ran for a whopping 280 yards during last Saturday's 48-30 shellacking of the University of Houston.
Three weeks into the college football season, who would have expected to see 3-0 Kansas in the Big 12 Conference and 3-0 Duke in the ACC?  This Saturday, these two rising teams will meet on the football field.
These two long-time college basketball rivals have only played football against each other three times.  Duke holds a slim 2-1 advantage in this series.
By Saturday afternoon, one football team will own a 4-0 record.  Football fans of both teams should remain positive as the foundation is being laid for long-term success.
Though legendary basketball announcer Dick Vitale won't be in the broadcast booth for this football match-up of Duke vs. Kansas, these two college basketball powers are "rebounding" in 2022 to inject some much needed energy back into their football programs.
It's gonna be AWESOME, baby!