Podcast: Play in new window | Download
Subscribe: RSS
Within one month of viewing televised college and pro football games, I have noticed that my interest in watching NFL games continues to take a nosedive again this year.
Making time to watch Sunday NFL football games was already on the decline years before the advent of social protests and COVID issues.   Having a nice Sunday afternoon walk with my wife or even raking leaves has been more satisfying than watching the NFL's 10 ½ hours of non-stop televised football games.
Maybe it is the money.  Watching a $40 million/year quarterback hand the ball to an $18 million running back or throwing a pass to his $25 million wide receiver may lessen my personal attachment to the players.
As a big fan of capitalism, I don't begrudge the money being earned by the players.  Perhaps I secretly desire to become a financial advisor and earn a 1% commission for managing the investments of that $40 million quarterback!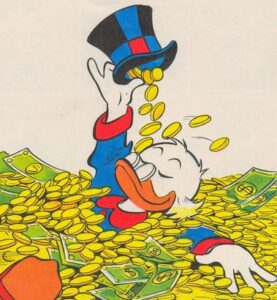 Nah, I'm just kidding.
I would still root for my two black-and-gold teams (the New Orleans Saints and Pittsburgh Steelers) even if the quarterbacks were paid relative peanuts (like in the 1960's and 70's) compared to today's multi-millionaire players.
Growing up in Louisiana in the 1960's, the birth of the New Orleans Saints was cause for celebration.  We would longer would be forced to exclusively watch the Dallas Cowboys (ugh) on our local television station every week.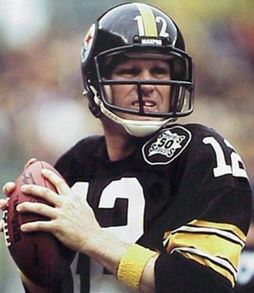 In 1970, Shreveport and Louisiana Tech quarterback Terry Bradshaw was drafted with the first overall pick in the NFL draft by the Pittsburgh Steelers.  If you were a fan of Bradshaw, you immediately became a Pittsburgh Steelers fan.  Taking a "worst-to-first" Steelers team to four Super Bowl victories in the 1970's was special.
The success of the 1970's Steelers helped to offset the dismay of watching our sad sack Saints lose year after year during the same period.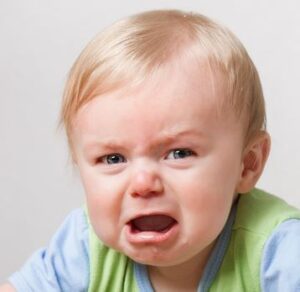 Loyalty to your favorite NFL team is a lot like being married.  To have and to hold, for richer (players) or poorer (retired players), in sickness (the first 25 years of no playoffs Saints) and in health (a 2010 Super Bowl victory where every true WhoDat Saints fan shed tears of joy), 'til death do us part.
OK – I'm not sure about that last part, but I have a lifelong Dallas Cowboys buddy who may, indeed, stick with his beloved team until he's officially expired.
I have a small confession to make, Saints and Steelers.  My personal affections still run deeply.  I am not a flight risk anytime soon, but the thrill is definitely fading with each passing season.
Why is that?
When Joe Burrow led LSU to an incredible 15-0 perfect season two years ago, my interest in LSU football was as keen as when Nick Saban took the 2003 Tigers to their second national championship.
If you thought that the NFL was trying to own your Sunday, what about Saturday's blitz of non-stop college football games?
Every Saturday from 11AM Central until after midnight (13 straight hours), there is one or more college football game available to watch on television.  Every single FBS (major college) football game is being televised by at least one network every week.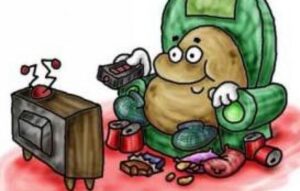 You can find a college football game on ESPN, ESPN2, ESPNU, ESPN3, ESPN+, CBS, CBS Sports Network, FOX, FS1, NBC, SEC Network, Big Ten Network, Pac-12 Network, and the Longhorn Network.  Heck, there's even a college game on the NFL Network this weekend!
There is always the risk that you might watch a potential blowout (such as the SEC's 4-0 powerhouse Alabama traveling to 3-1 Arkansas) for every likely barn-burner (such as a Big 12 match-up featuring 3-1 Iowa State at 4-0 Kansas).  Though I didn't graduate college from any of those four institutions, I still get a chance to take-in the atmosphere of each college home crowd while learning about new players and coaches.
The big downside to "investing" in watching the Saturday college football games is that they have grown far too long.  Due to endless television commercial breaks, a 2 ½ hour college football game in the 1970's has grown to 3 ½ hours or more today.
If you have paid for a ticket to watch a college football game at the stadium, those three and four minute TV commercial delays seem even more unbearable.
In contrast, the NFL has been extremely smart about trying to keep the length of their televised games right at three hours.  On Sunday afternoons, the 12Noon game kicks off at 12:01 and will usually end between 3:00 and 3:10PM.  The doubleheader game usually starts at or before 3:20PM.
I can count on the NFL to deliver the goods within the allotted time window.  If you're watching an SEC college football game on CBS at 2:30PM on Saturday, you can count on those games taking up to four hours due to the excessive number of CBS commercial breaks.
So, why do I prefer to watch the Saturday slate of college football games vs. the NFL games on Sunday?
Unpredictability.
Though the Las Vegas betting experts may feel that that Alabama should prevail (as a 17 ½ point favorite?) over the Arkansas Razorbacks Saturday, there's always the chance that the Woo-Pigs might catch Bama napping and pull the upset, too.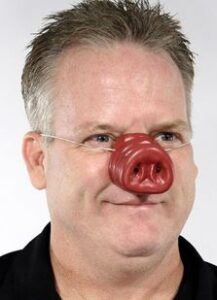 In the NFL, fewer and fewer games are blowouts.  In fact, the majority of NFL games this season have been decided by a touchdown or less every week.
For some NFL teams, simply scoring a single touchdown in a game can be difficult.
This past Sunday night on a clear cool night in Denver, the 2-1 Broncos took an 11-10 win over the 1-2 San Francisco 49ers.  The Broncos became the first NFL team in the past six years to win a football game after punting the ball ten times.   Zzzz.
If you're Broncos fan, you will take an ugly victory.  For the rest of America, that was a downright boring game to watch.
Earlier in the day last Sunday, the New Orleans Saints (who were predicted to be a playoff team) failed to score a single point in the first half of their game at Charlotte against the Panthers.   In fact, the 2022 Saints have scored just one touchdown (total) during the first three quarters of their first three games this year.  Zzzz.
Are the NFL defenses really becoming that good, or are the Saints simply that bad?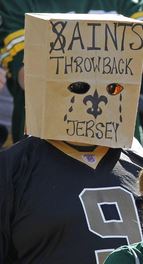 Both statements may be true.
Decades ago, the NFL Commissioner campaigned to make each franchise into a competitive organization.   Parity in the NFL was a quiet goal for the 32-team league.
The NFL draft allows the teams with the worst records in the previous season to select the most talented college football players the next spring.
The league instituted a salary cap system in which most of the NFL teams are spending about the same amount of money for their players.  This year, the league allows teams to spend about $208 million for the 53 players on the active roster.   That works to an average of about $4 million per player.
Some NFL teams (such as Kansas City) will spend a higher percentage of money for players on their offense than their defense.  In San Francisco, the defense commands a higher percentage of the overall payroll.
Then there's the issue of free agency.  After the college football player's rookie NFL contract expires (usually in three to four seasons), the player's agent gets busy to identify another team which is willing to pay more money for the player's services.
Some NFL teams are willing to take bigger risks than others with their free agent spending.
The Denver Broncos gambled and broke the piggy bank to sign former Seattle quarterback Russell Wilson to a new 5-year $242 million deal.  If the Broncos are able to make a Super Bowl run with Russell Wilson at quarterback, then the team's management will look like geniuses.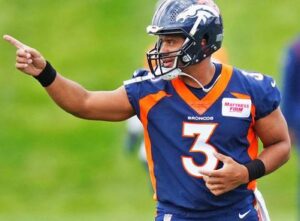 Regardless, Russell Wilson remains a true "quarter" back.  His salary equates to ¼ of the team's total payroll.
Through just the first three games of the 2022 NFL season, there are now just two teams (Miami and Philadelphia) which remain undefeated in a 32-team pro football league.  On the losing side, there are just two teams (Las Vegas and Houston) which remain without a win.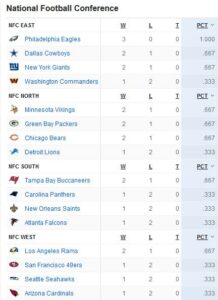 If you were a fan of NFL parity, you should be very happy this season!
The former players on the 1972-73 Miami Dolphins (the last NFL team to go unbeaten and win the Super Bowl) have celebrated every season once the final unbeaten team loses their first game.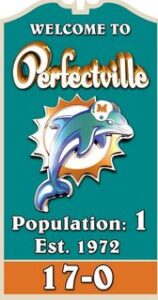 With just two unbeaten teams remaining after three games, this 50th anniversary of the Dolphins' perfect season may find the retired players popping the cork on their bottle of celebratory champagne at the earliest date ever.
Let's take a look at the diverse group of Super Bowl winners over the past decade.
Beginning in the 2012 season, the past ten Super Bowl winners have been the Baltimore Ravens, Seattle Seahawks, New England Patriots, Denver Broncos, New England (2nd time), Philadelphia Eagles, New England (3rd time), Kansas City Chiefs, Tampa Bay Buccaneers, and Los Angeles Rams.
That means eight different NFL franchises have taken home the championship trophy in the past ten seasons.  The AFC has won six times, and the NFC has four.
If you are a big fan of parity, this year's NFL is shaping up just dandy.
Personally, I prefer to see a Godzilla-type of dominant NFL team such as the 1970's Steelers, the early 1990's Dallas Cowboys or the Tom Brady New England Patriots.   I found it more fun to root for (or against) those perennial power teams in the Super Bowl.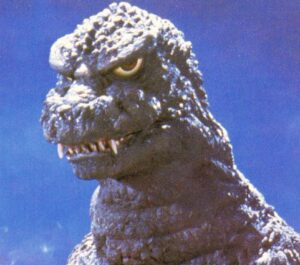 Less than one year ago, the Jacksonville Jaguars won just three games and finished with the worst record in the NFL.
After the third week of this new season, the Jags moved their record to 2-1 with an impressive win over the Los Angeles Chargers.  Meanwhile, last year's AFC champion Cincinnati Bengals had gone 0-2 before winning a game against the New York Jets last Sunday to improve to 1-2.
Jacksonville has moved from worst to first in the AFC South after just three games.  The defending AFC champs in Cincinnati are tied for last place in their division after three games.
What gives?  Parity!  After three games in the 2022 NFL season, parity has been achieved.
So, hold onto your tickets, NFL fans!  With such competitive balance, any team which finishes the 2022 regular season with a record of 9-8 or better may have a chance to make the playoffs.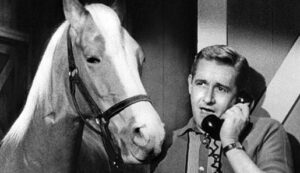 That is, unless your horse is named the Houston Texans.  You have virtually no chance this season, Texans fans.
Isn't parity wonderful?  Boring, but wonderful.