Podcast: Play in new window | Download
Subscribe: RSS
The regular season of the new USFL concluded last weekend with Week 10 action in Birmingham, Alabama.  The eight team spring football league will now begin its four-team playoffs this coming Saturday with all games being played in Canton, Ohio.
The games are reportedly being moved from Birmingham to Canton to accommodate the World soccer tournament.  In Canton, the Tom Benson Hall-of-Fame Stadium will host the USFL's playoff games.  This stadium is used by the NFL for the annual Hall of Fame preseason kick-off game in August.
If you happen to live in the Canton area, the tickets to this weekend's semifinals are just $15 apiece!
Before we preview the USFL's upcoming playoffs, let's cover Week #10's action: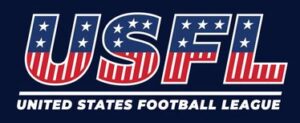 New Jersey Generals 26, Philadelphia Stars 23
USA Network – 239,000 television viewers
In Saturday's early game, the New Jersey Generals ran their record to 9-1 with a narrow 26-23 win over Philadelphia.  The Stars went for a 3-point conversion with less than two minutes left in the fourth quarter to try and tie the game.
Yes, I did say, "3-point conversion"!    The USFL rules allow three extra-point options following a touchdown.  The team may kick the traditional extra point, go for a 2-point conversion from the two yard line, and, if so inclined, try the league's unique three point conversion attempt from the ten yard line.
In this case, Philly came up short on the 3-pointer, and the Generals held on to secure the victory.  New Jersey and the hometown Birmingham Stallions finished with a sterling 9-1 record and will be the favorites in the upcoming semifinal games on Saturday in Canton, Ohio.
Birmingham Stallions 21, Tampa Bay Bandits 18
FOX – 649,000 viewers
In Saturday afternoon's second game, yet another failed 3-point conversion near the end of the game was pivotal as Tampa Bay (4-6) came up short against the Birmingham Stallions (now 9-1).   The Stallions jumped to an early 14-0 lead on the arm of quarterback Alex McGough (pronounced Magoo).  Tampa Bay fought back in the second half to finally get within three points with seven minutes left to play in the fourth quarter.   After the missed 3-point attempt, the Stallions were able to hang on to secure the win.
Michigan Panthers 33, Pittsburgh Maulers 21
USA Network – 282,000 viewers
In a Sunday contest between the two North Division bottom feeders, the Michigan Panthers improved to 2-8 with an easy 33-21 win over the hapless Pittsburgh Maulers (1-9) in the early game.  Michigan jumped to a 21-0 lead early in the second quarter and coasted from there.   Pittsburgh padded its final stats by scoring 18 points in the fourth quarter to make the final score look closer than this game actually was.
Houston Gamblers 20, New Orleans Breakers 3
FS1 – 181,000 viewers (lowest number of network television viewers this season!)
The Houston Gamblers ended their regular season on a positive note by dusting off the playoff-bound New Orleans Breakers 20-3.  Former University of Tulsa quarterback Zack Smith threw two interceptions for New Orleans in the first half to hand Houston an early lead.   The Breakers' offense was pitiful on Sunday with just 64 yards passing and another 72 yards on the ground for the entire game.   The Gamblers (3-7) also totaled less than 200 yards in this game, but it was still enough to take down New Orleans (now 6-4).

USFL Divisional Championships – Predictions:
Both semifinal games will be played this Saturday, June 25 (Kickoff times are CDT):
2PM – FOX – North Division Championship – Philadelphia (6-4) vs. New Jersey (9-1)
Yes, these two teams just played last weekend in Week #10.  New Jersey has won both regular season contests by slim margins (seven points and three points).   The Generals feature alternating quarterbacks and a rock solid defense.  The Philadelphia Stars were the league's highest scoring team in the regular season, but they also gave up the same number of points this year as 1-9 Pittsburgh.  New Jersey, the winners of nine straight games, should advance into the finals.  Predicted score:  NJ 27, Philly 17.
7PM – NBC – South Division Championship – New Orleans (6-4) vs. Birmingham (9-1)
The Breakers lost last weekend to a last-place Houston team to limp into the playoffs.  Birmingham has an impressive record, but the Stallions have frequently needed a fourth quarter rally to win their games this spring.   The Stallions defense should be the difference here.  They have provided big plays for this team all season, and I believe they will get the job done again on Saturday night in Canton.  Predicted score:  B'ham 24, N'Awlins 17.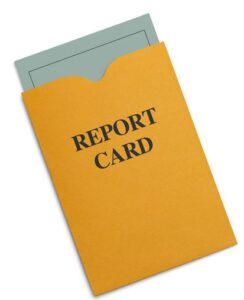 USFL Regular Season Round-up:
Quality of Play – The USFL's first season on the field went much better than I expected.  Two elite teams emerged from the pack (New Jersey and Birmingham) at 9-1 each to dominate their divisions.  Only the Pittsburgh Maulers (1-9) looked like they could use a complete overhaul (especially on offense).  In general, the USFL's league-wide lack of offense was quite disappointing this season.  Defenses have been dominant since Week #1, and that is why New Jersey and Birmingham developed into the two best USFL teams during Year #1.  Grade:  B-
Length of Season – The USFL's ten-game regular season might be two games longer than necessary if the league plans to stick with just eight teams next year (assuming there will be a second season).  The USFL's four playoff teams were already known two weeks ago.  This effectively rendered the final two weekend's slate of games meaningless.  Grade:  C-
Television Coverage – Let's break this into two categories:
A: Game Day Production – This is where the USFL was able to shine.  The games were covered professionally, and the television crew did a good job in hiding the fact that the majority of games were played in a relatively empty stadium in Birmingham.  If the USFL teams had supplied a little more offense, the fun factor of watching these games on television would have improved the television ratings.  Grade:  B+
B:  Network coverage – The USFL must establish a set schedule of firm starting times and game days beginning next season.  With just four games per weekend, the league tried to provide a few Friday night games.  When doing that, the viewers weren't sure whether Saturday or Sunday would be the USFL's doubleheader day.  The game starting times were woefully inconsistent, too.  There should be an afternoon and evening game played at the same kickoff times every Saturday and Sunday during the regular season.  The good news about network coverage was that every USFL game was telecast on a national outlet (even though I and countless others didn't pay to watch NBC's Peacock's internet service for those games).   Even though FOX, NBC, FS1, USA, and Peacock all had their share of games this season, fans at home weren't sure which network was carrying any particular football game from week to week.  Next year, the league must establish firm starting times and give their two power "name" networks (FOX and NBC) the same weekly game days and starting time each week.  With more consistency, the audience will know when the USFL is played every week.  Grade:  D+
Sweet Home, Birmingham – In order to preserve cash, Fox Sports (which owns 100% of the USFL) decided to play all USFL regular season games in Alabama's largest city of Birmingham this year.  The unique concept allowed the league to minimize travel costs, administrative overhead costs, stadium rentals, and other large expenses.   The USFL has tightly controlled all financial matters for this first year to see if this latest incarnation of spring pro football would be financially viable.
The new football stadium (to be used for UAB college football games this fall) was terrific.  The local turnout for USFL games was not.  Those of us raised in the Deep South realize that it gets too hot for football (90 degrees and above) by mid-to-late May into June in Birmingham.  The USFL would be wise to consider moving the first games back by two to four weeks next season.
Local football fans in Alabama were being asked to support both their hometown Stallions and the other seven USFL cities not named Birmingham every single weekend during Year #1.
The USFL had to expect that attendance for most games would be meager.  Were they really foolish enough to believe that thousands of football fans would fly or drive from Pittsburgh, Detroit, New York, and other cities to Birmingham to come watch their new USFL team?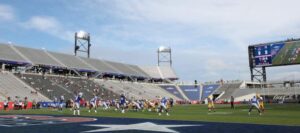 If the USFL survives into Year #2, the league must find an economic way to bring football games to the league's other cities.  Perhaps they might consider remaining based in Birmingham but flying all eight teams to a different USFL city every weekend (such as Houston, Tampa, etc.) to play all four of the league's games that weekend in the host city.   Grade:  D
Current Overall Grade (pre-playoffs):  C
If I were the USFL owner Fox Sports, I am expecting to see a significant improvement in television ratings for this Saturday's semifinal games and the championship game the following weekend.  If the average television audience does not reach at least 1.5 million per game this weekend, then this league's future is in deep trouble.
Come back next week as I will review the two semifinal games from this Saturday, preview the  first USFL championship game, and discuss the future of this spring pro football league.
If you have any ideas on how you would improve the USFL, please send your comments to me ASAP at swampswamisports@gmail.com.  I will discuss your suggestions in a new post early next week.