Podcast: Play in new window | Download
Subscribe: RSS
Drive for show, putt for dough.  In Sunday's final round of the US Open, that combination brought a lot of dough and a hefty US Open trophy for one professional golfer.
27-year old Matthew Fitzpatrick executed a nearly perfect game plan in Sunday's exciting finish at the US Open at The Country Club in Boston's suburb of Brookline.
As Rory McIlroy and other "bombers" found their errant 320-yard drives in knee-high rough this weekend, Matt Fitzpatrick executed a very smart round of golf by limiting his visits to the punishing rough.  Playing the percentages off the tee might sound like a boring strategy, but it can be a very smart idea when competing on a US Open-styled golf course.
Just put the ball into the fairway and hit as many greens as possible.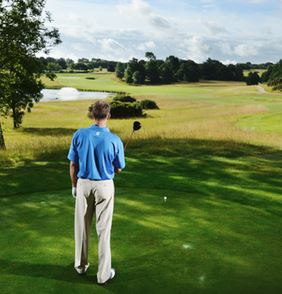 Matthew Fitzpatrick hit 17 out of 18 greens during Sunday's final round and won his first professional golf tournament on US soil.  It also didn't hurt to have a lot of course knowledge and some timely good luck on his side, too.
Coming to the tee box on the 18th hole Sunday, Matt Fitzpatrick was at six under par and clinging to a one shot lead over his playing partner, Will Zalatoris, and current Masters champion Scottie Scheffler (who had just finished at -5).
After Zalatoris cranked a perfect tee shot right down the middle of the fairway on the 72nd and final hole, Matt Fitzpatrick made one of the few errant shots of his final round.  His 3-wood landed in a deep fairway bunker in the left rough.  The television camera angles showed a clump of weeds protruding out of the middle of this sand trap and possibly obstructing any chance of reaching the green on his next shot.
At that moment, Will Zalatoris felt a glimmer of hope in observing the predicament which his playing partner was facing.  In order to reach the green, Fitzpatrick would need to navigate around the grassy obstruction directly in front of him in the bunker.  He would need to pick the ball cleanly out of the sand in order to impart some left-to-right spin to bring help turn the ball back toward the green.
"It's probably 1 in 20 — at best — to pull it off," said Will Zalatoris.
Unfortunately for Zalatoris and Scottie Scheffler (both one shot behind), Matt Fitzpatrick was able to execute the perfect shot at precisely the right time on the tournament's final hole at the US Open.  He connected on the 160-yard fairway sand shot cleanly, launching it high into the air, and landed it 25 feet beyond the hole.
"It's one of the best shots I've hit of all time," Fitzpatrick said. "I'll be honest; I've really struggled with fairway bunker shots all year. I'm a fast player, and when I look back on it, it all happened so fast. Natural ability just kind of took over. I just played the shot that was at hand. It came out as a kind of a squeezy fade. It was amazing."
Will Zalatoris (who finished second in a playoff to Justin Thomas at the PGA Championship just a month ago) followed suit and landed his second shot about 15 feet from the hole, too.  After Fitzpatrick's putt for birdie fell short, Zalatoris had one final chance to tie the match and force an 18-hole playoff.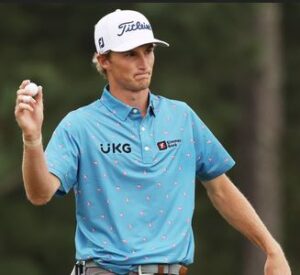 For those of us who have watched the 25-year old former Wake Forest golfer over the past few months, Will Zalatoris plays as well as anyone from tee to green.  His putting stroke, though, has become a big concern.  He puts a very smooth stroke on most of his longer putts, but his short putts can be very jerky and inconsistent.
If you've ever seen a putter with the dreaded "yips" on the greens, you might prefer to close your eyes when Will Zalatoris is standing over a 3-footer for par.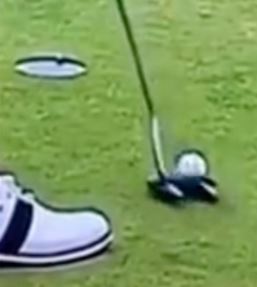 "I've already been asked, how nervous were you on the putt on 18?" Zalatoris said. "It's like I've got nothing to lose. It either goes in or it doesn't."
This time, he placed a smooth stroke on the ball to send his final 15-footer on its way toward the cup.  Unfortunately, the ball had a bit too much pace and failed to drop into the top side of the hole.  He settled for a par, a tie for second place, and a consolation prize of over $1.5 million.
For Will Zalatoris, finishing in second place has gone from exhilarating (2021 Masters) to encouraging (2022 PGA) to downright frustrating on Sunday at the 2022 US Open.  Like Sunday's winner Matt Fitzpatrick, Zalatoris is also trying to break through to get his first win on the PGA Tour.
"This one hurts in particular pretty hard, but it's motivating," he said. "I've got to keep doing what I'm doing. I know I'm going to get one sooner or later."
Sunday's final pairing partner Matt Fitzpatrick really loves The Country Club layout.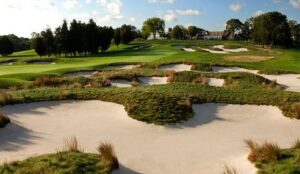 The native of Sheffield, England won the 2013 US Amateur on this same golf course just nine years ago.   In 2013, the amateur Fitzpatrick simply won a trophy.  Sunday, professional golfer Matt Fitzpatrick won an even bigger trophy plus over $3 million in prize money.
After his US Open win Sunday, Fitzpatrick (who became the first non-US golfer to win both titles) joked with the media that he wishes the PGA Tour would play every tournament on this golf course.  Indeed!
Another factor in Fitzpatrick's rise this summer has come from gaining 10-15 yards off the tee.  Unlike Bryson DeChambeau's rigorous gym workouts, Matt has been utilizing an expensive (for me) system called "The Stack System".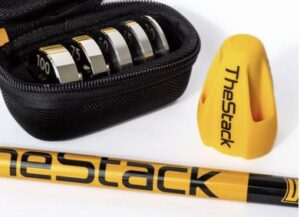 For nearly $400, you, too, can swing a fancy weighted golf club and learn to pick-up additional clubhead speed off the tee.
For today's professional golfer, a $400 investment in order to add extra yardage on today's lengthy golf courses is pocket change.  Length off the tee has become a necessity to compete.  Matthew Fitzpatrick's incremental yardage off the tee (combined with pinpoint accuracy) paid handsome dividends with a US Open victory.
The other runner-up in this year's US Open, Scottie Scheffler, joked afterwards about going on the "DeChambeau Plan", but Fitzpatrick would have none of it.
During his post-game press conference, the winner laughed and said, "I've done my drug test, and it was negative, so we're all good!"
 This year's US Open featured an old but recently toughened layout at The Country Club.  Just nine players in the field finished under par for the tournament.   The golfers (who aren't bashful when whining about perceived unfair playing conditions) praised the layout all week.  The final round was tight from start to finish, so television partner NBC should be pleased with the ratings.
If there was one faction of golfers who may not have been happy with the 2022 US Open, it must have been those who made the jump from the PGA to the new LIV Tour.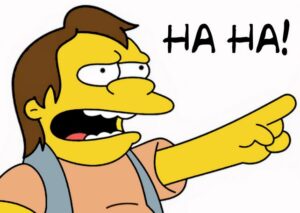 The best score from the LIV group came from 2016 US Open champ Dustin Johnson.  He finished with a final score of +4 to place him in a tie for 24th place.  The 2020 US Open winner, Bryson DeChambeau, also fared poorly with his 56th place finish after announcing his move to the new LIV Tour early last week.
The LIV Tour's $200 Million Man, Phil Mickelson, celebrated his 52nd birthday during Thursday's opening round at the US Open.  Alas, it wasn't a very happy birthday for Phil.  His two-round total of 11-over par total wasn't even close enough to make the cut.  "Paycheck Phil" now heads to the second LIV golf event on Thursday, June 30 in Portland, Oregon.
Though the days leading into last week's US Open were filled with reporters' never-ending questions about how the LIV Tour was going to affect the PGA Tour, the media curiosity seemed to vanish by Sunday afternoon.   By Sunday's final round, the focus was on the golfers in contention.  And all of the contenders were members of the PGA Tour.
This year's US Open was a success by most measures.  Let's hope that the USGA will plan a return visit to The Country Club and the Boston area again soon!