Podcast: Play in new window | Download
Subscribe: RSS
If you're over the age of 50, you probably remember the original United States Football League (USFL) of the 1980's.  The spring/summer football league was yet another of many failed attempts to keep America's football loving fans satisfied outside of traditional fall college football and NFL seasons.
We've said, "Rest in Peace" to the World Football League (1974-1975), USFL (1983-1986), XFL (2001), Arena Football League (1987-2008), Alliance of American Football (2019), and XFL-II (2020).  Former wrestler-turned-Hollywood star Dwayne "The Rock" Johnson is trying to resurrect the XFL yet again beginning in 2023.  He paid a reported $15 million to take the bankrupt league off the hands of his former WWE boss, Vince McMahon, and wants to try for yet a third XFL launch in 2023.
But right now, in 2022, a reborn version of the USFL will begin to draft football players today,  and the first spring football game will be played on April 16.
America is going to get another chance to see if spring professional football can survive.   Though the odds would be in your favor it you pronounced this latest iteration doomed from the start, this is far from a traditional new football league.
I was surprised to learn that the new USFL is owned by Fox Sports.  That certainly takes care of having a television network to show your football games!   Since the network has been handling NFL football for a long time, they should do a solid job with affiliates around the country to carry the games.
According to one report, Fox Sports has acquired all copyrights to the USFL brand along with branding of the league's former teams.  If these USFL teams sound familiar to you, it's because they are!
Here are the eight teams which will get things underway in 2022's version of the USFL:
USFL – North
Michigan Panthers – Head Coach – Jeff Fisher
New Jersey Generals – Head Coach – Mike Riley
Philadelphia Stars – Head Coach – Bart Andrus
Pittsburgh Maulers – Head Coach – Kirby Wilson
USFL – South
Birmingham Stallions – Head Coach – Skip Holtz
Houston Gamblers – Head Coach – Kevin Sumlin
New Orleans Breakers – Head Coach – Larry Fedora
Tampa Bay Bandits – Head Coach – Todd Haley
These head coaches all have recent college or professional football experience.
However, don't go looking to buy football tickets for home games in seven of these eight cities just yet.
You will need buy a ticket in Birmingham, Alabama if you want to watch your favorite USFL team play one of its ten regular season football games this spring.
That's right!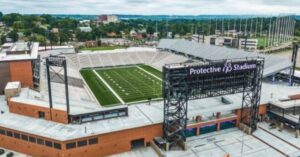 Every single regular season USFL game (40 in all) this year will be played at a brand new $200 million football facility in Birmingham which will become home for college football's UAB Blazers.  A few other USFL games are to be played at the cavernous legendary Legion Field in Birmingham.
The league will televise all four games (eight teams) every week via both Fox Sports and NBC.
Due to a scheduling conflict with a World soccer competition, the USFL playoffs will be held in Canton, Ohio this June at the recently-renovated Tom Benson Hall-of-Fame Stadium.
Let's stop for a moment to examine this unique idea of playing all of the games in the same location.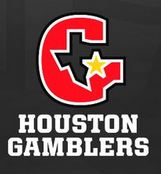 Though it feels a bit insulting to be living in Houston and seeing your new USFL Houston Gamblers squad competing in Birmingham every weekend, there are some valid reasons why this is being done – at least during the first season.
If you were ever going to run a league "on the cheap", the arrangement which Fox Sports has worked with the city of Birmingham, Alabama sounds like a win/win idea in 2022.  With the ability to negotiate a positive financial arrangement with key parties in Birmingham, that means that all eight USFL teams will be sharing local facilities to operate, practice, and play in.  There will be no travel costs (airlines, hotels, meals, etc.) so that savings will be significant, too.
This also means that you do not have eight different cities with different administrative and facility costs, stadium rentals, television production costs, and a myriad of other expenses which are unique to each of those cities.  The league will centralize as many tasks as possible in Birmingham.  This operation has the potential to save money in many creative ways.
If you were ever going to select one state in America which might be considered "football mad", is there any better place than the state of Alabama?   With the incredible success of the University of Alabama (just an hour to the south in Tuscaloosa), the interest in football within this region is legendary.  As long as USFL game day ticket prices are reasonable for a Southern city, there should be a significant amount of local interest from Birmingham's metropolitan area of over 1.1 million people.
Birmingham has a brand new football stadium (called Protective Life Stadium) which checks a lot of boxes.  It is already wired with the latest electronic advances required for television broadcasts.  The football stadium seats 45,000 fans, so the television production crew will be able to find creative ways to make a crowd of 15,000 look good during a match-up of the Michigan Panthers vs. Pittsburgh Maulers, for example.
The city of Birmingham is counting on an influx of thousands of visitors who want to come and check-out their new USFL teams in action.  Plus, the city will be housing hundreds of players, coaches, and staff personnel associated with the USFL teams and the Fox Sports production units.  The Birmingham area is a sports mecca which features a number of outdoor opportunities for visitors.  The Alabama-based Robert Trent Jones Golf Trail is one of my personal favorites.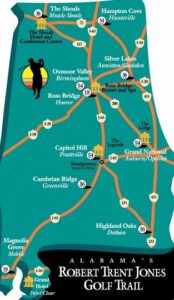 One of the key determinants as to whether this new USFL will be financially viable is the pay structure for players and coaches.  A recent report indicated that USFL players will earn $4500 per week for the ten game regular season and a higher amount during the playoffs.  Other players carried on the practice squad will be paid about half that amount.
Assuming a 53-player roster (like the NFL), that would mean a weekly payroll of $238,500 per team.  With eight teams playing a ten game regular season, the USFL's player costs will be about $2,385,000 per team.  That amounts to a little more than $19 million for all eight teams in the regular season.
Since personnel accounts for about 50% of most businesses, let's more than double that amount and project an expected financial outlay of about $50 million required from Fox Sports to run the Birmingham-based USFL this spring.
For a network which pays the NFL about $2 billion annually for the rights to NFL football games, the investment into the USFL in 2022 seems relatively small.
The biggest negative associated with the new USFL is not having the eight teams play home football games in their home cities.
This iteration of the USFL is purely about generating television viewership.  Early reports suggested that Fox Sports is hoping to attract about 1.4 million viewers per game in 2022.   If the USFL can cover its operating costs at the Birmingham football stadiums with local paid attendance, then the focus will be making the league an attractive product for home television audiences.
Will enough people want to stay inside during the warmer spring weather to watch professional football being played in Birmingham, Alabama every weekend?
According to some reports, the USFL will be evaluated after Season One concludes (like any television show, right?).  There are no guarantees that there will be a second season of the USFL or what the league might look like (playing football games in their home cities, for example).
Fox Sports is willing to give this a go.  I'm looking forward to Saturday, April 16 with the first televised game between the New Jersey Generals and the hometown Birmingham Stallions.
History says not to bet on the USFL making it into year two.  If this league doesn't make it, it certainly won't be for a lack of creative preparation and cost containment.
Let's see if thousands of football fans in Alabama will show up and are ready to pay to see some spring football!