Podcast: Play in new window | Download
Subscribe: RSS
On Sunday evening, I watched the Super Bowl game with a couple of old friends back in north Louisiana.  As we continue to age, we are starting to sound like a few grumpy old men as we try to watch a lengthy telecast which was frequently interrupted by some very expensive commercials.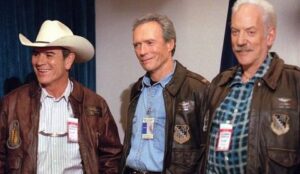 Before discussing the game and the referees, let's talk about those commercials.
Every 30 second commercial cost advertisers $7 million this year.  Ouch.  Some of those commercials were OK and probably served their purpose.  Others were instantly forgettable.  Still others should have saved their money.
The three of us laughed knowing that the corporate decision makers' spending money on these commercials could care less about our generation anymore.  The ads were aimed at 18-49 year old viewers.  They (supposedly) have more disposable income than we do.   I'd prefer to say that the younger age group is simply more likely to part with their money quicker than us oldsters.
Liked:
Dunkin' Donuts – Our group eventually figured out it was Ben Affleck working the pick-up window.  This spot definitely will get more drive-in visits into Dunkin retail outlets and cover that $7 million price tag soon.
The Farmer's Dog – A fabulous commercial featuring a girl and her dog as they both grow older.  Will they sell enough dog food to cover the $14 million one-minute ad?  For this relatively unknown dog food company, I think they will.
T-Mobile Home Internet – John Travolta's "Grease" reprise.  Was it silly?  Indeed it was.  However, John Travolta and a couple of neighbors, singing/dancing a revised version of "Summer Nights" from Grease out in the street, kept your attention to the end for the product pitch.  Success!
Meh (Take it or leave it):
Crown Royal – "Thank you, Canada!"  Did you know that Canada invented football?  Not me!   You might think that they would have used an actual Canadian to do this spot.  The actor was musician Dave Grohl.  He's from Ohio.
Pepsi – Great acting?  Once we figured out it was Ben Stiller in one commercial and Steve Martin in the other, Pepsi laid out $7 million per ad and didn't sell me on buying their product.
Planters – "Roast of Mr. Peanut" – Too many people telling weak jokes.  Nice concept, though.
Popcorners – The reunion of the two primary stars from "Breaking Bad" also featured a brief encounter from a villain in the show.  It was fun to see the actors.  When the commercial ended, did anyone remember the product's name?
Sell your stock this week:    
M&M's (Mars) – A bizarre spot which was something about clams?  This ad was an epic fail and a waste of stockholder money!
Fan Duel (Online Gambling) – They gambled that people would love to watch former tight end Rob Gronkowski try to make a field goal on "live" TV.  He missed.  So did the ad.
Michelob – If you're going to recreate scenes from the classic movie "Caddyshack", you better be very clever and very funny.  Wrong and wrong.  This may have sounded like a good concept, but it suffered from terrible writing and even worse casting.  P.U.!
Though the Super Bowl was watched by the largest television audience of the year, I wondered how many inebriated home viewers actually remember the commercials the next day, week, or month later.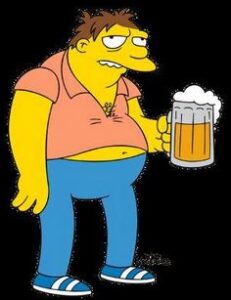 ******
And now, back to the game!  My friends and I were hoping for a competitive football game.  It certainly was!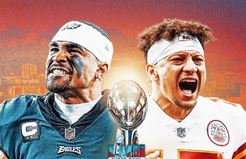 When Patrick Mahomes' already gimpy ankle was re-injured before halftime and the Chiefs already trailed by ten points, KC needed a second half miracle.  Kansas City Chiefs fans can thank the NFL's lengthy 30-minute halftime show for the quarterback's locker room recovery.  The medical staff had plenty of time to work on his ankle as the halftime entertainer and hundreds of her Oompa Loompas performed aerial acrobatics for the crowd.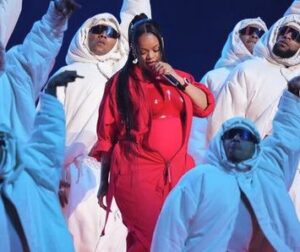 In the end, Kansas City rallied and grabbed its second Super Bowl title in four years on a field goal with ten seconds remaining in the game.
Half of America was happy with the 38-35 Kansas City win.  The other half felt as if their team had been robbed by the referees.
So, let's address the zebras' performance in this game.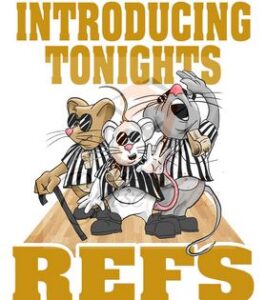 There were only nine penalty flags thrown for the entire football game.  Six went against Philadelphia for only 33 yards, while three penalties were called against the Chiefs for a paltry 14 yards.
That seemed to be a rather small number of penalties called by an NFL officiating crew.
Much to my surprise, I was able to locate a website which tracks the number of penalty flags called by NFL referees each year.
This season, a total of 3,154 penalties were called in 284 games.  That's an average of a little more than 11.1 penalties per pro football game.  That's down from 11.75 in the 2021 season.
Ten years ago, the 2012 season recorded 12.43 penalties per NFL game.
So, this year's Super Bowl game was not over-officiated (based on the NFL average) with only nine penalties called by the game officials.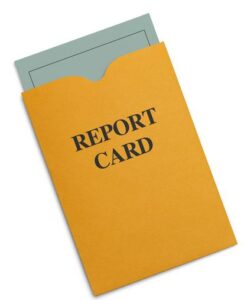 The lack of penalties called in this game made that holding call against Philadelphia with two minutes to play seem pretty weak.  It gave Kansas City an automatic first down and allowed the Chiefs to run most of the final two minutes off the clock and secure the win.
I officiated youth and adult sports games in recreation leagues.  The biggest complaint against officials is not adhering to their own standards established at the beginning of a game.
If you are a baseball umpire and calling strikes at the knees, be consistent!   Do it for the entire game for both teams.  That way you won't be the subject of heated post-game discussions.
In basketball, if you call fouls tightly at the beginning of a game, the players will adjust and won't try to push and shove under the basket on every play.  They know that a whistle is coming.  Consistency counts.
In football, the referees could probably call holding on the offensive linemen on nearly every play.  The same can be said on the defensive side of the football as receivers try to make their way downfield but are roughed-up by the defenders.
Though it would be great to see a clean game being played by both football teams, an NFL game might be stretched by up to another 30 minutes if the referees properly called penalties as they occur.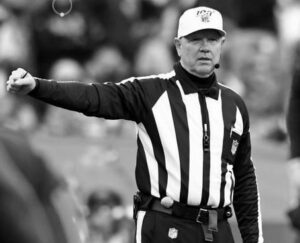 However, the NFL has strict guidelines with its television partners.  They want to have non-overtime games completed in anywhere from 2 hours and 45 minutes to no more than 3 hours and 15 minutes.
Though we might like pro football referees to call 'em as they see 'em, their employer (the NFL) is looking over their shoulders to make sure the games finish on time to keep the high-paying networks happy.
Would NFL referees be inclined to purposefully keep penalty flags in their pockets late in a football game if they were already aware that the game was running long?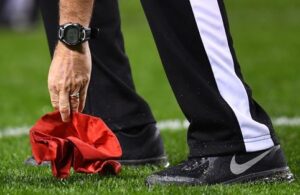 Yes, indeed!
Some people suggest that Las Vegas bookmakers might have a little something to do with crucial penalty calls, too.  I think the more plausible answer involving NFL referees making bad calls/no calls has to do with the actual time of the game and how many flags have already been thrown that day.
The referees are paid well by the NFL.  As covered in a previous post, their annual pay is about $200,000 per year.  They are highly trained and proficient on the field.  To last a long time in the NFL, though, the refs are quite receptive to suggestions from their bosses.
If you're going to throw a flag late in the game, just make sure it is worth the scrutiny.
During this week's Super Bowl game, Fox Sports had former Director of NFL officiating Mike Pereira providing his opinion on plays which were under video review.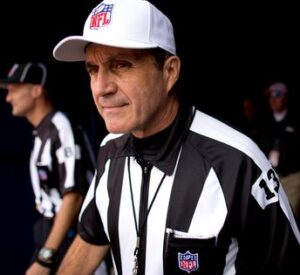 I was surprised that this talented former ref became so wishy-washy on how he saw the plays.  Periera is being paid by Fox to speculate what the referees' decision will be on close plays.
This made me wonder about the use of AI and computers to make the calls in football.  Don't laugh just yet!
Baseball is using robot umps this season in Triple A baseball.  Apparently, they now have gained enough confidence to try it at a very high level.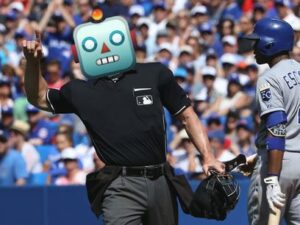 Could this eventually work its way into football?  I think it would be nearly impossible to replace human officials on the field with some type of AI computer, but I could see one particular area in which it might be helpful.
Instant replays!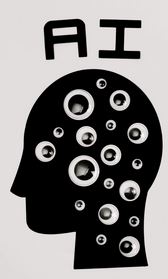 With all of the programmed "intelligence" in today's computing machines, it might be fun to see how well AI could handle making determinations whenever instant replay has been requested.  I'm pretty sure that the new Microsoft ChatGPT product or something like IBM's Watson could become an encyclopedia of knowledge about the NFL rules in short order.
Let's test the idea first.
What if one of the NFL's TV partners could utilize an AI computer in the booth to render a decision during instant replays next fall?  Even if it turned out to be an epic fail, home viewers would be keen on checking-out the decision being rendered by the computer compared to the booth review by the game referees.
Even if it fails, it's a great new gimmick.  If it succeeds, then the NFL might consider having the booth reviews being made by UniBlab (or whatever they want to call the replay bot).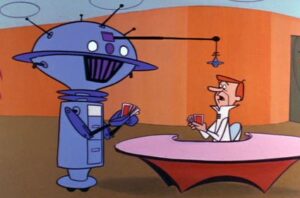 When an unpopular decision is rendered, the refs can point up to the broadcast booth and allow the fans to jeer UniBlab instead.
Come on, Fox/CBS/NBC/ESPN/Amazon.  Somebody should take a chance on this before next season starts!