Podcast: Play in new window | Download
Subscribe: RSS
About one month ago, I wrote about my 2023 goal of reducing the costs of our cable television/internet expenditures.   Today's story is to provide you with a report on how this is coming along.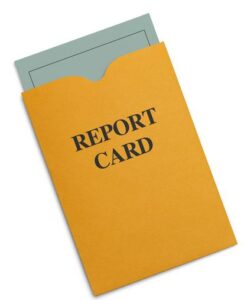 In review, our long-time provider (it starts with an X) had the gall to raise our prices again to start the new year.
I don't mind paying money for services which provide true value.  Utility companies which provide electricity, natural gas, and water come to mind.  I can reduce the cost of each of those by simply trying to use less of each.
For example, I reduced our daytime thermostat (while I am here but my lovely long-suffering wife is at work) to 67 degrees.  When she gets home, the temperature returns back to a toasty 68!  I habitually turn out the lights as I walk out of a room.  Our television sets stay off unless someone is actually going to sit down and watch something.
Over the past week, we started to receive our January bills.  The good news is that both our natural gas and electric bills were lower than expected.  The local weather was warmer-than-average here in the swamp in January.  We rejoiced at the moderate cost of both utility bills.
Then our cable television/internet bill arrived.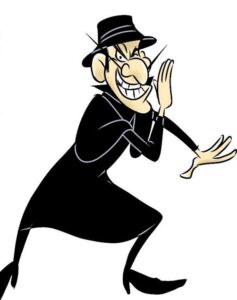 Would you believe that, for January 2023, we will pay more money ($180) to them than to the two companies which supplied our home with electricity ($85) and natural gas ($90)?
The comparison of what we paid to stay warm in January vs. the monthly cost of our entertainment (cable television and internet service) is another reminder to get serious about cutting costs.
In last month's story, I summarized my goals as follows:
First – Buy a good digital television antenna.
I did!  After reviewing a variety of options, I purchased a $30 Philips HD Amplified Antenna from a local Target store (right off the shelf).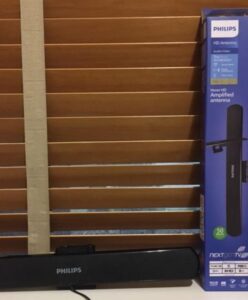 The box claims that it has a range of up to 50 miles.  Since I live 45 miles (as the crow flies) from the primary television antenna "farm" in my market, this antenna comes with its own amplifier (uses electricity) to provide a boost to pick-up the signals.  You plug one end into your television's cable slot and the other into a nearby electrical outlet.
Most antenna websites recommend that you position your new antenna (a) near a window and (b) at the highest place feasible within the room.  As you read on, it's best to wait prior to mounting this antenna.
Note – You have some work to do first!  Plan on spending 15-30 minutes working on this next portion.  
Find your original remote control which came with your TV.  On my Vizio TV, there is a button for "Input".  Look for an option which reads "TV" or something similar.  Once there, you'll need to locate (on your remote) another button to allow your antenna to scan for channels.  In my case, there is a panel which shows "All Settings".  Scrolling down those options, I found another one for "TV Channels".   EUREKA!
If your nifty new TV antenna is plugged-in (both into the TV and the electric outlet), select "Find Channels" and let 'er rip!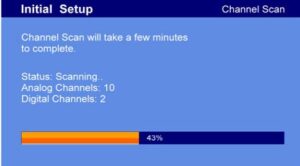 You'll be amazed as you watch your television set progress through the digital television spectrum to find local signals.  It usually takes about one minute to complete.
Assuming that your television has identified several channels, use the remote control for "Channels" (up or down) and see which channels are now showing up.  For football watchers, it's imperative that you have a decent signal for your local Fox (NFC), CBS (AFC), and NBC (Sunday night football) stations.  If you want to watch more college football this fall, make sure that your local ABC affiliate was found, too.
If you didn't have much success this first time, try moving the antenna to another location.  You'll need to repeat the process (I told you it would take some time!).
In my case, I tried at least four or five different antenna locations and repeated the TV station search.  Don't laugh, but I found the optimal antenna location on top of my elliptical machine!  I had the best picture for Fox, CBS, and NBC there.  I found a different place in the room was best for ABC and PBS.
Two weeks ago, I watched both the NFC and AFC championship games using this antenna.  Success!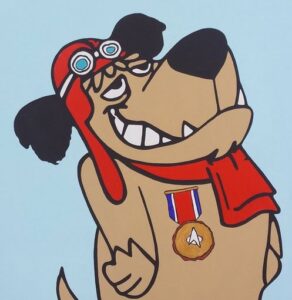 After you have completed this experiment, remember to return the settings in order to resume watching your cable television channels.
If you live within about 25 miles from the primary local television antennas, your reception will be clearer than you normally see on cable television (which may wash-out the signal a little bit).
If you're like me and live further away, the process of relocating the antenna in order to pick-up one or two television stations is a little bit bothersome.  That's when I reminded myself of how much money I'm being asked to pay Mr. Cable TV every month!

In defense of our local cable television provider, my bill shows a $26.65 per month charge for a "Broadcast TV Fee".  That is how they recoup their negotiated costs to provide every single local television station within my market.
How did this happen?  As you might have guessed, our federal government helped create this problem.
During the infancy of cable television way back in 1965, the Federal Communications Commission (FCC) established "must carry" rules which mandated cable television and satellite television providers to carry your local television stations as part of their product offerings.
Initially, the FCC's big concern was that cable television operators would omit your local channels from their product offerings.
As cable TV operators were paying fees to highly demanded national networks (ESPN requires content distributors to pay them $8 per month per household), your local television stations wanted to get in on the action, too.  They demanded compensation from the cable television operators in return for providing their local products, too.
Negotiated deals now abound for these arrangements.  That's how I'm now paying a ridiculous $26.65 monthly charge to Mr. Cable TV for this area's local channels.
Occasionally, a local television station and the cable or satellite provider cannot come to an agreement on compensation (if any).
In the #86 TV market in Shreveport, LA, the local Fox TV affiliate (which carried Sunday's Super Bowl game over-the-air) has been embroiled in a lengthy impasse since last fall with a major satellite television provider over those fees.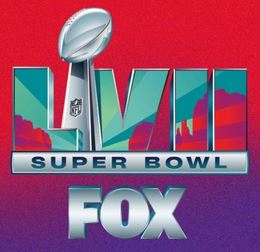 If you tried to watch the big football game Sunday via that particular satellite provider, you were completely out of luck (unless you owned one of those nifty $30 over-the-air television antennas!).
Take another look at my cable TV bill.

You will notice a $10.90 "Regional Sports Fee" showing up.  That's for the privilege of being able to watch the regional NBA and Major League Baseball teams' games.  Though I readily admit that I watch a small percentage of the games being shown on this particular channel, it's not worth nearly $131/year to my household.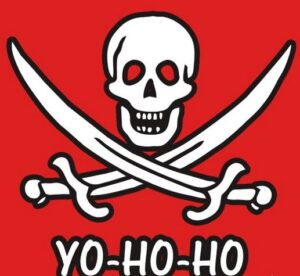 Arghh, matey!  This is piracy!  It's time to make additional changes!  So, what's next?
Second –Before making any changes, be smart!  Do your homework as this is a big investment.
The next action which I took (on Monday of this week) was to return the second cable television box back here in my Sports Cave.   It cost $9 per month ($108/year).
To get internet television services via your TV, you will need:
(a) A television set which is internet-ready.  They are called "Smart" TV's.  If your TV is less than ten years old, you are probably OK but check nonetheless.
(b) A Wi-Fi device (a small box-like device made by companies such as Linksys which costs +/- $120 at a big box retailer).  It will take the internet signal coming from your existing cable modem and make it available into other rooms of your house.
(c) A device to plug into your TV (such as a Roku "stick" or Amazon's Fire stick – about a $50 investment) to allow your television to capture and translate this Wi-Fi signal into a picture and sound on your television set.
The math confirms that I will recoup the two equipment purchases ($170-ish) vs. the $9/month box being rented from the cable television company in about 1 ½ years.  Once the pay-off occurs, we have secured a long-term victory!
As for the newly configured TV in my Sports Cave, I still have access to the household's cable television channels – only without the $9/month rented cable box.
As part of my Roku stick, I selected and may subscribe (no extra charge from the cable TV provider) to an online version of my household's cable TV channels.  Remember, I'm still paying for their services with one "box" remaining in the living room.
I practiced using this new technique for the past week prior to returning the $9/month rented cable box this Monday.  In the event which I cannot find a particular local channel, I can power-up my nifty $30 antenna, change the Input settings on my TV (see earlier in this post), and watch traditional old-fashioned over-the-air television.   Free!
One small step for SwampSwami.  One giant leap to go!
There are two additional steps which I laid-out in January's initial post about making this real-life change.
Decision #3 – Add it up!  Verify that your TOTAL COSTS of the new TV deal will be lower than what you are currently paying! 
Decision #4 – Give your current provider one final chance to "make a deal". 
To summarize this mid-February update, I have purchased my over-the-air antenna ($30), and it works well enough here in the Sports Cave.  I watched NFL playoff games without the cable or internet just fine!
Next, I ran a week-long test (utilizing the Roku device) to see if I could still watch my cable provider's online product without using their $9/month rented box.  It succeeded with no problems.  I returned the extra cable TV box this week and have been operating on internet-only TV (with support from the antenna, as needed).
The biggest remaining hurdle remains my household's most important user.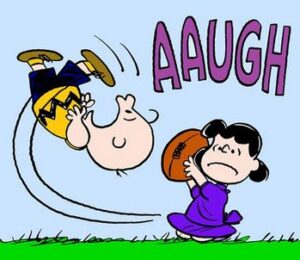 She doesn't watch a lot of television but stakes out in the living room.  My wife is rather change averse (which is why we make a good team), but she truly understands the cost issues.  I am conducting a weekly promotional campaign to help ease her concerns and win her over in making this rather significant household change soon.
In our next discussion on this subject, I will provide you with the monthly costs and channels provided by several internet TV services such as Sling, YouTubeTV, and Fubo.  I'll show you each channel and which companies offer it.
I have prepared a spreadsheet which shows 170 different channel options being offered by this particular group of internet-only television providers.  Your own channel choices will vary depending on the company you select and the monthly price you are willing to pay.
Of course, it's a bit of overkill!  However, I want to cover all the bases.
This week, I paid a personal visit to our cable TV provider to discuss our future together.  They (rather quietly) said they would charge $70/month to continue with internet-only service.  The "X" cable/internet company quickly offered a new combo deal at fairly significant reduction in our monthly costs.  In return, they want a two year commitment from us.
I will share the details with you soon.  Stay tuned!