Podcast: Play in new window | Download
Subscribe: RSS
On Saturday afternoon in Shreveport, Louisiana, another football player from the Pittsburgh Steelers' Super Bowl teams of the 1970's will be laid to rest.
Quietly and with very little national fanfare.
Unlike the death of legendary running back Franco Harris which shook the football world on December 20, former Pittsburgh Steelers fullback Sidney Thornton passed away in Shreveport on January 28.  A memorial service will be held Saturday morning, February 11 and burial at Forest Park West Cemetery in Shreveport.
Sidney Thornton was 68 years of age.
It is very sad that two talented football players who played together in the same backfield have died just a little more than one month apart.
Franco Harris was 72 years old.  It has been very difficult to find any information about the cause of Franco Harris' death.  The Steelers legend was seen in the company of others within a day of his passing.  Franco Harris was reportedly in good spirits at the time.
In the process of writing this story about Sidney Thornton, I learned that yet another former Pittsburgh Steelers Super Bowl winning linebacker, Marv Kellum, died last Saturday on February 5 at age 70.   Unlike the deaths of the two Steelers running backs, Marv Kellum succumbed to digestive cancer and multiple myeloma.
I am a long-time Pittsburgh Steelers fan.  When Shreveport and Louisiana Tech's Terry Bradshaw joined the team in 1970, I became a fan of the AFC's black and gold team and have remained so for the past 53 years.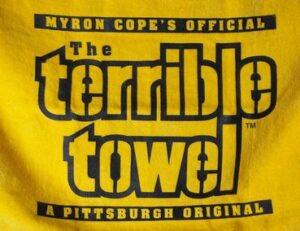 As the original TB12 (not to be confused with some fellow named Brady) was learning the ropes in Pittsburgh in the early 1970's, another Louisiana football player was making a name for himself in high school and college in the Pelican state.
Born in New Orleans in 1954, Sidney Thornton's family moved to Baton Rouge.  He was a very successful high school running back for the Capitol High Lions.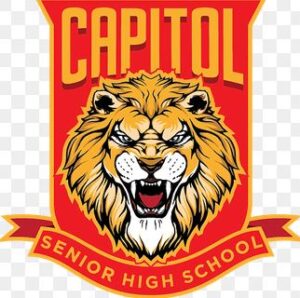 When Thornton came north to play college football in Natchitoches for the Northwestern State University Demons, he was a big running back.  A very big running back, indeed.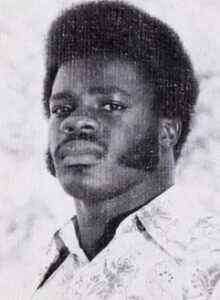 Sidney Thornton was 5'11" and a rock solid 240 pounds.  Nicknamed the Thundering Bull, Thornton was able to use his speed and his strength to power through potential tacklers at Northwestern State.  A four year starter, he rushed for 2,662 yards and scored 25 career rushing touchdowns between 1973 and 1976.  Sidney Thornton averaged over 100 yards per game as a senior for the Demons.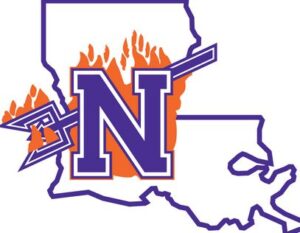 I was in attendance in Shreveport's State Fair Stadium in 1975 as Northwestern State played rival Louisiana Tech on a cool October evening.
Northwestern State fullback Sidney Thornton surprised all 26,000 fans in the stadium as he dashed to his right and then lofted a perfect pass to a wide open teammate downfield for a Northwestern touchdown.  Nobody on the field or in the stadium expected the Thundering Bull to have been a passing threat for the Demons.
For the record, Tech won the game 41-14.   Perhaps Sidney Thornton should have passed the ball a few more times to keep the game closer!
One of the NSU student journalists covering Thornton's college football years said, "I don't know if I ever saw anyone run harder than Sidney Thornton.  There wasn't anything cute about his style. It was 'I'm running it right here, and if you're in the way, you're going to get hit regardless of what jersey you're wearing.'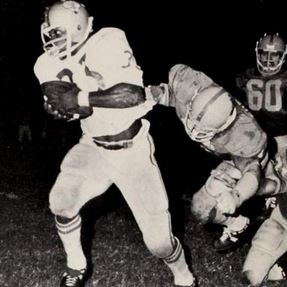 After his senior season ended, Sidney Thornton was invited to participate in the 1976 Blue-Gray College All-Star game in Montgomery, Alabama.  He rushed for 151 yards and was named the game's MVP.
In 1986, Sidney Thornton was inducted into the Northwestern State University Athletics Hall of Fame and named one of the school's top 100 football players of the century.
A second round draft choice in 1977 by the (then) 2-time Super Bowl champion Pittsburgh Steelers, Sidney Thornton looked terrific wearing his #38 jersey as a member of the black and gold.
I'm pretty sure that former Louisiana Tech quarterback Terry Bradshaw frequently reminded his new running back from north Louisiana that Bradshaw's Bulldogs still maintained a lengthy winning streak against Thornton's Northwestern State Demons.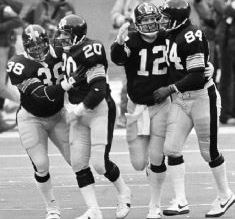 Sidney Thornton's primary role in Pittsburgh was to serve as the back-up for future Hall-of-Fame running back Franco Harris.  Thornton and Harris became a weekly nightmare for NFL opposing defenses for several years.
With his aggressive running style and toughness, Sidney Thornton became an immediate fan favorite in Steel City, too.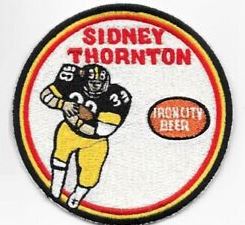 During six years in Pittsburgh, Thornton ran for 1,512 yards and scored 18 touchdowns.  An excellent pass receiver coming out of the backfield, he also snagged 46 career passes for 515 yards and six touchdowns.
Most importantly, Sidney Thornton earned two Super Bowl rings as a member of the Pittsburgh Steelers at the conclusion of the 1978 and 1979 NFL seasons.
In 1984, Sidney Thornton signed a contract to play fullback in the upstart new United States Football League with the Oklahoma Outlaws.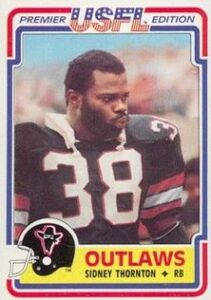 The Tulsa-based USFL team featured another well-known Louisiana football player in former Grambling State quarterback Doug Williams.
After one season in the USFL, Sidney Thornton returned home to Louisiana and became a high school football coach for Coushatta High School (now known as Red River High School).
From that point, it was difficult to locate much about Sidney Thornton's life over the past few decades.
In 2018, Shreveport television station KSLA reporter Casey Viera posted a sobering report which helped explain why Sidney Thornton had faded from the public view in recent years.
His wife, Beverly Thornton, stated that Sidney had suffered a stroke in 2005 at age 51.  With several physical limitations resulting from the stroke, the former NFL running back was relegated to a wheelchair for personal mobility.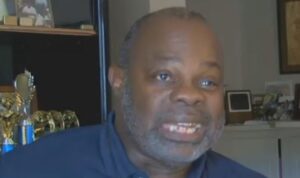 Sidney Thornton added, "There were times when the doctors told me, 'You can go back out there'.  I didn't know I had concussions."
Beverly Thornton revealed that her husband's concussions while playing football likely brought on symptoms of dementia and CTE.
CTE (or chronic traumatic encephalopathy) begins with an abnormal accumulation of tau proteins in the frontal lobes of the brain. The proteins grow and spread as the disease progresses through three subsequent stages.
Cognitive symptoms such as memory loss, problems with multi-tasking and problem-solving may appear in early stages.  A person may suffer from severe mood swings and other behavioral issues.
A CTE patient may experience a shrinking brain, which can be linked to dementia.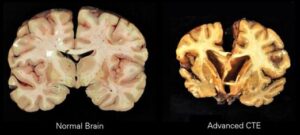 In the 2018 KSLA television report, Sidney Thornton's wife said, "He has his ups and downs".  At the time of the interview, Beverly Thornton was aware that her husband's condition was likely to get worse in the future.
She concluded, "I don't know what tomorrow brings, but I'll deal with that tomorrow."
After his death on January 28, Sidney Thornton joins a growing list of former football players and other athletes (ice hockey, soccer, and other sports) whose brain may have been injured by repeated blows over a long period of time.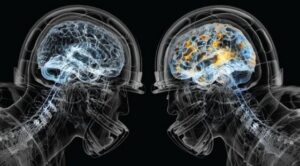 This week, Boston University published a revealing report which indicated that CTE had been found in 345 of the 376 former NFL players studied.
However, the report cautioned, "The NFL player data should not be interpreted to suggest that 91.7 percent of all current and former NFL players have CTE, as brain bank samples are subject to selection biases."
In that study, twenty-one former Miami Dolphins players were identified with having CTE.
That number was far greater than the six previously disclosed CTE cases in ex-Dolphins. Those six were all members of Miami's famous 1972 undefeated team.  Jim Kiick, Jake Scott, Bob Kuechenberg, Bill Stanfill, Earl Morrall and Hall of Famer Nick Buoniconti were all shown to have CTE.
This past NFL season, current Miami Dolphins quarterback Tua Tagovailoa suffered two known concussions.  The second occurred on Christmas Day in a game against Green Bay and ended his season.  He was finally cleared from the NFL's concussion protocol in the past week.
In contrast to the NFL players recently studied, a separate 2018 Boston University evaluation reviewed the brains of otherwise healthy people.  Only one out of 164 people were shown to have CTE.  The lone positive diagnosis came from a former college football player.
Sidney Thornton was an incredibly talented football player.  He earned his nickname of Thundering Bull for his toughness as a running back on the football field.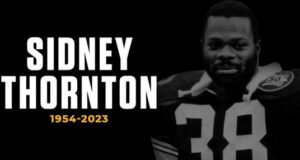 For the past 17 years, Sidney Thornton and his family have struggled to deal many difficult problems which may have been related to his successful but relatively short career playing football at the highest competitive levels.
This Sunday's Super Bowl game will feature the Philadelphia Eagles against the Kansas City Chiefs.  As you watch the competitors give it their all, please remember former NFL players such as the late Sidney Thornton.
We are only beginning to learn the long-term effects which helmet-to-helmet contact in football has on the human brain.
Rest in peace, Sidney Thornton.  And may God bless your family and care givers for their many years of providing support, patience, and understanding!