Podcast: Play in new window | Download
Subscribe: RSS
Some of us are old enough to remember this clever commercial television jingle from the 1960's.
Good things from the garden
Garden in the valley
Valley of the Jolly (Ho, Ho, Ho)
Green Giant!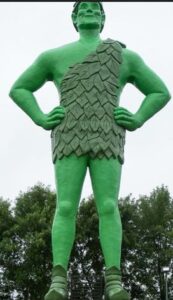 Bill Russell passed away Sunday at the age of 88.  The 6'10" center played his entire professional basketball career for the Boston Celtics.
Just like the catchy jingle said about gardens, Russell played in the original Boston GARDEN!
The Celtics' "Sometimes jolly, many times not" Green Giant was uniquely talented on the basketball court as a college player and during his years with the Celtics.  When you combined his basketball skills with his intense desire to win, it explains how Bill Russell was part of two college basketball championships at the University of San Francisco and eleven more titles in the NBA.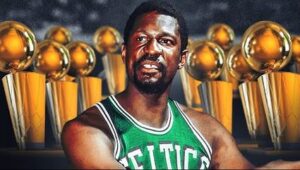 During his 13 seasons with the Boston Celtics (1956-1969), Russell's teams won eleven NBA titles including an incredible eight in a row from 1958 through 1966.   It wasn't like Bill Russell was the team's leading scorer, either.
Russell was a 6'10" defensive specialist and rebounding machine.  His primary job was to shut-down opposing scorers, grab the rebound, and initiate the now legendary Boston Celtics' fast break.  His rebounding prowess enabled Bill Russell to score plenty of follow-up baskets on the offensive end of the floor.
If any professional basketball player ever epitomized the saying, "There is no "I" in Team", it was the big left-hander wearing the #6 for the Boston Celtics.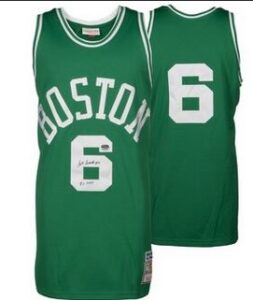 Bill Russell was born in Monroe, Louisiana in 1934.  When he was just eight years old, his family moved to Oakland, California (sorry, LSU!) as his father took a job on a loading dock.  Russell's mother died suddenly when Bill was just 12 years old.  Bill had already promised his Mom that he would study hard and attend college someday.
You might be surprised to learn that Bill Russell's athleticism and interest in high school was more aligned with track and field than basketball.
He was an impressive high jumper, long jumper, and ran the 440-yard (quarter mile) contest for the track team.  After being cut by the school's junior varsity basketball coach, the varsity hoops coach saw a lot of potential in Bill Russell.  He worked with the then 6'7" Russell personally.  The coach had him shooting hundreds of hook shots with both his left hand and right hand every day.  Russell finally developed into a high school basketball standout during his senior year in Oakland.
As a relative unknown coming from high school, Bill Russell received just one college basketball scholarship offer.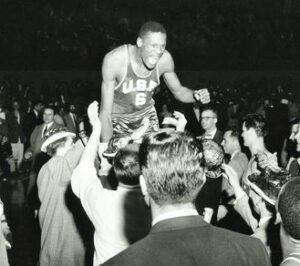 He and a young point guard from central Texas by the name of K.C. Jones both attended the University of San Francisco on scholarship together.  These two quickly became great friends.  The duo would play basketball together through college, win an Olympic Gold medal in 1956, and play their entire NBA careers as part of the Boston Celtics organization.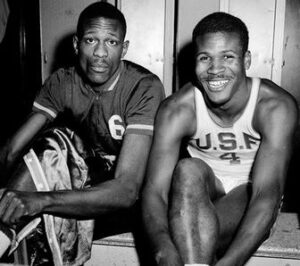 Tragically, Bill Russell's long-time friend KC Jones died of Alzheimer's disease at little more than one year ago.  He, too, was 88 years of age.
Once Bill Russell entered the NBA after winning an Olympic gold medal in 1956, the league was already undergoing significant change.  Black basketball stars were a rarity on many NBA squads in the middle 1950's.  Boston Celtics coach Red Auerbach loved what he saw in Bill Russell during his college days at USF.  He would take a huge risk in pursuing the big man.  In turn, Bill Russell didn't let the Celtics down.
Red Auerbach engineered one of his greatest trades in NBA history in order to acquire the rights to Bill Russell from the St. Louis Hawks.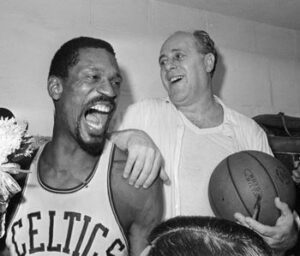 The Hawks owned the NBA's #2 overall draft pick in 1956.  The Celtics sent future NBA Hall-of-Famers Ed Macauley and Cliff Hagan to the Hawks in return for young Bill Russell.  In addition, the Boston Celtics used the 1956 draft to select two other future NBA Hall-of-Famers that year.  Forward Tommy Heinsohn (from Holy Cross) and Russell's point guard from the University of San Francisco, KC Jones, helped to ease the loss of the two talented players sent to St. Louis in 1956.
Coach Red Auerbach knew that Bill Russell's incredible defensive skills, precise shot-blocking talent, and effortless rebounding would turn the Celtics into an immediate championship contender.   The coach told his team that, by playing tough defense and sharing the ball on offense, they would eventually win championships.
With eleven NBA titles in 13 seasons, the Boston Celtics definitely learned well from their long-time coach!
As a youngster, I was in awe of Russell's ability to block a shot but still keep the ball in-play for his teammates to retrieve it.  Russell's hook shots (a lost art in basketball today) were the best in the NBA until Kareem Abdul-Jabbar came along years later with his legendary sky hook.
Nobody (then or now) has ever initiated a fast break for the offense like Bill Russell did.
Russell was the first player to grab a rebound above his head and quickly launch an outlet pass to guards such as Bob Cousy, KC Jones, and, later, Sam Jones and John Havlicek.  Russell's pinpoint overhead outlet passes hit the players in stride and launched the beginning of the famed Celtics fast breaks.
Bill Russell averaged more rebounds per game each season than he did points per game.  With a career average of more than 22 rebounds per game and 15 points per game on offense, Bill Russell's underappreciated passing skills added more than four assists per game, too.  Though the NBA did not keep statistics on blocked shots during that time, Bill Russell likely averaged at least five blocked shots per game during his 13-year career, too.
Though Bill Russell's overall talent and leadership of the Boston Celtics earned him the NBA's MVP trophy five times, he wasn't even on the first team "All NBA" squad during three of those years.
His long-time nemesis (and off-the-court friend) Wilt Chamberlain of the Philadelphia 76ers and Los Angeles Lakers was busy putting up scoring records of his own during that same time period.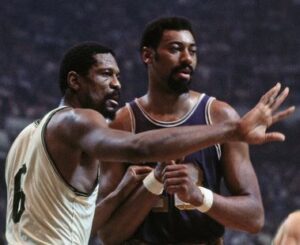 After Boston coach Red Auerbach took the team's General Manager job following the 1966 basketball season, Bill Russell was named his replacement and became the first black head coach in the NBA.  Russell also remained on the team as a player and won two more NBA championships as a player-coach in the next three seasons.
To this day, Bill Russell remains the only NBA player-coach with two NBA championships.
Bill Russell's days as a professional basketball player came during the turbulent 1950's and 1960's.  Though the city of Boston would grow to love Bill Russell the basketball player, Russell and his family were not exactly been welcomed into town.  Though the South was known for poor treatment of black athletes, Boston showed that it had more than its fair share of unwelcoming citizens, too.
A published report said that burglars had broken into Russell's Boston-area home while he and his family were out of town.  They smashed his trophies, spray-painted colorful words on the walls, and reportedly even defecated on his bed.
This sad incident solidified a bitterness which Bill Russell maintained toward the city where he played his entire professional basketball career.
He said, "What I owe the public is the best performance I can give.  I played for the Celtics, period.  I did not play for Boston. I was able to separate the Celtics institution from the city and the fans."
Russell's family said that Bill did not like to sign autographs for fans, either.  He thought autographs were impersonal.  Russell preferred to shake a person's hand or look that person in the eye and say, "Pleased to meet you."
Despite the social changes which Bill Russell stood tall for, he also maintained a great sense of humor and incredible wit.  Once his playing and coaching days ended, Bill Russell worked the microphone as a television network NBA analyst for several years.  Mixed in with his infectious laugh during television broadcasts, Russell remained a master teacher of the game.  Those of us watching at home thoroughly enjoyed his detailed analysis.
Bill Russell's legacy should be a reminder to young athletes that specializing in just one sport like basketball may not necessarily be in your best long-term interest.  His track and field years helped Russell to develop speed and agility and made him one of the quickest centers in the history of the NBA.
Bill Russell may not have been a flashy player like Michael Jordan or LeBron James.  He wasn't a dominating scorer like Wilt Chamberlain or Shaquille O'Neal, either.
But, if we were to hold a draft to build our own "Greatest NBA Team", I would start mine by selecting #6 of the Boston Celtics.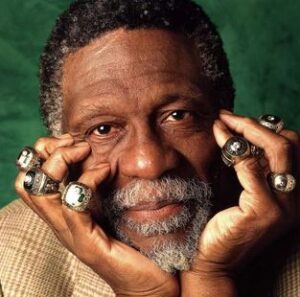 Bill Russell did everything which most other players simply didn't like to do.  He realized that basketball was a team sport, and that no individual player should be greater than the team.
With two NCAA championships and eleven NBA titles over 15 years, Bill Russell became the ultimate winner in the team sport of basketball.   He will be sorely missed.