Podcast: Play in new window | Download
Subscribe: RSS
On Sunday, July 31, in Nashville, Tennessee, legendary professional wrestler Ric Flair will take to the squared circle for the final match of his lengthy career.  Flair is no spring chicken at age 73.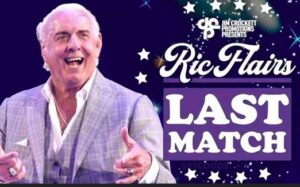 The 16-time former World Heavyweight Champion will be wearing a brand new custom-made robe.  There is no doubt that Ric "The Nature Boy" Flair will be doing his signature styling and profiling strut as he climbs into the ring for the final time after more than 40 years in professional wrestling.
Wooooo!  Did I already mention that Ric Flair is 73 years old?
Flair will be tag-team partner with his son-in-law, a wrestler named Andrade El Idolo.  They will take on Flair's long-time foe "Double J" Jeff Jarrett and his partner, a sinister wrestler named Jay Lethal.
Jeff Jarrett is "only" 55 years old, so both of the senior grapplers will probably rely heavily on their younger tag-team partners.
The Nashville Auditorium has 9,000 seats which will be filled with nostalgic wrestling fans wanting one last chance to see Ric Flair in action.  With ticket prices ranging from $40 to $90 at the Nashville Auditorium, Flair's appearance on Sunday will translate into a nifty paid gate worth more than $500,000.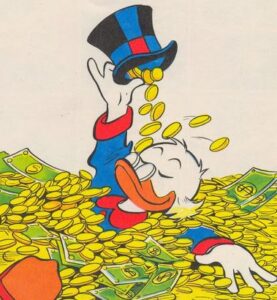 In case you're not a fan of professional wrestling, Ric Flair was the primary force who helped to launch Ted Turner's World Championship Wrestling group during the late 1980's.  WCW would become a thorn in the side of wrestling's then king-of-the-ring, Vince McMahon and his World Wrestling Federation (WWF).
Vince McMahon's father helped to start the predecessor of the WWF back in the 1950's under the name of the Capitol Wrestling Corporation.  Concentrating on a territory of major cities in the Northeast, the CWC eventually morphed into the World Wide Wrestling Federation (WWWF) in 1963.   The new organization made national stars out of wrestlers such as Bruno Sammartino, Bob Backlund, and "Gorilla" Monsoon.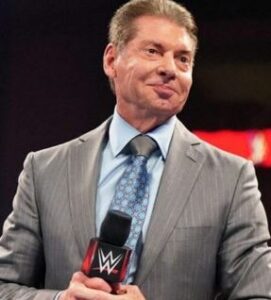 In 1982, Vince McMahon, Jr. purchased his father's interest in the wrestling company.  He rebranded it as the World Wrestling Federation (WWF).  Vince McMahon, Jr. was able to place his professional wrestling group on national television.  By poaching some of the top talent away from many regional wrestling companies, McMahon's WWF forced many of his competitors out of business by the middle 1980's.
Vince McMahon's first "Super Bowl of Wrestling" started in 1985 with the inaugural Wrestlemania program held in New York City's Madison Square Garden.   With a sold-out local arena and one million viewers via pay-per-view cable television, the financial success of the Wrestlemania production helped solidify the WWF as a national entertainment powerhouse.
As the WWF continued to grow in wrestling circles, Atlanta-based Turner Broadcast Systems (TBS) acquired the assets of the National Wrestling Alliance (NWA) and other regional wrestling groups to form World Championship Wrestling (WCW).
Beginning in 1988, Ted Turner's WTBS cable channel began a Saturday afternoon/evening national wrestling show of its own.  Wrestling fans from around the South knew many of these regional stars.  The Saturday program on WTBS helped to elevate several of them into national celebrities.
Enter Ric Flair.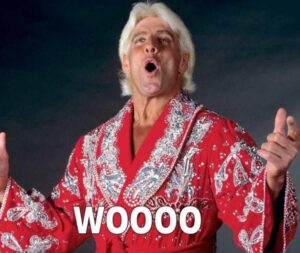 A successful high school athlete and wrestler, Ric Flair (born as Richard Fliehr) got his start in professional wrestling in 1972.  Taking any and all jobs available, Ric Flair would join regional promoter Jim Crockett's National Wrestling Alliance (NWA) in 1974.  The group was focused in the Mid-Atlantic region.  Flair would survive a tragic plane crash in 1976 near Wilmington, North Carolina.  The 26-year old wrestler broke his back in three places and was told that he would never wrestle again.
After several months of physical rehabilitation, Ric Flair returned to the ring with a new gimmick.  He started to call himself "The Nature Boy" and adopted a loud, flamboyant new wrestling persona.  He was loved by many, hated by others, but noticed by everyone.
Ric Flair added a new finishing move called the "Figure Four Leg Lock".  With golden blond hair and an incredible ability to "sell" matches to an adoring public, Ric Flair quickly became a national star.
When Ted Turner's WTBS cable channel began to feature Ric Flair on national television as the main star of World Championship Wrestling, it was soon time to take on Vince McMahon's WWF company for national supremacy.
In 1991, Ric Flair jumped ship for Vince McMahon's WWF and wrestled successfully with the new group for two years.
Returning to his roots with the WCW in 1993, Flair became the anchor wrestler once again.  The WCW then signed several former WWF stars and launched a new Monday night television program in 1995 to compete at the same time every week with the WWF's show on the USA Network.  WCW's show was called "Monday Nitro" and aired on Turner Network Television (TNT).  The WWF's show was called "Monday Night RAW".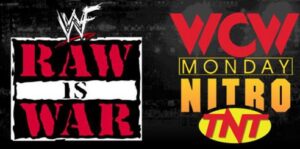 From 1995 through 2001, these two competing wrestling shows drew huge ratings for both networks and waged their own expensive war for top talent.
In 1999, Vince McMahon exploited his company's growing television success by taking his wrestling company public.  Rebranded as World Wrestling Entertainment (WWE) at the New York Stock Exchange, McMahon was able to gain access to plenty of new capital to sign the top talent and help to squash his primary competitor.
In the year 2000, one source indicated that Ted Turner's WCW wrestling group had lost $60 million that year alone.
On March 31, 2001, Turner's WCW would officially "tap out" and fold as it aired for the final time on television.
A few months later, Vince McMahon's WWE purchased the WCW name, logo, and video library from Turner for just $4.2 million.
This also meant that 52-year old Ric Flair had once again become part of Vince McMahon's wrestling organization.   With his advancing age, the fan favorite Flair's ability to work the microphone and engage with the audiences kept him highly involved as his appearances in the wrestling ring diminished over the following decade.
In 2017, Ric Flair suddenly became critically ill.
Then 68-year old Flair was placed into a medically induced coma and kept on life support for two weeks.  Given just a 15% chance of survival, Ric Flair refused to tap-out once again.  He eventually pulled through but has needed four different heart surgeries over the past five years.  He now sports a pacemaker.
Now 73 years of age, you would think that Ric Flair would be happy just to be alive and enjoy having one of the greatest careers in professional wrestling history.
Why would he want to risk his health for one last opportunity to wrestle given all of his medical concerns?
His personal trainer believes that The Nature Boy simply wants to go out on his own terms despite an abundance of health risks.
When Ric Flair was asked recently if he has any concerns about his health prior Sunday's match, he replied, "No. But I've been dead. Fourteen days on life support!"
Meanwhile, his old boss, Vince McMahon, officially stepped down from his job as Chairman of the WWE last week.  Reports surfaced recently that the 76-year old McMahon has paid millions of dollars in hush money to several women over the years in return for their silence about affairs.
After McMahon's departure from the company, the stock priced zoomed on rumors that WWE might be sold soon to another media company.
July will bring a close to two eras in professional wrestling.  Vince McMahon's reign as the creative leader for the WWF and WWE lasted more than 50 years.   From a business standpoint, McMahon emerged as the victor in the world of professional wrestling owners.
Meanwhile, 73-year old Ric Flair will (we hope) emerge from his final professional wrestling event on Sunday, July 31 and put the finishing touches on his masterful career as a professional wrestler.
It's going to be hard to imagine what professional wrestling will be like without Vince McMahon and Ric Flair in the picture.  They've been very good for each other, and a lot of fun for the rest of us!