Podcast: Play in new window | Download
Subscribe: RSS
Hey, Shreveport!  Are you ready for some football?
On Wednesday, Centenary College of Louisiana (not to be confused with Centenary University in New Jersey) announced that the small private college will begin playing football once again by no later than the 2024 season.
Shreveport is the third largest city in Louisiana.  The greater New Orleans metropolitan area features Tulane Green Wave college football, while the second largest city, Baton Rouge, is home to the state's flagship LSU Tigers.
Even the fourth largest city (Lafayette) has the University of Louisiana Ragin' Cajuns (ranked at a lofty #7 in this week's Swampswami.com College Football Top 25 rankings).  The state's fifth largest city (Lake Charles) features the McNeese State University Cowboys while the state's sixth largest city (Monroe) is home to the ULM Warhawks.
Shreveport (population 182,616) and its Red River next-door neighbor Bossier City (population 67,845) are without a college football team to call their own.  The closest major (FBS) college teams are located 65 miles to the east down I-20 in Ruston (Louisiana Tech Bulldogs) and 35 miles further east in Monroe (ULM Warhawks).  LSU is situated almost 250 miles to the south in Baton Rouge.
The Shreveport-Bossier area has produced more than its share of successful football stars with Woodlawn High School's Terry Bradshaw becoming the first pick in the 1970 NFL Draft.  He would lead the Pittsburgh Steelers to four Super Bowl victories during his Hall-of-Fame career.  Byrd High School quarterback David Woodley and Southwood High School quarterback Stan Humphries took the Miami Dolphins and San Diego Chargers, respectively, to a Super Bowl appearance, too.
Current Dallas Cowboys quarterback Dak Prescott played his high school football at nearby Haughton High School in Bossier Parish.  This region is rich in high school football talent as both big and smaller schools annually feast on local gridiron talent.
Alas, all high school football players from the Shreveport-Bossier City area have been forced to leave home to play their college football as none of the local colleges and universities have fielded a college football program within recent memory.
Good news, Shreveport-Bossier City!  By 2024, that will finally change.
Centenary College has been a part of Shreveport for a long time.  The school (which is affiliated with the United Methodist Church) will celebrate its bicentennial (200th) birthday in 2025.  Like the decline in population for the city of Shreveport, the private liberal arts school's enrollment has been sagging in recent years with less than 600 students today.
Like most private colleges, tuition at Centenary College isn't cheap ($38,060 according to the school's website) with room and board bumping the expected annual cost to just over $50,000.  The school's website indicated that 100% of degree-seeking students do receive some sort of merit aid.
During the big announcement Wednesday, Centenary's President Dr. Chris Holoman (sporting a nifty maroon Centenary football jersey) proudly announced that the school would bring back football by 2024 after a 50-year absence.   According to Dr. Holoman, Centenary's football team began play in 1894 with the first game for the Centenary "Ironsides" (that was the football team's nickname at the time) coming against none other than those Tigers from Louisiana State University.
A rematch pitting Centenary against LSU will not be happening anytime soon.  When Centenary returns to the gridiron in 2024, the team will play football in  NCAA Division III (where athletic scholarships are not permitted).  Today, Centenary is a member of the Southern Collegiate Athletic Conference.  That conference (at least for now) does not compete in football.
Centenary's college football history also included what is still considered the "craziest game ever played".   Eighty two years ago this week (November 11, 1939), Centenary hosted Texas Tech.  The game, which was played during a driving rainstorm, culminated in a 0-0 tie.  On this unique Saturday in 1939, the two teams established 13 NCAA records – in just one game!
As more than two inches of rain fell in Shreveport that day, the game strategy centered around the inability of either team to hold onto the very slippery football.
After one team punted the ball, the receiving team would run (perhaps) one play from scrimmage and then punt the ball back to the opponent on second down.  When the final whistle blew, Centenary and Texas Tech had combined for 77 punts (that's correct).   Centenary dominated the offense with a whopping 31 yards for the game, and Texas Tech was held to -1 yard of total offense.  Both squads combined to run just 33 plays from scrimmage in this unusual "Punt-a-Palooza" scoreless football game.
The Centenary Gentlemen (Gents, for short) played college football annually until late 1941 and the start of World War II.  According to one source, the school briefly attempted to resurrect the football program during the 1960's with poor results.
Today, Centenary's men and women student-athletes compete in NCAA Division III with nineteen varsity squads and one club team.  The school's athletics department has produced a number of legendary names such as basketball Hall-of-Famer Robert Parish (Boston Celtics), golf's 14-time winner and 1983 PGA Championship major champion Hal Sutton, and 1980 Olympic medalist (gymnastics) Kathy Johnson-Clarke.  Current New York Mets relief pitcher Seth Lugo also played his college baseball at Centenary College.
Centenary's famous Gold Dome multi-purpose arena (built in 1970) is home to basketball, volleyball, gymnastics, and concerts.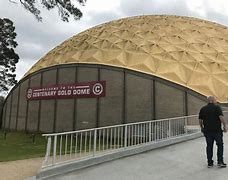 As a former basketball player, I can personally attest that playing inside this uniquely shaped geodesic dome facility takes a bit of adjustment to get your shooting depth perception.  After watching Robert Parish play college basketball games at Centenary's Gold Dome, I later had a front row seat to watch a special player named Larry Bird light up the scoreboard when his Indiana State Sycamores team came to play the Gents in the 1970's.  The Gold Dome remains an awesome place to watch and play basketball.
Centenary's new football team will be starting from ground zero.  The school announced that it had already raised $1.25 million to seed the program.  The search for a head football coach begins right now.  The school is planning to renovate Centenary's current soccer facility (which was, ironically, originally used for football games years ago) so that it can once again accommodate football by 2024.
This week's introductory press conference also featured one more face which I wasn't familiar with.  Centenary, which has gone by the nickname "Gents" and "Ladies", now has an animal mascot.  A Louisiana Catahoula dog (who goes by the Louisiana-apropos name of Skeeter) was adopted as Centenary's new mascot beginning in 2007.
Centenary's announcement to begin a college football program in 2024 took most people by surprise.  It's hard to tell who needs Centenary's new football team more – the school itself or the Shreveport-Bossier City area.
For high school football players who aren't being recruited by that certain "Large State University" in Baton Rouge or the rest of the region's football-playing colleges, there will still be plenty of talented local student athletes available for Centenary to consider.
For a small private college which is trying to grow its enrollment again, this is very big news.
This news might be just as important to my home town of Shreveport, too.  For a city which is desperately is seeking any kind of positive reinforcement, Centenary College just grabbed the sports spotlight to shine on itself and will now have a tremendous opportunity to plant some positive seeds in the community and become relevant in the local sports scene once again.
Geaux, 'Houlas!