Podcast: Play in new window | Download
Subscribe: RSS
On Tuesday night, for the eleventh year in a row, I drafted a team in the Yahoo! Sports Fantasy Football League which I play (for fun only) with my former boss and eight others.  Our ten-team fantasy league is quite competitive and has featured different winners in each of the past four years.
For the first time in my many years with this league, the Yahoo! Sports post-draft grading system gave me the highest draft marks in the league.  My team (named "Swamp Gas") received an A- score and rated as the top statistical choice to win the league this season.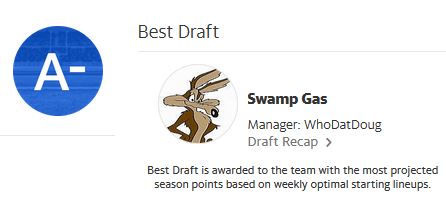 Woo-Hoo! 
Normally, my fantasy draft skills are not exactly proficient and I receive a score of C+ or B- at best.  An A-?  What's wrong, I'm thinking.
I didn't feel very lucky right before the start of Tuesday night's draft, though.
About two minutes before the draft was to begin, Yahoo! Sports Fantasy Football site played a brief one-minute video directed at my team.  One of their fantasy sports guys gave a brief speech which went something like this, "You're in the #2 overall draft position.  Though you may believe this may be a good thing, teams who drafted in the #2 position finished last more than any other draft position last season.  But, who knows, maybe you'll be luckier than most this year!"
Gee, thanks!  That wasn't exactly very inspiring.
In the Yahoo! Sports fantasy football draft, the order of selection in the first round is randomly selected by their computer.
My team was given the #2 overall position, but then I had to wait for the remaining eight teams to select their first round choices.  In Round Two, the draft order is reversed (for the sake of fairness) so the #10 team picks once again and it goes 9, 8, 7, 6, 5, 4, 3 and finally I was able to pick my second player.  Yes, I had to wait for the next 16 players to be selected prior to making my second overall pick.
Needless to say, the teams which select in the #1 or #2 spots or #9 and #10 have a lot of waiting to do at certain times in the annual fantasy football league player drafts.
But how do you determine which players to draft?
Many fantasy football teams allow the Yahoo! Sports computer to automatically select the best available player (as ranked by Yahoo! Sports, of course) and let their computer select their entire team.  Though the computer usually does a fair enough job, you also have no control and can't guarantee that you can pick a few players from your favorite NFL teams.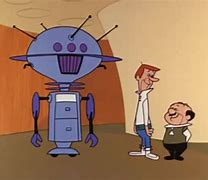 I'm too much of a control freak to turn over my draft to "Uniblab" (George Jetson's computer foil) and allow him all the fun.  That will never happen with my fantasy football team!
This year, I went online to NFL.com to do all of my pre-draft scouting work.
In the past, I've gone to a neighborhood drugstore and plunked down anywhere from $5 to $10 to buy a national sports magazine which promises to give me all the answers I need to win my league.  I would annually spend a few hours trying to figure out a player draft strategy to try.  Since I have only won our Fantasy Football League one time in ten seasons, I decided to save my money this year and try another (free) tactic.
The NFL's own website contains a surprising amount of information available geared toward fantasy football players such as last year's statistics on each player's yardage gained, touchdowns, and the like.  It even "projects" how well each player might fare this year.  So, I put together a spreadsheet with the top 25 or 50 players from each group (quarterbacks, running backs, wide receivers, and tight ends) to use as a draft night guide.
Even though place kickers and team defenses are also given ratings, I usually wait until the final two picks of the draft to grab one of them. Though some of the most "hyped" names are gone by that time in the draft, there are 32 NFL teams but only ten teams in my league.  That leaves 22 starting kickers and team defenses.  I am usually satisfied with the leftovers as there isn't a very large point differential between the best and worst in these two particular categories.
I do spend a bit more time evaluating the incoming rookie class, though.  Most of the Fantasy Football publications don't offer much help with incoming rookies.
In my years in this fantasy football league, I have done quite well at uncovering a few quality rookie wide receivers, running backs, and quarterbacks and have selected a few every year in the final rounds of the draft.
This year was no exception.  I selected two rookie wide receivers (Alabama's Jaylen Waddle with the Miami Dolphins and LSU's Terrace Marshall, Jr. now with Carolina) in the final few rounds.  I tried to get Jacksonville's rookie quarterback Trevor Lawrence (from Clemson) in the late rounds, but his "bye" week was the same as several of my other picks.
The dreaded "Bye" week means that you have to be on your guard to make sure that you don't have too many players whose teams will have the same week off.  As it turned out, I have three players with Week 6 off and three players with a Bye in Weeks 12, 13, and 14.   Fortunately, I have back-up players available at the key positions for those weeks.
But what about my lone placekicker and defensive selections, you might ask?  What happens when they are off on a particular week, and I don't have a back-up on the roster?
That's a tough call.  Usually, I bite the bullet and drop that kicker or defense that week and add someone else for the remainder of the season.  If one of my other bench players isn't doing well, I may drop that player (running back, wide receiver, or tight end) and opt to retain the high-performing kicker or defensive unit until the next week.  It all depends on performance, right?
What about injuries?  That's one of the biggest problems in Fantasy Football.  Though the #1 overall choice in my league selected New Orleans Saints running back Alvin Kamara, the preseason #1 pick by most fantasy draft boards was Carolina running back Christian McCaffrey.  Both players score points on runs and pass plays.  I quickly gobbled-up McCaffrey (even though I am a long-time Saints fan) in hopes that he has recovered from some lingering injuries last season.
If one of your starting players (quarterback, running backs, wide receivers, or tight end) goes down to injury, then your bench players must step-up into a starting role until the injured player returns.  Just like in "real" football, your team won't fare well in the long run if a number of starting players are injured and remain on the bench for your team.
My fantasy football team will be matched-up against one of the remaining nine teams in my league and play a 14-game regular season with the top four teams advancing to a two game playoff.  Last year, I finished the regular season in second place but lost both playoff games to finish #4 overall.