Podcast: Play in new window | Download
Subscribe: RSS
Tom Brady just won his seventh Super Bowl contest as Tampa Bay mauled the Kansas City Chiefs 31-9 on Sunday night.
On the losing side, Patrick Mahomes led Kansas City to the championship game for the second straight year and is now 1-1 in the NFL's annual finale.
In 55 Super Bowl games, the vast majority of winning teams have featured elite quarterbacks who are gifted with both physical abilities and on-field leadership skills.
Throughout this year's NFL playoffs, the majority of teams who participated in the post-season have featured top caliber quarterbacks leading the offense.  In addition to Brady and Mahomes, there was NFL MVP Aaron Rodgers (Green Bay), likely Hall-of-Famer Drew Brees (New Orleans), Russell Wilson (Seattle), Ben Roethlisberger (Pittsburgh) and young talented quarterbacks such as Josh Allen (Buffalo), Baker Mayfield (Cleveland), and Lamar Jackson (Baltimore). 
Down at the bottom of the NFL team rankings, most of those teams started a quarterback whose performance rating was significantly lower that the quarterbacks on the top teams. The lone exception this season was Houston's Deshaun Watson. Despite the Texans' pitiful 4-12 record, Watson's personal stats were good enough to earn him the #2 QBR (a quarterback rating based on passing, rushing, and how the quarterback's play contributes to winning). His 112.4 QBR trailed only Green Bay (13-3) quarterback Aaron Rodgers (121.5 QBR).
It doesn't make a lot of sense to me that a guy (Deshaun Watson) was ranked #2 in QBR when his team finished near the bottom of the league standings at 4-12. I think it is important for the team's overall record to be factored, too.
That's just what I did. Let's give an equal rating for the team's win/loss percentage along with the quarterback's personal performance rating to see who the "best" in the NFL are.
The SwampSwami.com NFL "Quarterback Happiness Ratings" (as of the end of the 2020 regular season) are shown below: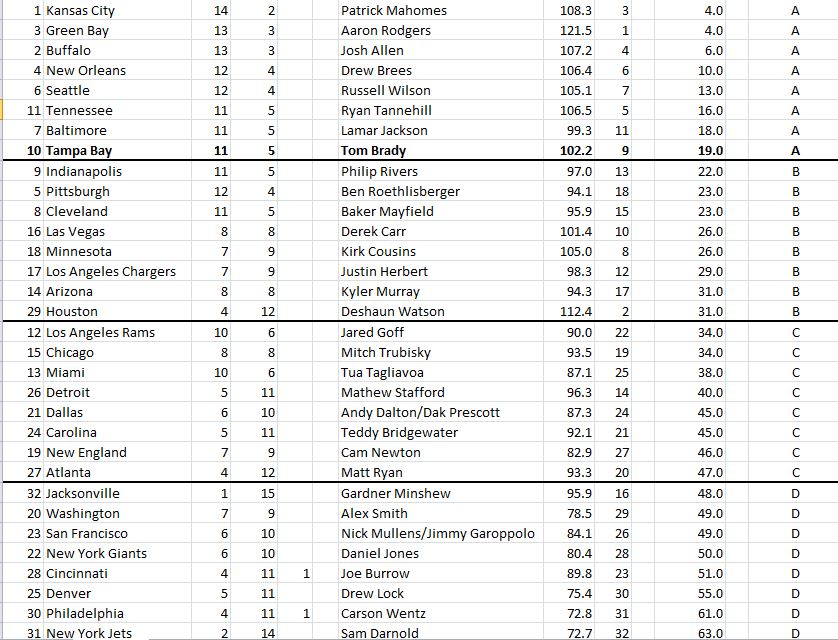 How does this work? The team with the best overall record in the NFL (Kansas City at 14-2) was given a "1" ranking. Their starting quarterback (Patrick Mahomes) was given a QBR rating of 108.3 which was third-best in the NFL this year. The SwampSwami.com ranking gives Mahomes a total of 1+3=4 "Quarterback Happiness Ratings" points.
At the bottom of the rankings, the #31 (out of 32) NFL team was the New York Jets. Their starting quarterback (Sam Darnold) finished with the worst QBR rating (72.7). The total of 31+32=63 points in my "Quarterback Happiness Ratings" system. Darnold's time as starting quarterback with the Jets should be considered shaky at best.
Let's give the SwampSwami.com "Quarterback Happiness Ratings" a letter grade – just like in school – so that you can see where your favorite team's needs should be in the offseason. With 32 NFL teams, let's give an "A" to the top eight teams, a "B" to the next eight, a "C" to the next group, and a (generous) "D" to the final eight starting quarterbacks.
The "A" grade quarterbacks were Patrick Mahomes (Chiefs), Aaron Rodgers (Packers), Josh Allen (Bills), Drew Brees (Saints), Russell Wilson (Seahawks), Ryan Tannehill (Titans), Lamar Jackson (Ravens) and some guy named Tom Brady (Buccaneers). All of those quarterbacks played on teams which won 11 or more games during the regular season. Only Lamar Jackson's QBR (#11) was outside of the top ten of that category, too.
The "B" QB's were Philip Rivers (Colts), Ben Roethlisberger (Steelers), Baker Mayfield (Browns), Derek Carr (Raiders), Kirk Cousins (Vikings), Justin Herbert (Chargers), Kyler Murray (Cardinals), and Deshaun Watson (Texans). Again, Watson's high QBR rating (#2 overall) moved him up in my ratings.
If you didn't see your favorite quarterback in my top two groups, your favorite team probably had a lousy year and/or your starting quarterback faltered this year, too. Only Jared Goff (Los Angeles Rams) and the oft-injured Alex Smith (Washington) started at quarterback for a playoff team this year but didn't make my top 16. After the Rams shipped Goff to Detroit for Mathew Stafford a few weeks ago, it's obvious that Los Angeles didn't believe Goff was likely to improve next year.
If you're a fan of Indianapolis and New Orleans, you have a big question mark at quarterback right now. With Philip Rivers' retirement from the Colts and Drew Brees' retirement expected soon from the Saints, those two teams have the most to lose next year.
The biggest positive rookie quarterback this season was Justin Herbert with the Chargers (who earned a solid "B" rating in my system). Though he was passed-over by teams which selected Joe Burrow (Bengals) and Tua Tagovailoa (Dolphins), Herbert quickly earned the starting job on his team and passed for over 4,300 yards and 31 touchdowns in 2020.
The Pittsburgh Steelers finished with the #5 regular season record, but Ben Roethlisberger had an NFL QBR rating of #18. Either Big Ben improves or he might find himself replaced soon.
The same goes for New England.  It was bad enough for Patriots fans to watch Tom Brady win another Super Bowl for Tampa Bay on Sunday.  The team's replacement quarterback (Cam Newton) was horrible and finished as the 27th ranked quarterback out of 32 NFL teams. 
Teams like Denver (Drew Lock) and Philadelphia (Carson Wentz) are reportedly on the lookout for a change at the helm in the offseason via trades or draft choices. My SwampSwami.com "Quarterback Happiness Ratings" showed both teams near the bottom with low "D" ratings.
The moral of this story is obvious. If your team wants to have a chance to compete for a Super Bowl trophy, a top-flight quarterback is a leading indicator that your team is on the right track.
Unless you are the Houston Texans, that is. They're pretty much hopeless right now.