Podcast: Play in new window | Download
On Sunday afternoon, I cleared my busy schedule (cough, cough) to watch the first "live" men's professional golf match in the past couple of months.
The highly anticipated "Taylor Made Driving Relief" skins match was broadcast on NBC Sunday afternoon.  It featured four young guns of the PGA tour as Rory McIlroy and Dustin Johnson paired off against two former Oklahoma State Cowboys golfers, Rickie Fowler and Matthew Wolff.  The match was played at the legendary Seminole Golf Club in southeastern Florida.
Sunday's televised golf event was intended to promote the game of golf as about $5.5 million was raised (mostly from corporate sponsors) for a few charities which could use a financial boost due to the recent pandemic.
A skins game means that the two teams of golfers play against each other on a hole-by-hole basis with the lowest individual score for one team against the other team's low score on the hole. If both teams tie on a hole, then there is a carryover of the dollar value (in this case, for charity) onto the next hole. The final six holes carried a significantly increased dollar values to increase the suspense and, theoretically, keep viewers watching.
This one-time event was quite interesting in a number of ways. Let's examine a few.
***The golf course was unique and worth the time spent watching
For me, the most anticipated part of the event was getting a chance to see this exclusive seaside golf course which regularly shows-up as one of America's top 25 golf venues. Seminole Golf Club, which opened 90 years ago in 1930, is located along Florida's Atlantic coastline in North Palm Beach. It is quite exclu$ive with a relatively small number of well-healed members (including one their newest members, Tom Brady).
Translated – you and I won't be playing golf at Seminole Golf Club anytime soon, so it was "must see TV" if you wanted to see an iconic national golf treasure for the first time.
For visual optics, Seminole did not disappoint.
This 7,200 yard seaside golf course features an abundance of sand, sand dunes, water, but very few and far-between skinny palm trees. The fairways are generously wide. The greens, though, gave these professional golfers fits as they are relatively small (by today's PGA standards) and very tricky to read.
That's the good news.
Unfortunately, this relatively wide-open golf course (like so many others on tour) was reduced into a glorified four-man drive, pitch, and putt competition for these young golfers utilizing modern-day golf clubs and golf balls. The rough (for what little I saw) was better manicured than most municipal golf course fairways. Thank goodness for the abundance of natural sand areas and water to offer a little resistance to these golfers playing this classic links course.
Yes, these four 30-ish golfers all carried their own golf clubs around this lovely golf course on Sunday afternoon. That was primarily due to an abundance of C-Virus caution to keep as few people on the golf course as possible. The golfers were allowed to utilize another technology (range finders) to determine the approximate yardage from the fairway to the greens.
The good news is that the players were noticeably quicker (the match was over in about 4 hours and 15 minutes). The reason? There wasn't all of the excessive back-and-forth chatting between the player and the caddy on shots from the fairway and around the greens.
Though we won't be seeing multi-millionaire golfers toting their own heavy golf bags for five miles on golf courses soon, this event proved that the lengthy banter between caddies and players definitely slows the game down.  Caddies may be vanishing over the next decade.
Why do pro golfers even bother carrying long and middle irons anymore?
This event reminded golf purists (like me) that today's professional golfers are utilizing all available technology to routinely bomb 325-350 yard drives and leave just a pitching wedge (or less) into the greens. It's legal to do, but, in truth, makes for REALLY boring golf on television.
Let's do a short review. A golf course like Seminole (or insert any other golf course built before 2000) was designed (in 1930) with various lengths of holes based on an average tee shot of 230-250 yards. For a 410 yard par-4, that would leave the golfer with a 160-180 yard approach shot to reach the green. In the not-so-distant past, that would entail a minimum of a 6-iron into the green. In today's PGA, it's a 9-iron for most golfers.
Are today's golfers all superior athletes to past golfers? Hardly. Not taking anything away from the improved fitness of today's players, you will never convince me that Sam Snead, Arnold Palmer, and Jack Nicklaus weren't every bit as strong as today's golfers.
It's the equipment, stupid!
In order to force golfers to utilize the other clubs in their bag, you must dial-back the excessive distances from today's golf balls and clubs by making fairways shorter (stop them at 280-300 yards on par-4 holes, for example) and grow exceptionally long rough. The professionals will quickly learn to dial it back.
Did you notice the players were wearing shorts Sunday?
In this made-for-television match, the players were permitted to wear shorts to play in. Why not? I think a few PGA events should be allowed to experiment with this idea – especially when temperatures are blazing in the summer months ahead. Go for it!
Most PGA golfers are (still) incredibly boring and don't justify a microphone.
The fun of a Skins Game competition is to allow the personalities of the players to shine. The legendary Lee Trevino was and remains the gold standard for giving golf fans a good time with his never-ending banter and wit. He could bring out the best from stoic players like Jack Nicklaus and Tom Watson as they would occasionally respond with a few zingers of their own.
Rory McIlroy did his best to get a little smack talk going early in the match, but the opposing team didn't take the bait.
Early in the match, Rory sank a short putt to halve the hole. He looked over at his opponents (Rickie Fowler and Matthew Wolff) and said, "I think you forget that I've won two FedEx Cups for $25 million," before heading to the next tee.
After Wolff sliced his tee shot on the next hole into a dune, McIlroy chirped, "Thanks for doing your part to social distance, Matt!"
Sadly, Fowler and Wolff didn't take Rory's hint to put on a little show for the TV audience.
I give Rory credit for trying to get a spark going, but, alas, his partner was even worse.
Dustin Johnson has won twenty times on the PGA tour, and I don't know if he has smiled more than a few times yet. I do realize that it is difficult to play golf at such a high level and be aware of the fans, but this was an exhibition match, Dustin! C'mon, man!
Dustin Johnson's demeanor on the golf course reminds me of Lurch from the Addams Family! Oh-h-h-h-h-h…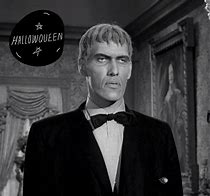 Rory McIlroy hit the final shot of the day slightly inside of Matthew Wolff's ball after an unusual one-shot "closest-to-the-hole" competition after the two teams were tied following the 18th hole.  McIlroy and Dustin Johnson's team earned $1,850,000 for the American Nurses Foundation while Fowler and Wolff won $1,150,000 for the CDC Foundation. 
With that kind of money raised for a couple of great charities, that's the real winner!