Podcast: Play in new window | Download
With only one college football game to go (LSU vs. Clemson in the BCS championship game this Monday night), the 2019 bowl season is now over.
There were 39 (ugh) bowl games played this season involving teams with six or more wins. Only 6-6 Toledo and 6-6 Missouri were left out of the bowl season this year.
With mediocre records like that, my bet is that the fans of the Rockets and Tigers were glad to have remained home for the holidays. Nothing spells holiday fun quite like a trip to Boise, Idaho to play in the Famous Potato Bowl game in early January!
With no disrespect intended toward the fine city of Boise, it is a reminder of the absurd number of meaningless bowl games which are now being played during the holiday season.
The reason which we just had 39 bowl games is simple. It makes money for Di$ney's ESPN division!
During the holiday season, even the most unattractive college football bowl match-up is a still a "live" sporting event. The lamest college football game has been proven to garner a significantly larger viewing audience than most holiday movies, network reruns, and other fare.
A "live" sports event (especially a four-hour commercial-infused college football game) offers ESPN's advertisers a chance to pitch products to a coveted male-dominated buying audience which many advertisers are trying to reach. Auto makers, jewelry stores, and other holiday merchants are more than willing to spend advertising dollars on ESPN to reach multitudes of last-minute male shoppers who just happened to be watching a college football game that night.
If 39 bowl games weren't enough for you, get ready for #40 beginning this December!
Welcome to the Myrtle Beach Bowl! Personally, I prefer to visit Myrtle Beach from May through October, but the South Carolina tourist city wanted to join the holiday party of bowl (aka "marketing") games.
Now, let's see how your SwampSwami did with his bowl predictions for 2019. In review, I provided my ranking of all 130 large-division (FBS) college football teams at the end of the regular season. Then, when the bowls were announced, I projected the game winner as being the team with the higher ranking coming into the game.
How did we do?
Out of the 39 bowl games, my ranking system provided 25 winners and 14 losers. That's a 64.1% winning percentage.
Here is the complete list of how we predicted each game: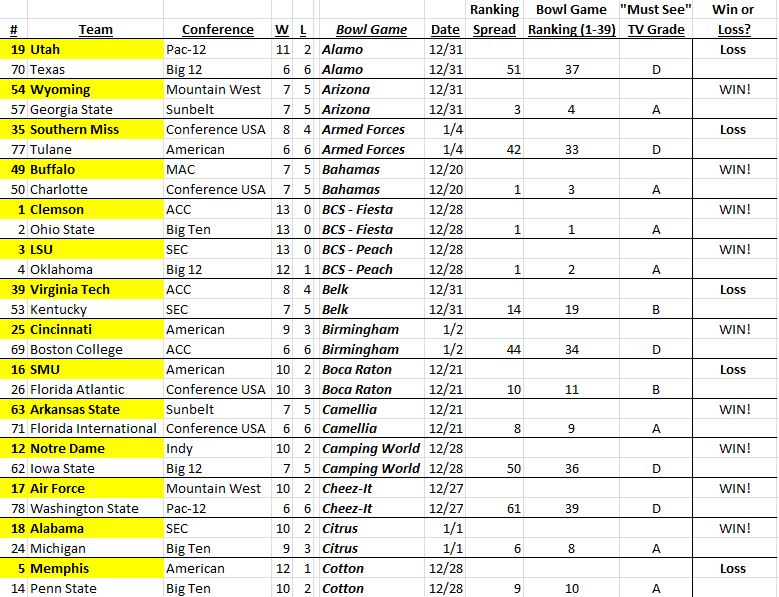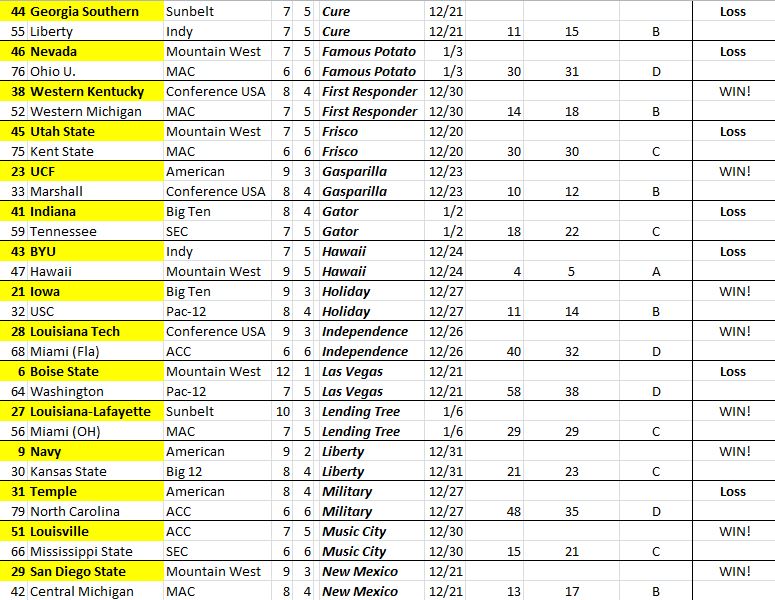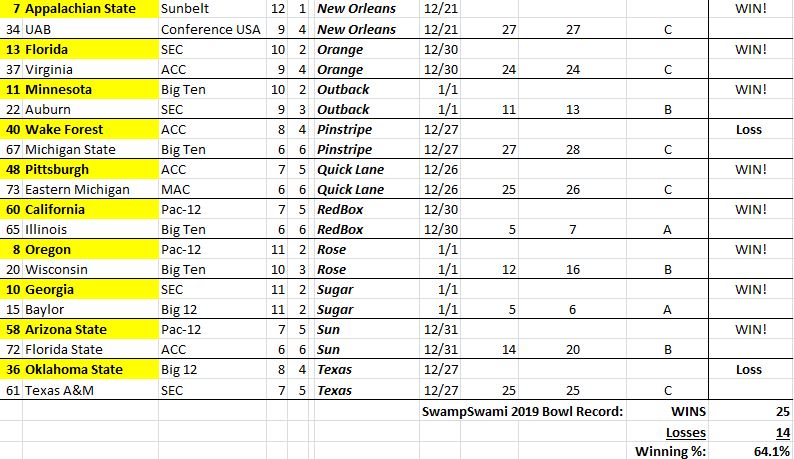 Admittedly, I was hopeful that my selection method would get us above the 2/3 mark (67% winning percentage). However, 64% isn't a total loss, either.
I've received some feedback that my ranking system gives too much credit to the "little guys" who have good regular season records and discounts some of the teams from the larger conferences who have played more games against stronger competitors.
In that vein, my biggest disappointment was 12-1 Boise State (#6 in my rankings) being obliterated 38-7 by a 6-6 University of Washington team (ranked #64 in the SwampSwami.com poll). Then again, I doubt anyone else saw that rout coming.
Let's now examine how each of the conferences fared during the 2019 bowl season: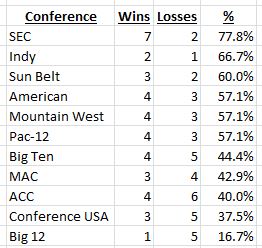 It's apparent that the Southeastern Conference (7-2 heading into LSU's national championship match-up with Clemson this Monday) was the big winner. On the flip side, I never expected the Big 12 Conference to go 1-5 in bowl games this year, either.
Looking ahead to the 2020 college football season, perhaps I should give some thought to assigning a weighting of the conferences based on this year's bowl season results to improve the predictability of the post-season match-ups. Hmm.
All-in-all, the SwampSwami College Football rankings were fun to produce each week and, I hope, provided a little spice to the traditional approaches of ranking teams.
Thanks for your support! I'm looking forward to next season.