Podcast: Play in new window | Download
After taking a few days to digest the incredible 46-41 triumph of the undefeated LSU Tigers over the Alabama Crimson Tide in Tuscaloosa last Saturday, the underdog story of three key LSU performers has remained in my mind.
There has been a strange confluence of circumstances which brought LSU head football coach Ed Orgeron, Heisman-hopeful quarterback Joe Burrow, and underappreciated running back Clyde Edwards-Hellaire all together in Baton Rouge.
All three of these men have been instrumental in elevating the 2019 LSU Tigers football team back to the top of the college football world again.
How they arrived in Baton Rouge, though, is yet another story.
For Coach Orgeron, he easily could have been the head coach at the University of Southern California right now.   After working his way up to become the head coach at Ole Miss from 2005-2007, he became the ex-head coach of Ole Miss after being fired following the Rebels' season-ending loss to rival Mississippi State.
Today, Coach O acknowledges that he learned a lot from those years at Ole Miss. He then went back to coaching defenses. First, he landed with the NFL's New Orleans Saints (2008) and then he returned to college coaching again at the University of Tennessee (2009).
In 2010, the Cajun football coach from Larose, Louisiana headed west to join the staff of the University of Southern California under then-head coach, Lane Kiffin. In 2013, Kiffin was abruptly fired during the season in late September. The Athletics Director at USC handed the interim coaching keys to Ed Orgeron to finish-out the season.
Coach O took over the team with a different mindset from his time at Ole Miss. This time, he said that he approached the team in the same way that he mentored his own teenaged sons. The team responded with a 6-2 finish during Ed Orgeron's interim head coaching job.
Instead of being rewarded with a second chance to become a head coach of a major university, Ed Orgeron was passed-over this time for Steve Sarkisian (who had been coaching Pac-12 rival Washington). Coach O then resigned from USC to contemplate his next career move.
It was time to go back to the bayou again. Enter LSU.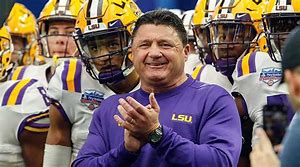 In 2015, Coach Ed Orgeron became the defensive line coach for the LSU Tigers and worked for head coach, Les Miles. During Orgeron's second season in Baton Rouge, Les Miles (like Lane Kiffin at USC) was fired in late September of the 2016 season.
Louisiana native Ed Orgeron was now asked to become the interim head coach for his home-state LSU Tigers. Ironically, just like at USC in 2013, Ed Orgeron's LSU team finished the 2016 season with a 6-2 record.
After the season, Coach O had to wait as LSU's Athletics Director wanted to test the waters to land a "hotter" name head coach. The school flirted with the University of Houston's Tom Herman, but he took the job at the University of Texas instead. Jimbo Fisher at Florida State also turned down a chance to come to LSU (he ultimately left the Seminoles for a lucrative job at Texas A&M the next season).
Almost by attrition, LSU meekly awarded the head coaching job to Ed Orgeron. The fans of Louisiana rejoiced as they saw a man who spoke their language, who had the intensity that Tiger Nation demanded of their head coach, and who had the respect of the football players who played for him.
Meanwhile, in Ohio…
Joe Burrow, who played quarterback in high school as well as a nifty point guard for the basketball team, signed a scholarship to play football with (The) Ohio State University. Burrow arrived at Ohio State with impressive high school statistics, including passing for over 11,000 yards in his career.
As a freshman at Ohio State, Burrow was nicknamed "John Burrow" by the upperclassmen quarterbacks. 
Head football coach Urban Meyer even told him at practice that he would be lucky to play for Division III college team Mount Union. By the time he was a sophomore, Burrow noticed that the coach had elevated him to FCS small school Youngstown State.
Rather than sitting on the bench accepting criticism, Burrow accepted the challenge to become a better quarterback and earn a chance to play at Ohio State.
By his third year in Columbus, Burrow competed for the starting job but injured his hand late in the summer drills. Another year, another season on the Buckeyes' bench for Joe Burrow.
Burrow decided it was time to go elsewhere. Luckily for LSU fans, Burrow found Coach Orgeron and Baton Rouge as the best potential fit where he compete for a quarterback job on a quality team which might be good enough to play for a national championship.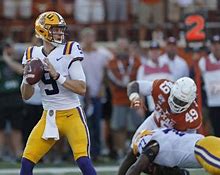 Burrow is having a Heisman Trophy worthy final year at LSU.  He has set school passing records with 3,200 yards, 33 touchdowns, and 79% completion rate with three more games to go in the regular season in leading the Associated Press' current #1 team. 
Elsewhere in Baton Rouge, Louisiana…
Running back Clyde Edwards-Hellaire grew-up in Louisiana's Capitol City and played high school football for perennial football powerhouse Catholic High. He was graded by the college scouting services as only a "three star" prospect due to being vertically challenged (he is listed at 5' 8"). He also weighed around 200 pounds, which is about 25 pounds lighter than most major college running backs.
Then again, Clyde Edwards-Hellaire isn't your average major college running back.
Like his quarterback, Joe Burrow, he found the bench for most of his first two seasons in college at his hometown university, LSU. He sat and watched as talented Tiger teammates named Leonard Fournette and Darrius Guice dominated the playing time.
During his senior season in Baton Rouge, though, Clyde Edwards-Hellaire has run for nearly 800 yards in his first nine games of the season and has tallied 11 touchdowns.  He loves to play against the best competition as he has racked-up over 100 yards on the ground during wins over  #7 Florida, #9 Auburn, and now former #1 Alabama.
On Saturday afternoon in Tuscaloosa, Clyde's four touchdowns scored against the Crimson Tide marked the first time that any player has scored four times against a Nick Saban-led Alabama team since he arrived in 2007.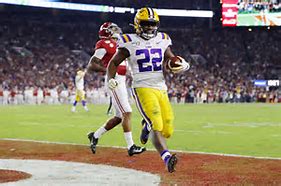 Tears fell as Edwards-Hellaire embraced LSU wide receivers coach Mickey Joseph along the sidelines following his final touchdown sealing the win for the Tigers. Edwards-Hellaire described the team's first win over Alabama after eight straight losses as overwhelming.
Like his well-travelled head football coach Ed Orgeron and Ohio State transfer quarterback Joe Burrow, Clyde Edwards-Hellaire represents yet another LSU pound puppy. All three of these men have scrapped and worked for every bit of the football success that they and their LSU team are realizing in 2019.
"Everybody can measure the things they see, but they can't measure your heart."