Podcast: Play in new window | Download
Playing in a weekly fantasy football league should be fun, but you would at least like your team to be competitive every week.
Not so for my Yahoo! Sports fantasy football team called Swamp Gas. The Methane Marauders dropped their second straight game and fell to 5-4 with four games remaining in the regular season.
This week, we were KO'd by a whopping 48 points in losing big again, 120-72.
My fantasy football team apparently has a fear of close games. Our four losses have been by 48, 18, 39, and 46 points. That averages out to nearly 38 points per loss!
Despite another poor weekly showing, my Swamp Gas team is still in fifth place in the ten team league. More concerning, though, is that we remain the lowest scoring team in the league.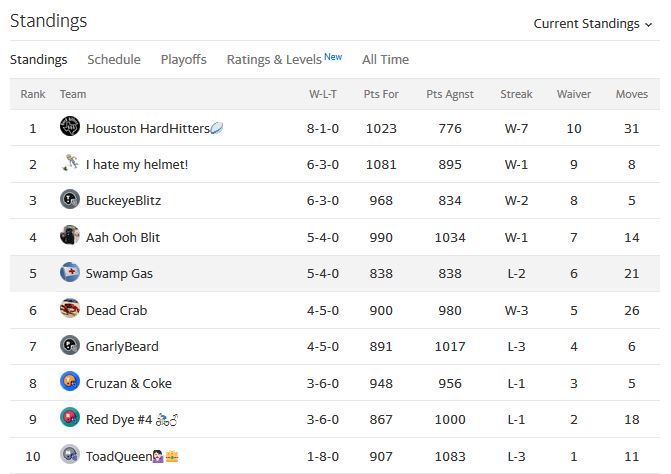 There is a little bit of good news on the horizon. Starting quarterback Drew Brees returns to our line-up this week. Maybe our Hall-of-Fame quarterback will lead by example and motivate the rest of the squad!
General Manager's comments – The GM has tried hard to find enough healthy bodies to put on the field every week.   On Sunday, we were forced to wait until just before game time to know whether two of our first three draft choices were available to play.  Wide receiver Adam Thielen (Vikings) and Davante Adams (Packers) were literally game-time decisions so we needed a back-up to be ready for both of our starters.
This week, your GM is going to dump back-up QB Gardner Minshew (Jaguars) after laying an egg last week while Drew Brees was still off. Minshew threw two interceptions, had two fumbles, and scored a puny seven points in an ugly loss to the Texans. You're gone!
We'll also drop our extra kicker (Robbie Gould – 49ers) who was only needed with Saints starter Wil Lutz on a bye week, too. Only four points from the back-up kicker? GOOD BYE!
In their places, we will look to grab another running back and wide receiver to add temporary depth at those injury-prone positions. We'll see if Miami receiver Davante Parker (that would give us two Davante's on our team!) or Ted Ginn of the Saints is available. At running back, perhaps Ronald Jones of the Bucs might be able to provide a little insurance on the bench.
Coach's Corner – In my defense, it doesn't matter what combination of players you put on the field when your team loses by 48 points. Yes, quarterback Gardner "The Mustache" Minshew failed miserably this week (7 fantasy points vs. a projected 20).
The same goes for Adam Thielen (Vikings). On Sunday at literally the last minute, he was announced to start so I inserted our third round pick into the line-up. Then, he re-injured his hamstring while running for his first pass of the day. He scored zero points (vs. a projected 10) and is now sidelined again with the same leg injury.
We're awaiting information about a possible knee injury for RB Le'Veon Bell (Jets).  He had an MRI on Monday, and we await the news.
Another likely bench warmer is tight end T.J. Hockenson (Lions) who was injured Sunday. If T.J's injury is a concussion (which would be his second of the season), he might be finished for this year.
This week, we'll finally have most of our Week 1 starters back. We'll try, try, and try again to get back above 100 points for the first time in six weeks!
Week 10's opponent is another 5-4 team, and they are currently shown as solid favorite based on the point projections. Let's hope that a little good luck finally comes our way as The Methane Marauders try to rebound into the win column and salvage our playoff hopes!