Podcast: Play in new window | Download
Through the week ending Saturday, November 2, we are now down to just seven teams with an unbeaten record in the 2019 college football season.
The newest SwampSwami College Football Top 25 rankings indicate that we lost Appalachian State and SMU from the unbeaten group over the weekend as each lost their first game of the season.  Both teams, though, still stay in this week's Top 25 with just one loss on the year.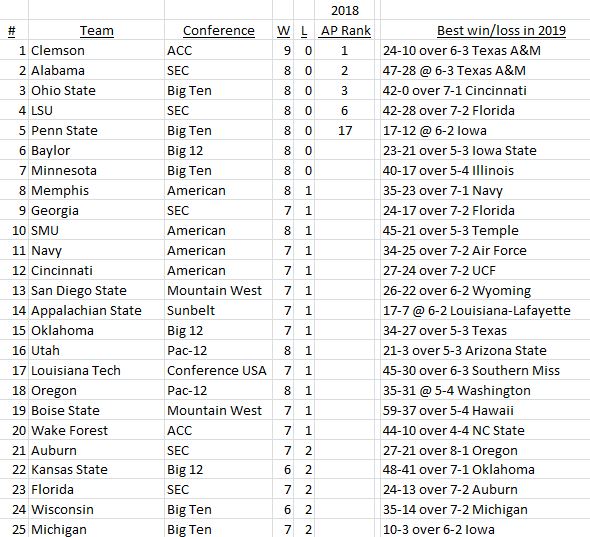 The seven remaining unblemished teams will dwindle to five (or less) after this upcoming weekend's college football games.
SEC titans Alabama and LSU will battle it out Saturday afternoon in Tuscaloosa (2:30PM Central on CBS). The other polls show them as #1 and #2 (which is fine), but I have the two teams at #2 and #4 respectively.
Alabama's head coach, Nick Saban, formerly coached the LSU Tigers in the 2000's and led them to a national championship in 2003. He left Baton Rouge for a chance to coach the NFL's Miami Dolphins. As a result, LSU grabbed Les Miles away from Oklahoma State while Saban stayed just two seasons in Miami before wanting to return back to college football.
Saban landed at Alabama in 2007 (one of LSU's long-time most-hated rivals) and immediately became persona non-grata with Tiger Nation in Baton Rouge.
After a few years of competitive battles with LSU, Nick Saban's Alabama Crimson Tide has now won eight consecutive match-ups with LSU. Last season, then #1 Bama came to Baton Rouge and put an embarrassing 29-0 skunking on then #4 LSU.
In last year's game, Alabama not only quieted the always rowdy LSU fans but also outgained the Tigers by a rolling up 576 yards on offense compared to LSU's measly 196 total yards for the game.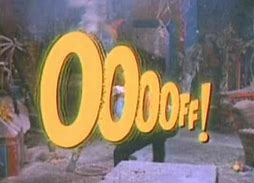 Will LSU's newfound offensive spark be enough to break this eight game losing streak? Will Alabama dust-off the "How we beat LSU" playbook again this year and administer another beat-down?
Regardless of what happens, one of our unbeaten team will disappear this Saturday.
The same thing will happen on Saturday in Minneapolis as the surprising 8-0 Minnesota Golden Gophers (#7 in my poll but #13 in those other two polls) will host the 8-0 Penn State Nittany Lions (#5 in all three polls) at 11AM Central time on ABC.
Minnesotans are quite disappointed that ESPN's College Game Day did not come to showcase this game as it would have been the crew's first visit to Minnesota. Instead, Game Day will set-up shop at Alabama for the game with LSU.
This will be a fascinating game to watch as most of the nation has no idea what to expect from the surprising Golden Gophers. Penn State is used to playing in big games, but I am hoping that Minnesota rises to the occasion on the national television stage.
The bottom portion of this week's SwampSwami College Football Top 25 involves several teams with two losses.    If your favorite two or three-loss team isn't shown, check out the list below to see how far your team has to climb to make it into my Top 25!