Podcast: Play in new window | Download
Subscribe: RSS
This is one of the reasons I started the SwampSwami College Football Top 25 two years ago.
The mainstream media has just thrown the defending champions of college football under the bus in favor of this week's prettier girl. Alabama has replaced Clemson at the top of those other two traditional ratings services.
Why?
Alabama blasted another weak opponent this week as the Tide (at home) obliterated 2-3 Ole Miss 59-31 on Saturday. Meanwhile, in Chapel Hill, North Carolina, Clemson survived a 21-20 scare on the road as North Carolina (2-3) failed to convert a game-winning two point conversion at the end of the game.
So, the major ratings services have now deemed Alabama better than Clemson. I guess that the polling contributors have a very short memory, because Clemson obliterated Alabama 44-16 in last season's championship game.
In the SwampSwami College Football rankings, we start with the premise that the final AP Top 25 should be a fair way to begin team rankings for the new season. Therefore, until a team loses their first football game in the current season, I believe that they deserve to be ranked ahead of any other undefeated newcomers.
Clemson (which has already beaten two 3-2 teams, Texas A&M and at Syracuse) went on the road Saturday to play conference rival, North Carolina. Alabama scored an impressive season-opening win against 3-1 Duke (in Atlanta) and a road win at 2-3 South Carolina.
Both Clemson and Alabama are now 5-0, but the Clemson Tigers were the team which won the most recent match-up of the two juggernauts. 
Remember this game?

And that's why Clemson will remain atop my poll until someone beats them this season. The champ is still the champ until someone knocks them off the perch.
If the other two polls were looking for the most impressive wins thus far in 2019, they should have ranked Ohio State (my #3 team based on last season's final rankings) as the #1 team after they steamrolled Nebraska 48-7 in Lincoln Saturday night. On a game-by-game comparison, Ohio State's wins in 2019 have been more impressive than either Clemson or Alabama.
Let's now reveal the SwampSwami College Football Top 25 for the week ending September 28, 2019: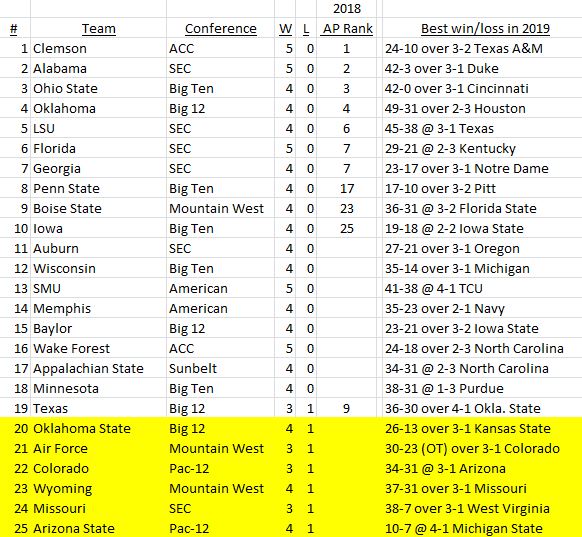 Moving out of this week's poll were Kansas State (lost at 4-1 Oklahoma State), California (lost to 4-1 Washington), Virginia (lost at 3-1 Notre Dame), Navy (lost at 4-0 Memphis), UAB (lost at 2-2 Western Kentucky), and USC (lost at 4-1 Utah).
Moving into the SwampSwami College Football Top 25 this week are #20 Oklahoma State, #21 Air Force, #22 Colorado, #23 Wyoming, #24 Missouri, and #25 Arizona State. These are all one-loss teams whose only loss this season has come against a one-loss opponent.
Before we close for this week, a brief "Sa-lute!" to two teams which picked-up their first win of the season last week. The UMass Minutemen (now 1-4) shot down Akron (now 0-5) to avoid a winless season. Likewise, Vanderbilt grabbed their first win in 2019 with a 24-18 victory over Northern Illinois.
That leaves the following three teams as the only teams without a victory out of the 130 FBS large division schools:

Let's give a special commendation to 0-5 Rice. The Owls led most of the game against 4-1 Louisiana Tech before falling 23-20 in overtime Saturday night in Houston.
That's all for this week's SwampSwami College Football Top 25! Please tell a friend about us, and come back again next week!