Podcast: Play in new window | Download
Through four games in the 2019 college football season, the LSU Tigers are 4-0 and ranked #4 in the latest national polls (FYI – they are current ranked #6 in my latest SwampSwami College Top 25 poll).
LSU being ranked within the Top 10 after four games is certainly not surprising to most college football fans.
However, seeing that LSU's quarterback, Joe Burrow, is currently considered to be the leading candidate to win this season's Heisman Trophy as the nation's best college football player is worth taking a few moments to discuss.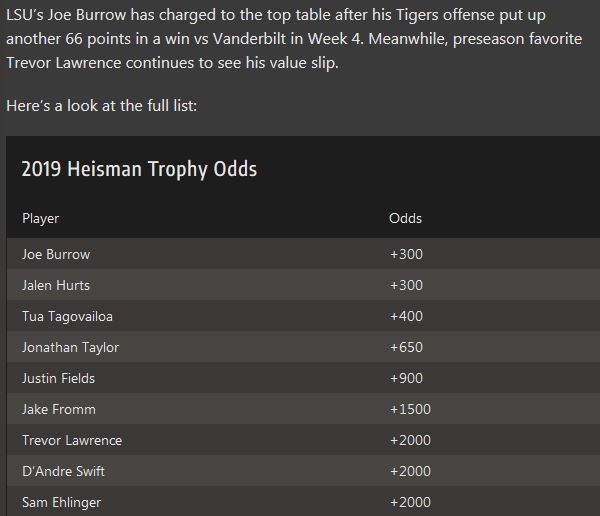 Burrow, who transferred from Ohio State after two seasons waiting for his turn to play for the Buckeyes, came to Baton Rouge and immediately won the starting quarterback job for the Bayou Bengals last season in 2018.  He led the Tigers to a 10-3 season mark and a top ten ranking to end 2018.
The 6'4" quarterback for LSU is from a football family. Joe's father, Jimmy, was a long-time defensive coordinator for Ohio University (the Bobcats) until he retired before this season to enjoy his son's final year at LSU. Two other brothers played football at the University of Nebraska.
Joe Burrow was also a standout basketball player in high school and garnered All-State honors as a point guard. His leadership abilities as a playmaker are also quite evident on the gridiron as he functions as the field general of the offense.
In a surprise (but overdue) move to nearly everyone in Tiger Nation, LSU's offensive coordinator, former LSU quarterback Steve Ensminger, brought in a young New Orleans Saints offensive guru named Joe Brady to help upgrade the Tigers' passing game beginning this season. Brady, who worked in New Orleans with future Hall-of-Fame quarterback Drew Brees for two seasons, has immediately transformed the Tigers' traditionally run-heavy offense into a modern run-pass-option (RPO) which grants the quarterback a significant number of throwing options at his disposal.
LSU quarterback Joe Burrow has responded to the new passing scheme with amazing success early this season. Burrow is the second leading passer in the country (yes, you read that correctly) with over 380 yards per game via the air.
Longtime LSU fans will advise you that, in past seasons, 380 yards of passing yardage might have taken the Tigers up to two full games to achieve!  In fact, the 2018 LSU team's TOTAL offense only accounted for just 387 yards per game (ranked 70th out of 130 FBS teams).
LSU's meteoric rise in offensive proficiency has given the Tigers and their rabid fans hope that they can, indeed, return to the national championship conversation once again.   
This year, LSU's newfound "Geaux, Joe!" pass-happy total offense is currently ranked #5 in the country!  It certainly presents a new challenge for LSU's upcoming SEC opponents in the weeks ahead.
The Southeastern Conference is widely known for its bruising style of defensive football.  Teams like Alabama, though, have added a more pass-oriented offense in recent years to keep them competitive and winning national championships.
Speaking of Alabama, the Crimson Tide has functioned as a blockade to LSU's national championship goals for the past eight consecutive match-ups.  Not since 2011 have the Tigers been able to take down a Nick Saban-led Alabama football team. 
In fact, the Tigers have failed to score more than 17 points against Alabama in any of those eight games and have been shut-out three times during the span. 
Don't think that Joe Burrow and his head coach, Ed Orgeron, aren't keenly aware of that statistic, too.   LSU fans would (perhaps) gladly trade a loss to another SEC foe for the chance to take down the Crimson Tide in Tuscaloosa on November 9, 2019. 
If Joe Burrow continues his precise and prolific passing and is able to lead LSU to a victory over arch-rival Alabama this season, his name might soon be linked in LSU lore alongside of the university's only other Heisman Trophy winner, the legendary Billy Cannon, who won the annual award back in 1959.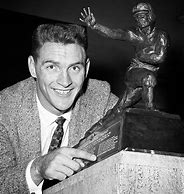 In his LSU bio, Joe Burrow states that he would like to some day work on the floor of the New York Stock Exchange as a trader once his playing days are over. 
Wall Street may have to wait, though.  The stock for LSU's "Trader" Joe is rising fast, and the legions of Bayou Bengal football fans are hoping their team leader will get the opportunity to ring the closing bell ending this college football season and reap some very sweet dividends along with it!