Podcast: Play in new window | Download
With less than one week until the end of the 2019 Major League Baseball season, a new record for futility is about to be established.
There are currently four baseball teams who have ALREADY lost 100 or more games during the 2019 season. Since modern day baseball records began in the year 1900, this year's quartet of incredibly lousy teams will secure a record as the first season with four teams losing 100 or more games.
It has been 80 years (1939) since two Major League Baseball teams have both cracked into the "All-Time Worst Records" list in the same season. Two-team futility also occurred in 1911 and 1909.
With 119 years of baseball played, the 2019 Futile Four will add three names to the "All Time Worst Records in the History of Major League Baseball":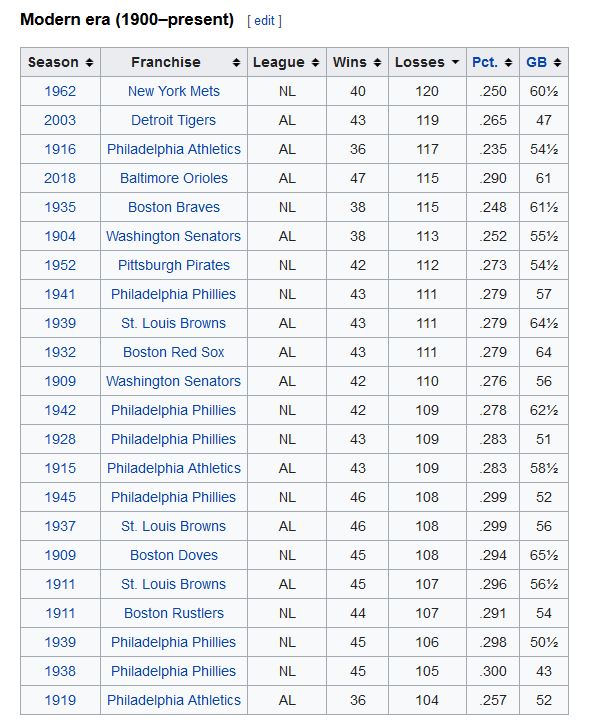 Without further ado, let's meet our biggest losers of the 2019 MLB season:
Detroit Tigers – Through Tuesday night's games, Detroit has already racked-up 110 losses, but will fall short of the all-time record 120 losses compiled by the 1962 New York Mets.
Baltimore Orioles – After last year's O's established the fourth-most losses of all time (115), the 2019 Orioles continued to frustrate their fans and have already accumulated 106 losses.
Miami Marlins – Sporting a spacious new (mostly empty most nights) baseball stadium, the former Florida Marlins are leading the National League with 102 losses as they stumble down the home stretch.
Kansas City Royals – The third member of the American League trio in this unique century club for 2019 is the team which won the World Series just four years ago in 2015. Royals fans are getting used to it. KC lost 104 games in 2018. As of Tuesday night, the 2019 Royals have racked-up 100 losses and still have a chance to match or exceed last season's losing total.
What does having four 100-loss teams say about baseball?
Like most major league sports, baseball needs to contract from 30 teams and reduce the number of franchises.
While the Houston Astros will (for this season) trot-out three All-Star starting pitchers for the post-season next week, pitchers for our Futile Four franchises have struggled getting anyone out. By giving up five or more runs per game (on average), our Futile Four teams would need their batters to score as many runs as the teams entering the playoffs just to earn a .500 record.
What about the home attendance for the 100-loss Futile Four teams in 2019?
Our Futile Four were all ranked among the six worst draws in Major League Baseball this season. Sadly, Tampa Bay (who may sneak into the playoffs) and Pittsburgh (home of the long-time futile Pirates) also made the bottom grouping.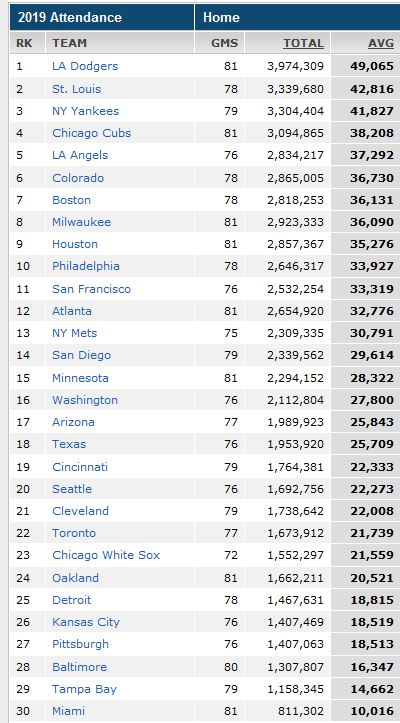 What can be done to prevent this from happening in the future?
Apparently, not very much! These teams can't afford to get into bidding wars with the wealthy New York Yankees or Boston Red Sox for talent. They must invest in drafting quality young baseball talent and pack their farm systems with exceptional coaches, too.
The Houston Astros are a recent "bootstraps" success story, but their willingness to invest in obtaining top-level pitchers has made them a World Series champ and consistent contender of late. With the team winning again, the Astros home attendance has also surged toward the top of the list.
With so many teams struggling on the field and at the gate in major league baseball, the majority of teams will be glad their season is about to come to an end.
If you live in one of the Futile Four cities, though, hope springs eternal for next season. Well, perhaps for the first week or two of regular season play next spring!
Good seats are still available!