Podcast: Play in new window | Download
My fantasy football team (Swamp Gas) moved to a nifty 3-1 this season with convincing 125-106 victory over the weekend.
My Methane Marauders were led by a couple of L.A. Chargers players this week. In addition to running back Austin Ekeler (24 points), I was able to grab quarterback Philip Rivers off the scrap heap on Friday (dropping Andy Dalton). Ol' Man Rivers (now 38) also chipped-in 24 points against the hapless Miami Dolphins' defense.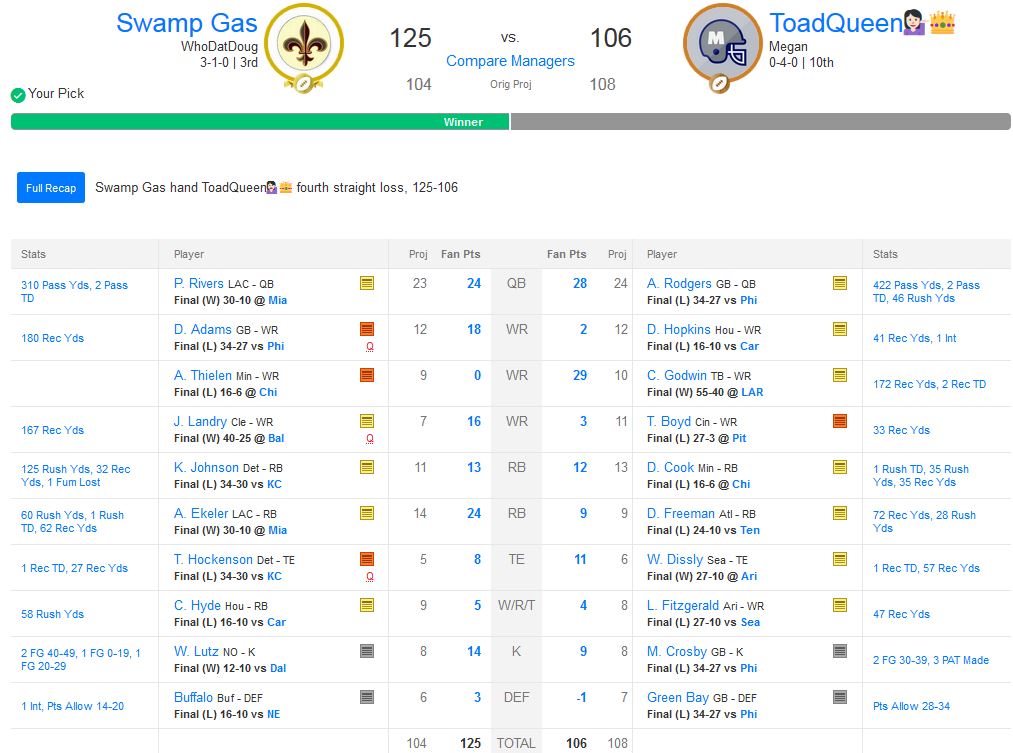 That's the good news.
The bad news is that the injury bug hit my team hard again this week. Would you believe that our team suffered FIVE injuries this week – including three with concussions? Here is the Swamp Gas hospital ward list after this week's costly win:
Jarvis Landry (WR – Cleveland) – One of our starting wide receivers was having a career day for us into the third quarter against Baltimore with 167 yards (16 points). Unfortunately, Landry suffered a concussion in the third quarter to end his day. We're waiting on a medical report on Landry.
Josh Allen (QB – Buffalo) – Though we kept our Bills' QB on the bench this week in favor of Philip Rivers, Josh Allen suffered a vicious and unnecessary helmet shot from a New England defensive player and was knocked out of the game in the third quarter. According to reports, Allen is in the "concussion protocol" and likely out for at least the next week. I still can't believe that the New England player wasn't tossed for such a dirty hit.
T. J. Hockenson (TE – Detroit) – After scoring a first quarter touchdown for the Lions, Hockenson suffered a concussion and a shoulder injury while attempting to hurtle tacklers in Detroit's game with Kansas City on Sunday. Early reports indicate that his shoulder injury may be the more problematic issue for our rookie tight end.
Devante Adams (WR – Green Bay) – Like Jarvis Landry, Adams was having a stellar game (18 points) until he suffered what is called a "turf toe" injury. Despite the odd name, it is quite significant for a speedy wide receiver if his foot is unable to push-off the field without pain. He is considered week-to-week.
Justin Jackson (RB – L.A. Chargers) – Jackson was a late-week pick-up (I dropped WR Deebo Samuels after one week). Unfortunately, Jackson injured his calf during practice last week and may be out for several weeks.
Not trying to complain about our newest injuries, but, remember, we had previously lost BOTH of our drafted quarterbacks (Drew Brees of the Saints and Ben Roethlisberger of the Steelers) during Week 2 of the season.
The rash of injuries over the weekend certainly doesn't make it easier to field a quality team in the weeks ahead, but this is why your General Manager and Head Coach (me and me) make the big bucks (ha ha). Reminder – our Fantasy Football league is played for fun only (no cash – thank goodness!).
General Manager's thoughts – Our team was decimated by injuries (five this week alone). This week, two of our players (both with Detroit) are on a bye week rest. What shall we do?
I will try to obtain the services of Green Bay wide receiver Geronimo Allison off waivers to cover the loss of our "franchise" wide receiver, Devante Adams. We'll send Chargers' RB Justin Jackson back to the proverbial junkyard and hope that other league teams with a worse record than Swamp Gas won't claim him first. I have low expectations here.
At quarterback, I was thrilled to find Philip Rivers (Chargers) available late last week, and it paid huge dividends with his play against hapless Miami on Sunday. With Josh Allen of the Bills injured with a concussion, Rivers is our only healthy QB at the moment. The Chargers host the 0-4 Denver Broncos this week. Denver is #3 defensively against the pass, though.
Could it be time for us to claim rookie Jacksonville QB, Gardner Minshew? The Jags play at Carolina this week. Sadly, the Panthers sport the #1 rated defense against the pass (allowing just 182 yards/game). I love watching Minshew work, but we need to think about this one.
Coaching decisions – With the significant amount of injuries, we're going to have to wait until late this week to see if wide receivers Jarvis Landry (concussion) and Devante Adams are permitted to play this Sunday. We can go with Jacksonville (and former LSU) wide receiver, D. J. Chark. We grabbed him after Week #1 and have stashed him on the bench for a time like this! If two replacements are needed, we'll see who the GM makes available for us.
At tight end, we'll be forced to go back to Saints TE Jared Cook (T.J. Hockenson is on a bye week and nursing his injuries, too). Cook has been a major disappointment, but he can redeem himself with a touchdown this week against Tampa Bay with the Saints in the Superdome!
At running back, Le'Veon Bell returns for the Jets (coming off a bye week) and travels to Philly (a tough place to play). Though Melvin Gordon (who ended his self-inflicted holdout last week) returns at running back for the Chargers this week, we'll keep our uber-productive running back Austin Ekeler in the starting line-up as he remains such a valuable receiver coming out of the backfield for the Chargers.
Swamp Gas is now tied for second place after four weeks. Not too bad!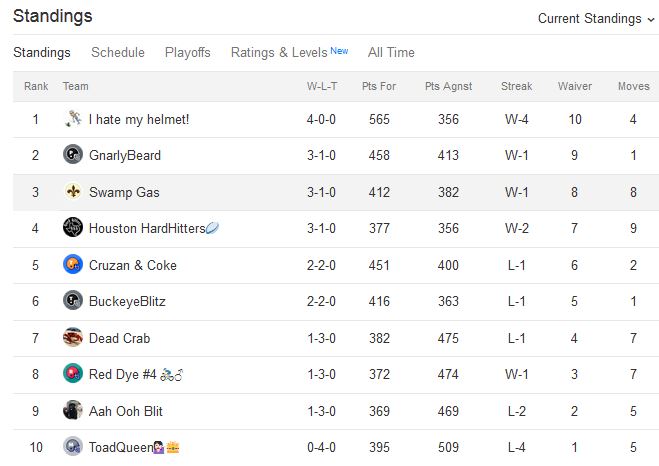 This week's opponent – We'll take our 3-1 record to play my former boss' fantasy football team, Red Dye #4 (nothing is stronger than red dye #4, you know). His team picked up their first win last week, and he would love to get his second win against his former employee!
Let's now introduce this week's walking wounded starting line-up…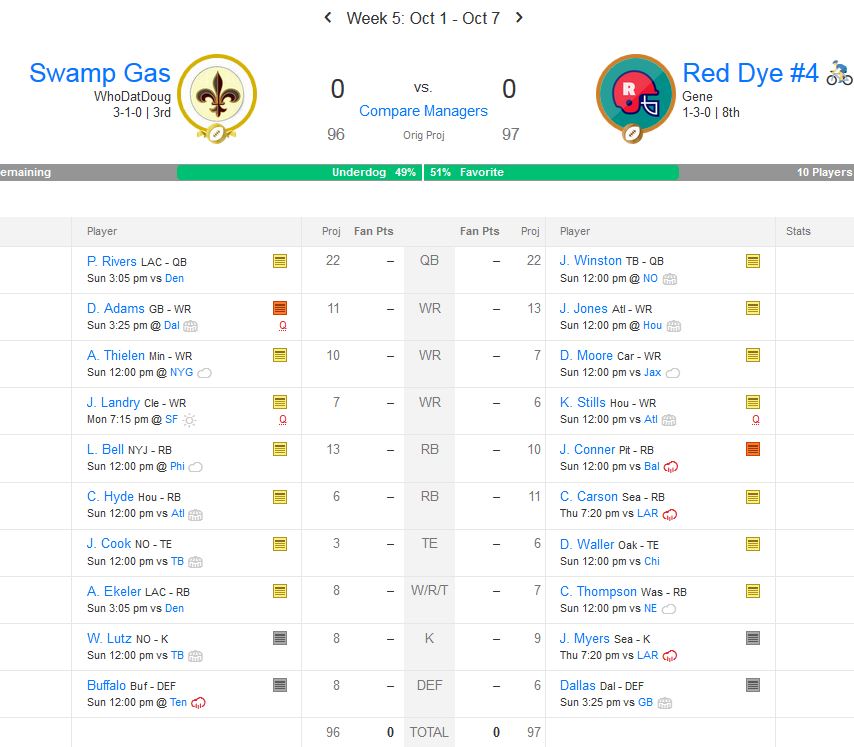 Come back next week to see how our team performs. Let's go, Swamp Gas!