Podcast: Play in new window | Download
Subscribe: RSS
This is the weekly update about my Fantasy Football team known as "Swamp Gas".
The good news is that your Methane Marauders moved to 2-0 as the team eeked out an ugly win by a mediocre final score of 79-65 over the Houston Hard Hitters (now 1-1).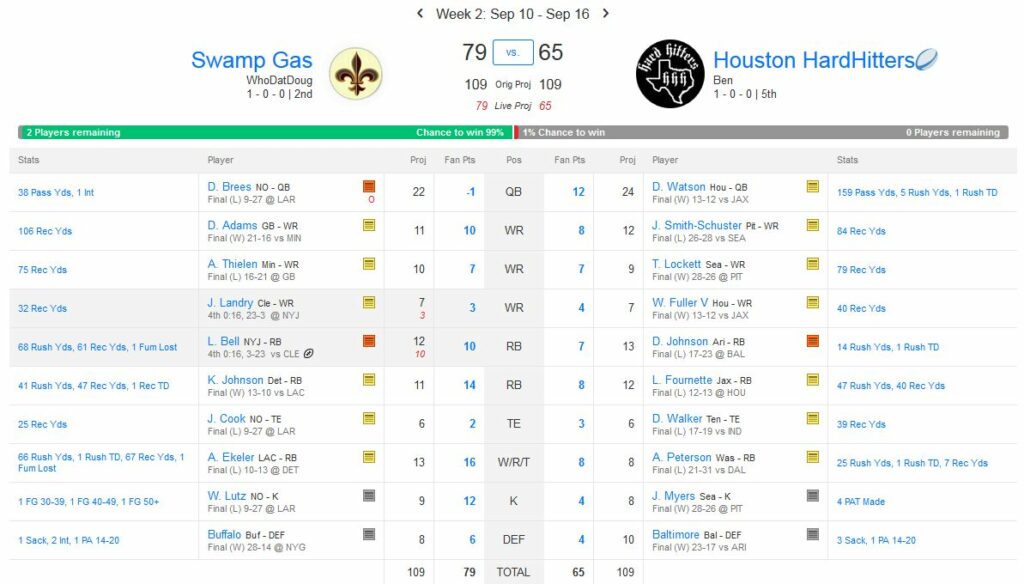 The bad news? Starting quarterback Drew Brees of the New Orleans Saints suffered an ugly injury to the thumb area of his throwing hand is going to be sidelined for an estimated six weeks as surgery is expected soon. At the time of his injury in the first quarter, Brees was at a -1 point for our Fantasy charges after an early interception.
More bad news? Our back-up quarterback, Ben Roethlisberger of the Pittsburgh Steelers, suffered a season-ending injury to his throwing arm and will require surgery, too!
Two black and gold quarterbacks (both with hopes of making it to the Super Bowl this season) have been taken away from our Fantasy Football team for the immediate future! What shall we do?
This is the hard part. Since your Fantasy Football roster can only carry a certain amount of players, we'll have to dump Big Ben (sorry, pal) and dust-off one of the unclaimed blessings from the bottom of the fantasy league bullpen.
Making matters more complicated is that our team (with a fine record of 2-0) must wait until the other teams with worse records have their waiver wire claims fulfilled before we can grab a quarterback off the scrap heap.
Let's take a look at some of the possible available talent as of Tuesday morning: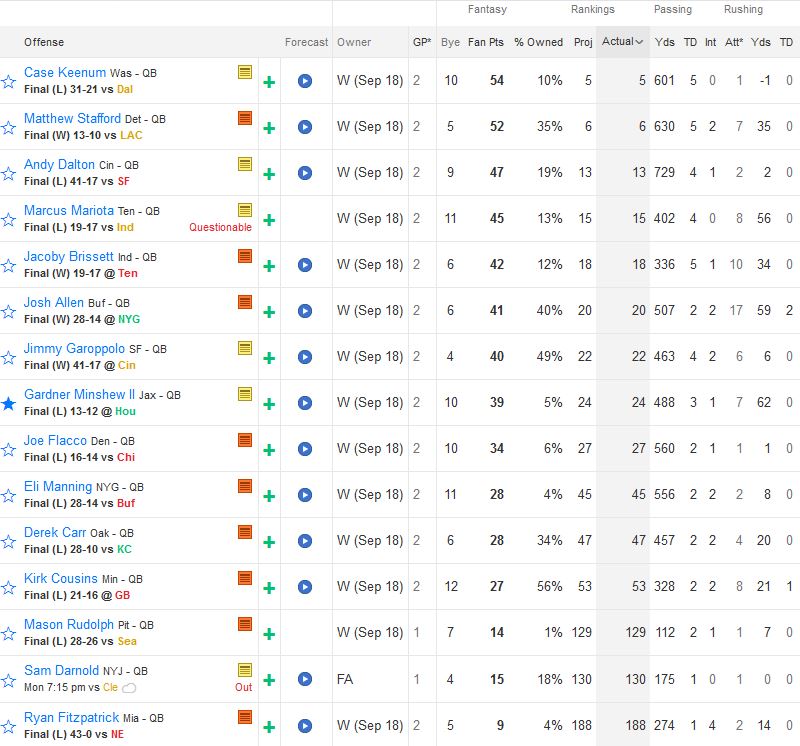 Case Keenum – Washington – He's averaging 300 yards per game thus far and is the highest scoring QB available right now. HOWEVER, Washington will play da Bears this week (best defense in the league). I have my doubts about picking a player on a losing team, but the Redskins have seven games to go before a bye week (where we will need another QB).
Matthew Stafford – Detroit – Like Keenum, he's also chunking the ball for 300 yards/game (7th in the NFL in passing) and has thrown for 5 TD's in two weeks. Detroit is at Philly this week and then at home against Kansas City before a bye week in three weeks from this past weekend. Still, he's a solid backup choice.
Andy Dalton – Cincinnati – Though Dalton's personal stats look pretty good (2nd in the NFL after two games), the Bengals were humiliated at home by San Francisco last weekend. The Bungles are at Buffalo and Pittsburgh the next two weeks. I just don't trust Cincy, but he could give us six weeks before their bye week.
Jacoby Brissett – Indianapolis – This is the guy taking the job vacated by the retiring Andrew Luck. The team is doing OK (1-1), but Jacoby is ranked #31 out of 32 teams in passing. No thanks. "Pass"!
Josh Allen – Buffalo – Here's a guy who simply wins at all cost. He's a big guy who likes to put his head down and runs (2 TD's) as much as he throws (2 TD's). Buffalo is home the next two weeks and will play Cincinnati (0-2) and New England (2-0). Plus, he'll get to play against Miami TWICE in the next eight games. His bye week is coming after three more games. He's in the hopper for evaluation.
Jimmy Garappolo – San Francisco – Like Buffalo, the 49ers are a surprising 2-0 to start the season. Jimmy G. can be inconsistent and currently ranks in the bottom third of the league in passing yards. The Niners host Pittsburgh but are off the following week (bye week). On the other hand, he'll be playing against lowly Arizona TWICE in the next eight weeks. Hmm…
Gardner Minshew – Jacksonville – The guy with the mustache! He's a rookie who is cool under pressure (just like he was at Washington State last year). The Jags' passing game is ranked in the middle with 280 yards per game. Minshew will have eight more games to play for us before a "bye" week. We'll consider him, too.
General Manager (me) Evaluation:
We'll say goodbye to our friend, Big Ben Roethlisberger, as he's done for the year. That opens one slot.
Since Drew Brees may return to finish the season for us, we'll keep him on the roster for now.
If we choose to take two quarterbacks, then we'll need to release someone. New Orleans' WR Tre'quan Smith was injured in the loss to the Rams on Sunday. He wasn't seeing much playing time anyway.
Let's take two quarterbacks this week and stick with the remainder of the roster. I'll let you know who I am able to acquire in our next visit.
Week #3 Line-up (Coaching decisions – which players should we play this week?):
It's hard to change the line-up when your team is winning. However, we'll definitely have a new quarterback this week with Brees and Roth unavailable.
We'll watch carefully for a possible chance to start wide receiver, D.J. Chark (ex-LSU, of course) in Jacksonville's home game this Thursday night against Tennessee. The second-year pro Chark has looked terrific through the first two weekends.
Plus, we're now wary of starting tight end, Jared Cook, of the Saints with Brees out of the line-up. Cook's reputation coming to New Orleans was that of a great pass catcher, but he hasn't looked the part thus far. We may give our rookie, T.J. Hockenson of Detroit, a start this week, too. Unfortunately, TJ's next game is at Philly while Cook's Saints limp to Seattle to play the Seahawks. Ouch!
This week's game is against another tough team. Cruzan and Coke comes in at 1-1 and, in recent years, has eaten our proverbial lunch. Who knows – maybe we'll be lucky again this week, too!