Podcast: Play in new window | Download
The University of Kansas football team started the 2019 season with a Labor Day weekend win (albeit closer than expected) against a tough Indiana State squad.
No, not the Indiana Hoosiers. The Sycamores of Indiana State.
Being 1-0 to start the season makes Kansas fans happy, but LSU fans may be even happier for their beloved former head coach.
Coach Les Miles has returned from two seasons of unplanned retirement and is at the helm of a program which needs him as much as he wanted to be back in charge of a major college football team.
The lovable former coach at LSU has been given new life in Lawrence, Kansas this season. The new head coach of the Jayhawks is a devoted family man with four grown children and an adoring wife. Coach Miles seems to thrive on developing a family atmosphere in his college football locker rooms, too. His former players love him nearly as much as his own family adores him.
At LSU, Les Miles won a national championship (2007) and two SEC Championships in eleven seasons as coach of the Tigers. At times, he was the toast of the Bayou.
Unfortunately, the honeymoon soured over time. During his years at LSU, Coach Miles' teams had started to become quite predictable and resistant to change (especially on offense). Even after a number of new "innovative" offensive coordinators were hired by LSU, the Tigers' offense remained mired in the Les Miles playing days of 1970's Big 10 football.
Run, run, pass (if necessary), and punt. Keep the games close and hope your defense makes a winning play.
Maybe the problem wasn't in the offensive coordinator but with the stubborn man with "The Hat" in charge of the football team. The head coach himself seemed to become clue-les (pun intended) at times during some of the big games.
After a tough loss to Auburn early in the 2016 football season, Les Miles was suddenly fired as head coach of the LSU Tigers.
Legions of Les Miles supporters demanded, "How could you fire a man who won 77% of his games at LSU"?
Money.
LSU had just expanded the stadium to 102,000 seats. With Les Miles' conservative and often boring offensive strategy, LSU's annual win/loss records (though impressive) had begun to deteriorate and the Tigers drifted back into the pack of the SEC West. And, when interest in the football program at LSU wanes, so does demand for season ticket sales for football (the lifeblood of major college athletics).
The then-63 years old Les Miles then found himself in an early retirement sporting a nifty consolation prize contract payout calling for him to receive $133,000/month until he reached nearly $10 million.
Nice retirement nest egg, eh?
Coach Miles applied for and was passed-over for multiple coaching vacancies during the ensuing year following his LSU exit. Though still living in Baton Rouge and beloved by most Tigers fans, Les did some television commercials for a major beer brand during the following year and adjusted his sights and head coaching expectations as well.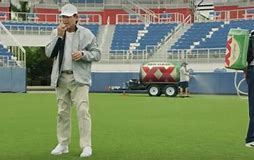 Enter Kansas.
KU's football team has been lousy for a long, long time. How bad? They have finished below .500 in the Big 12 for 22 of the past 23 seasons. The 2018 team finished 3-9. Ouch.
Even after the hiring of Les Miles, KU football still has problems selling football tickets. As of this morning, tickets to 2019 home contests go for as little as $10 with just $25 snaring you a seat to watch the Jayhawks play national contender Oklahoma or arch-rival Kansas State this fall.
Though Kansas remains a college basketball powerhouse, the university has been hard-pressed to attract top football talent with the school's revolving door of football coaches and a perpetual losing record.
The one thing that all fans know is the Les Miles can and will recruit better football talent to come to Kansas to play for his team. Many of his players at LSU are now earning a living in the NFL after a few years of college development in Baton Rouge.
But the real question remains "Can Les Miles really turn around the fortunes of KU Football?"
Coach Miles has already turned around another Big 12 team in chaos years ago. From 2001 through 2004, the coach helped revive an Oklahoma State Cowboys' program into a winner again during his four seasons at the helm in Stillwater. He left OSU to take the job at Louisiana State University after Nick Saban jumped into the NFL to coach the Miami Dolphins.
When Kansas finally came knocking at his door late last fall, Les Miles (now 65 years of age) quickly cut a deal with LSU to buy-out of his remaining "retirement" annuity. The coach received a lump sum check for $1.5 million and will forego the monthly payments totaling another $5 million down the road.
That's because his new deal with Kansas calls for Coach Miles to receive $13.8 million over 5 years.
Despite years of football ineptitude, curious Kansas football fans showed up for Game 1 last weekend with their largest home crowd in two seasons. Les Miles' team delivered a close win and sent the crowd home happy.
A road game at Boston College comes in another week. Then, a very tough Big 12 schedule lies ahead. KU's chances for a winning record this season are not very good.
However, Kansas' hearty football fans are patient and realize that it will take time to recruit better talent and develop a winning tradition in the heartland.
Don't be surprised if a large number of purple and gold-clad fans from LSU start showing up at KU home football games to root for their old coach, too.
Go get 'em, Coach Miles! Rock, Chalk, Mad Hatter!