Podcast: Play in new window | Download
As promised in the last update, ol' SwampSwami made his annual appearance in the Yahoo! Sports draft room this week.
Also as promised, I generally followed my own draft guidelines to select my team (aptly named "Swamp Gas"). Though my Methane Marauders drew the worst draft selection position (#10 out of the ten teams in the league), I stayed the course and believe that this 2019 team has playoff potential after completing the first 13 weeks of the NFL regular season.
Apparently, the gurus at Yahoo! Sports think otherwise. Here's how they rated my team's draft:

OUCH! That seems a bit harsh! However, these Yahoos graded my team at a "B-". That would equate to a middle-of-the-pack finish and unlikely to make the playoffs.
Here's how the entire league was graded after our draft this week – according to Yahoo! Sports: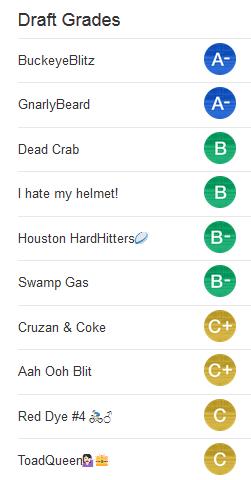 So, who did Swamp Gas select for players? Let's take a look at my initial team roster for 2019: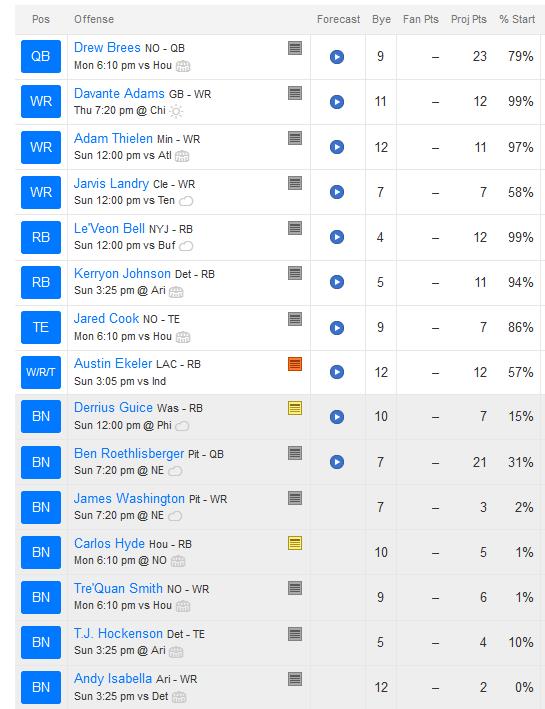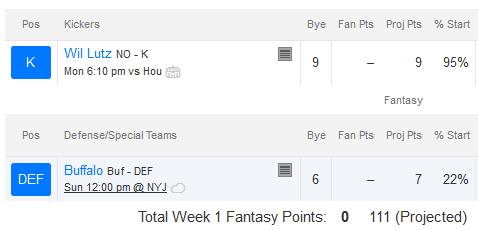 Since I was selecting in the #10 slot in the first round, my team also picked first in the second round (#11 overall pick). With the #10 slot, though, most of the "big money" fantasy stars such as RB Saquan Barkley (NY Giants), RB Alvin Kamara and WR Michael Thomas (Saints), and RB Christian McCaffrey (Carolina) were long gone by pick #10.
I selected WR Davante Adams (Packers) first at #10 overall and then started Round 2 with RB Le'Veon Bell (now with the NY Jets) at pick #11. Then I had to wait until pick #30 to select WR Adam Thielen (Vikings) and RB Kerryon Johnson (Lions) at #31. It was very hard to wait and watch while so many other players were being taken.
It's time to introduce our 2019 Swamp Gas team!
QB – Drew Brees (Round 6 – Saints) and Ben Roethlisberger (Round 10 – Steelers) – I love my QB's! Both are touchdown machines with teams looking at the playoffs this season.
RB – Le'Veon Bell (Round 2 – Jets), Kerryon Johnson (Round 4 – Lions), Austin Ekeler (Round 5 – Chargers), Derrius Guice (Round 9 – Redskins), and Carlos Hyde (Round 13 – Texans). I'm a little weak at running back this year, but Bell is coming off a full year of rest (he held out last season at Pittsburgh and was traded to the Jets). The Yahoo! Sports folks think I'm nuts to have selected Ekeler in the fifth round. However, he was quite productive as a back-up last season for the Chargers and their #1 back (Melvin Gordon) is still holding out for more money as of this writing. With the Chargers' offense being one of the NFL's best, I'll keep Ekeler in the line-up until he proves me wrong.
WR – Davante Adams (Round 1 – Packers), Adam Thielen (Round 3 – Vikings), Jarvis Landry (Round 8 – Browns), James Washington (Round 11 – Steelers), and rookie Andy Isabella (Round 16 – Cardinals). I will be counting on this bunch of wide receivers to strut into the end zone for touchdowns frequently all season! I'm hopeful that James Washington becomes a favorite receiver for Big Ben in Pittsburgh. The rookie (Isabella) is the fastest wide receiver in the NFL, and I'm expecting him to emerge as a contributor during this season. We shall see!
TE – Jared Cook (Round 7 – Saints) and rookie T.J. Hockenson (Round 15 – Lions). Cook comes from the Raiders to New Orleans. With the Drew Brees now 40 years of age, I figure Cook will see a lot of short passes this season. Meanwhile, Hockenson was a first round pick at tight end this year, so I am counting on his contributions by the end of this season.
K – Will Lutz (Round 12 – Saints). Yes, I picked a kicker a little bit earlier than normal. However, Lutz' leg should be busy with plenty of scoring opportunities for the Saints productive offense.
Defense – Buffalo Bills (Round 17 – final pick of the night). After the other nine teams depleted the available defensive squads, I took Buffalo because they played well last season. Also, I like Buffalo!
In my previous post, I outlined several Fantasy football draft strategies. Let's see how we did:
Rule #3 – My strategy is to pick players from higher scoring teams. We have four players from NFC scoring machine New Orleans, two each from the AFC contender Pittsburgh Steelers, two from the average-scoring (but generally lousy) Detroit Lions, and one each from contenders Green Bay, LA Chargers, Minnesota, Cleveland, and the Houston Texans along with one player from the New York Jets, Washington Redskins, and Arizona Cardinals. Overall, not too bad!
Rule #4 – I picked many players from teams that I like to root for (Saints, Steelers, Packers, Chargers, and former LSU players Jarvis Landry and Derrius Guice). Nicely done!
Rule #5 – There are exactly ZERO players from "America's Team" (Dallas Cowboys) for the eighth straight season. It's hard to root for a player on a team which you've disliked most of your life.
Rule #6 – Guilty! I went earlier than expected to pick our kicker (Round 12 instead of waiting until Rounds 16 or 17) in order to get one of the NFL's best in Will Lutz (Saints). I did wait until my last pick to select a defense, though.
Rule #8 – I plucked two promising rookies near the end of the draft in hopes that they'll develop this season. Maybe a bit early, but time will tell here.
Rule #10 – Yes, I had fun with the draft (another goal successfully met) and now will hope for the best. Excellent!
In this particular Fantasy Football league, you generally can only "play" half of your team's roster for any week. That's why it is important to draft well and look at the weekly match-ups to see which players will perform the best. It's not easy!
Speaking of scoring, here is how our beloved team earns points:
Quarterback – 6 points for a touchdown (TD) plus 1 point for every 25 yards thrown.
Running backs, Wide Receivers, and Tight End – 6 points for a TD and 1 point for every 10 yards gained.
Placekicker – 1 point for an extra point and 3 points for Field Goals up to 39 yards or 4 for 40-49 yards or and 5 for a FG of 50 yards and longer.
Defense – 6 points for a defensive TD, and different point levels for keeping the opposing team less than 21 points along with interceptions, fumble recoveries, sacks, safeties, and blocked kicks.
For Week #1, Swamp Gas is favored by just two points over oddly named foe "Ah Ooh Blit". Here's who we will start this week and Yahoo! Sports' projection of how many points each position will earn:
We won't know the final outcome until the conclusion of the Monday Night Football games. I'll post an update for you on Tuesday. Let's Geaux, Swamp Gas!