Podcast: Play in new window | Download
Subscribe: RSS
Color me skeptical.
Late last week, the investing community learned that the largest stockholder and former Chairman of World Wrestling Entertainment (WWE) wanted to return to his former role.  He wanted to assist the publicly traded company (NYSE: WWE) to explore a possible sale of the company.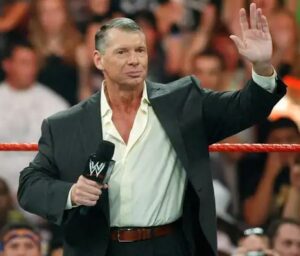 Would Vincent K. McMahon, Jr. actually consider selling the business which his father started 70 years ago?
The WWE's top man took the company public in 2002.  As part of that transaction, Vince McMahon wisely created a separate group of common stock shares which were reserved for himself and his immediate family.
Unlike most Class "A" shares owned by the general public (entitling you to one vote per share of stock owned), Vinnie Mac's shares in the company have a very special privilege.  Each share of his unique WWE Class "B" stock counts as ten votes for every single share of stock.
The professional wrestling titan owns about 40% of all shares in the publicly traded WWE.  When you consider that his shares carry those special Class "B" 10-for-1 voting rights, Vince McMahon effectively controls more than 83% of the votes.  Nothing significant happens without his nod of approval.
Before we return to this week's unfolding drama, let's review some of the history associated with Vince McMahon and his family's involvement in professional wrestling.
His father, Vince McMahon, Sr., started his own regional professional wrestling company in 1953.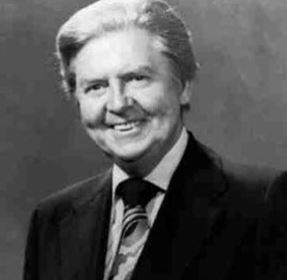 Focusing on northeastern and Mid-Atlantic states, the senior McMahon's World Wide Wrestling Federation (WWWF) was considered a better-than-average wrestling operation among a fairly large number of other regional wrestling companies during the 1950's and 1960's.
His son had much bigger dreams.
Vince McMahon, Jr. engineered a purchase of the company from his father in 1982.  He immediately changed the name of the company to the World Wrestling Federation (WWF) and began to make contract offers to sign the most popular wrestling talents from other regions.  Without their top stars, some of those other regional wrestling promotions slowly faded away while others folded.
As the WWF's national professional wrestling operation started to grow, a competitor emerged on the scene in the 1990's.
Ted Turner (owner of CNN and other cable television networks) formed World Championship Wrestling.  This new national competitor tapped a small number of mostly-Southern regional wrestling groups to sign their brightest stars.  Shows were promoted on Turner's WTBS and, later, Turner Network Television (TNT).  For nearly ten years, WCW quickly grew in stature and even signed a few of Vince McMahon's biggest stars away from the WWF.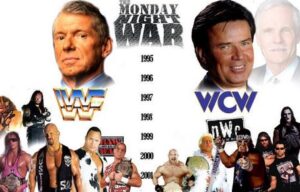 In the late 1990's, these two wrestling entities squared off in competing television programs every Monday night.  The WWF was featured on the USA Network, while WCW's show was on TNT.  Nearly ten million pro wrestling fans watched one (or both) of these programs every week.  These two wrestling shows became the two most popular cable television programs of the week for several years.
In the end, the WCW spent too much money on talent and overhead.  They mismanaged their way out of business.
Vince McMahon smartly purchased his competitor's remaining assets in 2001 for just $2 ½ million.  He understood that the WCW's vast video library would prove valuable in the future as the internet's growth was just beginning.
However, Vince McMahon's newly combined professional wrestling entity needed an infusion of cash in order to grow.  After losing a brand trademark battle with the World Wildlife Federation for the logo "WWF", McMahon rebranded his new operation as World Wrestling Entertainment or WWE.
The new WWE went public on the New York Stock Exchange in 2002 (NYSE symbol: WWE).  By doing so, the company was able to tap into more cash and allowed this family business to become a worldwide entertainment phenomenon.
At every turn, the WWE has pinned most of its significant competition.  Remember Extreme Championship Wrestling?  It fell on hard times and was ultimately absorbed by the new WWE in 2003.
And so it went for most of the next two decades.
Much like his father, Vince McMahon retained a very tight control of the true secret game within professional wrestling.  Even after his company went public, McMahon never relinquished control of the scripting and development of the storylines for his growing team of professional wrestlers.
A 2022 WWE 10K Form stated, "Mr. McMahon led the creative team that develops the storylines and the characters for our programming (including our television, WWE Network and other programming) and live events."
Until last summer, that is.
In July, 2022, the 76-year old Vince McMahon suddenly retired as Chairman and CEO of the WWE.  As other members of the executive team claimed to be unaware of, McMahon had negotiated several personal settlements (pay-offs) and non-disclosure agreements with former female WWE employees who claimed sexual misconduct.  Those unreported settlements totaled more than $19 million.
As a result, Vince McMahon opted to retire.  He named his daughter, Stephanie, to become WWE's Co-CEO with the company's long-time President, Nick Khan.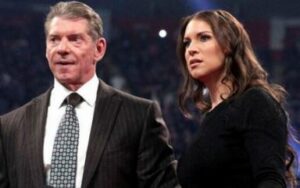 All has been relatively quiet within the WWE for the past six months.  Some wrestling fans have noted that the weekly wrestling programming and storylines have improved after Vince McMahon's departure.  Reports indicated that Vince was quite unhappy about being forced out last year.  This company represents his family's life work.
It is now 2023, and time for what might be the WWE's biggest self-promotion ever.
At the end of last week, former Chairman Vince McMahon indicated that he wanted to return as Chairman of the WWE.  Since he controls more than 80% of the voting stock, he had the requisite number of votes!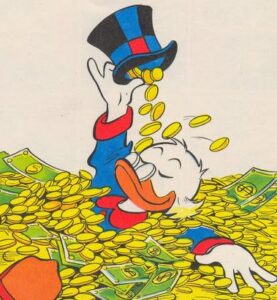 Vince McMahon stated that he wished to explore a possible sale of the company soon.
In true professional wrestling fashion, every day has brought more surprising rumors and news.  On Tuesday, Vince's daughter, Stephanie McMahon, abruptly resigned as the Co-Chair of the WWE.  On Wednesday, the now 77-year old Vince McMahon has been (surprise!) re-elected as Chairman of the Board of WWE.
The WWE released this announcement from returning Chairman Vince McMahon.
"First, I'd like to express my full support for Stephanie's personal decision.  I'll forever be grateful that she offered to step in during my absence and I'm truly proud of the job she did co-leading WWE. Stephanie has always been the ultimate ambassador for our company, and her decades of contributions have left an immeasurable impact on our brand."
Before you start to feel sorry for Vince's daughter losing her job, she owns about 3% of that same very lucrative Class "B" company stock.  At today's $90 per share price, Stephanie McMahon's shares of WWE stock are worth about $160 million.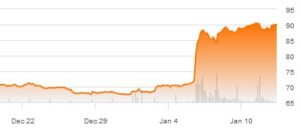 Her husband, Paul Levesque (a former top wrestler known as "Triple H") also remains a senior corporate officer in WWE, too.  The married couple has three daughters (ages 16, 14, and 12).  They will be just fine.
So, what is REALLY going on here?  Is Vince McMahon really going to sell the company (currently worth about $6 billion)?  If so, who would be buying the WWE?  And is his daughter truly angry with him for coming back to the company this week?
If you've ever watched professional wrestling, the WWE is a skillfully crafted type of sports soap opera filled with cheers for fan favorites and boo-inducing villains.  The competitors (men and women) are athletically skilled.  Many are exceptional at evoking emotions from fans in the building and those watching at home.
Vince McMahon also loves to be part of his own weekly television spectacular, too.  He is the ultimate heel ("bad guy" in pro wrestling terms).  "The Chairman" has inserted himself into WWE's television shows for decades.
Some of the company's most memorable television moments have come when wrestling stars like Stone Cold Steve Austin, The Rock, and Hulk Hogan have become part of a confrontation with WWE Chairman Vince McMahon.  It's all part of the act, and it can be quite funny.
From a business perspective, the WWE heavily depends on the revenues generated from the company's weekly television programming.  Weekly programming can be seen on the USA Network, FOX, and NBC's "Peacock" internet-only brand.
Vince McMahon negotiated the last TV deals for the WWE.  Those same television contracts will be coming up for renewal over the next 12 to 18 months.
Chairman Vince McMahon's sudden re-appearance into the WWE (on and off camera) is likely to create significant additional publicity and buzz (like this story!).  With higher television ratings, the competition for the rights to WWE's programming could spike, too.
There's also the possibility that one or more companies may want to buy WWE outright prior to any new television deals being negotiated.  That's why Vince McMahon has returned.  His personal ego and business acumen will help all WWE shareholders – especially McMahon himself.
Today's hot rumor is that a Saudi-backed investment group may have the inside track to buy WWE.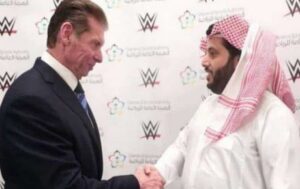 Yes, it might even be the same group which started the LIV Golf tour last year.  Will they make Vince McMahon an offer he can't refuse?
Other possible suitors for WWE may include Comcast, Universal NBC (owners of the Peacock internet brand), Amazon, and Netflix.  There might be other interested parties, too.
Now 77 years of age, Vince McMahon's total control of WWE may be coming to an end soon.
Or will it?
I fully expect "The Chairman" to squeeze every bit of free publicity and increased value that he can from this intriguing new 2023 storyline.
Can't you just picture a weekly procession of current and former WWE stars coming into the wrestling ring to plead with Vince McMahon not to sell the company?
I wouldn't be surprised if a few wealthy individuals such as Elon Musk or (insert a mix of boos and cheering) Donald Trump might be willing to ham it up with Vince McMahon on prime time television by offering to buy the company outright and preserve it for WWE's loyal fans.
The promotional opportunities are endless!
Vince McMahon is a virtuoso at this game and still loves to write his own scripts.  The Maestro may be setting everyone up (as usual) to boost WWE's weekly television ratings, future revenues, and the long-term value of his company.
When this is all over, it is possible that Vince McMahon might do nothing at all.  In professional wrestling lingo, it might turn out to be a big kayfabe (charade)!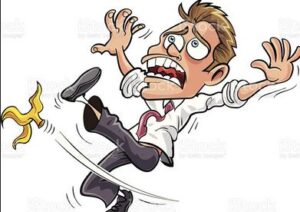 The WWE's signature banana peel has been dropped on the floor.
Watch out!  You've been warned.