Podcast: Play in new window | Download
Subscribe: RSS
Long-time Los Angeles Lakers forward James Worthy was a very quiet man on the basketball court.  After most games, it was his charismatic teammate, Magic Johnson, or legendary center, Kareem Abdul-Jabbar, who were most likely to speak to the press following Lakers victories.
Instead, James Worthy spoke with his incredible game.  At 6'9", he reminded me of a taller version of one of my favorite NBA players, Julius "Dr. J" Erving.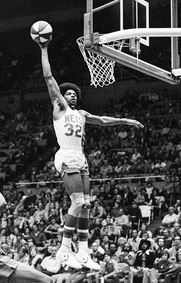 James Worthy was that tall gifted athlete clad in Lakers purple and gold who effortlessly glided down the hardwood to send down yet another swooping dunk.  It brought delight to Lakers fans but served to deflate his opponents.  James Worthy was great fun to watch!
The former University of North Carolina star played on another talented team during his college days.   The Tar Heels won a national championship in 1982 as Worthy won the MVP trophy alongside teammates including future NBA legend Michael Jordan and center Sam Perkins.
James Worthy became the first overall pick in the NBA in the spring of 1982.  He would play all 12 of his NBA seasons for the Los Angeles Lakers.   During that time, James Worthy picked up three NBA Championship rings and became a 7-time NBA All-Star.  His #42 jersey was retired by the Lakers as was his #52 jersey he wore for the North Carolina Tar Heels.  To his credit, Worthy also returned to Carolina to finish his degree after the NBA drafted him following his junior year.
James Worthy was certainly one of the best basketball players of his generation.  When recently asked for his thoughts about today's version of the NBA, Worthy, now 61, served-up another trademark slam dunk in describing most of today's NBA players.
"Guys are coming to the NBA who are not fundamentally sound. All they do is practice threes, lift weights, get tattoos, tweet and go on social media. That's it."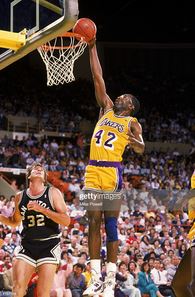 James Worthy added, "So you don't have that sound player; you have an athletic player. And that's what's happening to the game. It's a lot of iso's (isolation plays) and looking for mismatches. (Former Celtics great) Bill Russell told me one time, they had five options off of one play. You don't see that anymore."
Before you dismiss his comments as just another old guy who is trying to feel more relevant, let's take a closer look at the allegations.
Not fundamentally sound – Worthy means that today's basketball players are unlikely to make more than one pass on a particular play on offense.  He also means that today's players are not encouraged to play hard defense in every regular season game as opposed to the playoffs.  In order to defend today's players, I'll point the finger at referees at every level who have allowed basketball players to palm the ball (unlike during Worthy's era) and travel with the ball.  When the game's rules are being relaxed this much, it's hard to blame the players for taking advantage of it.
Practice 3's – Again, this has a lot to do with today's players being encouraged to do this.  Statistically speaking, a player making more than 33% of his 3-point attempts will score more points over the course of a game than a player who connects on 50% (a good percentage) of his 2-point shots.   This season, the East #1 seed Miami Heat connected on a league-leading 37.9% of its 3-point attempts.  As a whole, the 30 NBA teams averaged 35% on 3-point shooting this season.   The teams attempted an incredible 35 long-distance shots per game.  As for 2-pointers, not one single NBA team made 50% on its 2-point shots.  Phoenix (48.5%) led the league with the league average coming in at 46% for this season.  With statistics now squarely on the side of coaches and players, maybe it's time to move the three point line once back again.  Better yet, simply limit its usage to the final minutes of a quarter or half.  It will be hard to get rid of it entirely, but I'd love to see preseason games conducted without it!
Lift weights – Though I remember Karl Malone as being the NBA's version of the Incredible Hulk during the latter part of James Worthy's era in the Association, it's hard to say if the increased emphasis on weight training has caused NBA play to suffer.  I'll call it a toss-up.
Get tattoos, tweet, and go on social media.  Welcome to the "me" generation, James!  Though I've never understood the tattoo thing either, the social media "Look at me!" craze has become pandemic throughout our society.   Personally, I'd like to shut-off the dopamine generated by these creepy isolation-inducing social media products for a full year.  Perhaps, more people might become a little happier as interactions with other humans soar.  I can dream, can't I?
It's a lot of iso's and looking for mismatches.  James Worthy is absolutely right on this issue, but that's the way basketball has always been played in the playgrounds.   I think the primary blame goes to the increasing value placed on participation in the AAU "year round" basketball programs.  If junior high and high school coaches are preaching fundamentals, these AAU games are all about spotlighting individual play instead of team goals.  This isn't just an issue with basketball, either.  Elite leagues for soccer, baseball/softball, and several other sports have caused young athletes to gravitate toward specializing in one sport in order to nab a college scholarship.  I find that sad.
Let's jump into the statistics to gain more insight into the way today's NBA is playing ball.
The NBA's website contains statistical data from the past 25 seasons going back to the 1996-1997 season.  Let's take a brief trip down memory lane.
Twenty-five years ago, Karl Malone, John Stockton and the Utah Jazz led the NBA in 2-point shooting percentage at 50.4% while the Charlotte Hornets led the league in 3-point shooting percentage (42.8%).   For the 1996-1997 season, the average NBA team attempted just 16 3-point shots per game (less than half of today's average of 35 per game).
Here's a fun fact.  NBA players 25 years ago converted the 3-point shot at a higher percentage (36%) than today's NBA players (34%)!
The reason is also logical.  The NBA of 1996-1997 gave the green light to its best shooting players (usually guards and forwards).  Most big men were discouraged from even trying to shoot the basketball from "downtown".
That certainly isn't the case today as you watch the 2022 NBA playoffs!
So, remember this fact once again.  Today's average NBA player shoots the 3-ball with 2% less accuracy than 25 years ago. 
So, why do today's NBA teams take twice as many 3-point shots every game?
The same statistics correctly identify that your team will score more points (on average) by taking more 3-pointers as long as your team is able to convert 33% or greater from outside the line vs. shooting 50% on its 2-point attempts.  As provided earlier in this report, the average NBA team connected on 34% from 3-point range and just 46% on its 2-point shots in 2022.
What James Worthy and many of us are saying is that certain basketball players should, indeed, be taking more of the 3-point shots!  It's the rest of the team which might be better served by spending more time on their passing, rebounding, short-range shooting, and defensive skills.
The Tim Duncan-era San Antonio Spurs (1999-2014) were the last NBA team I can remember which played with selfless teamwork and overall skills to become an NBA power without relying on excessive three-point shooting.
Though the stats don't lie, today's NBA (and basketball at all levels) has become quite boring to watch on television and in person in the manner it is now being played.   Today's basketball players are simply doing what they are being encouraged to do by their coaches and taking advantage of it.
It will take dwindling interest on TV and in person to encourage the NBA (and basketball in general) to enact some needed changes to end the current 3-point shooting craze.
Until then, let's follow that bouncing ball of missed 3-point attempts!