Podcast: Play in new window | Download
Subscribe: RSS
The 2022 incarnation of the USFL just completed the halfway point of the spring football season.  On the field, the games remain quite competitive and have been fun to watch on television.  The level of play remains a fairly high quality but, obviously, a step below the NFL.
The USFL is headquartered in Birmingham, Alabama.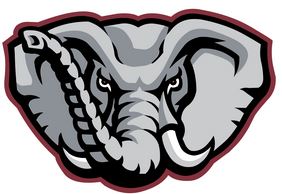 For a state which LOVES its elephants (as in the Crimson Tide), there is now a very large pachyderm in the USFL's room today.
The reason?  There aren't enough football fans willing to watch the USFL on television to sustain this league.
Week 5's USFL television ratings were released today, and it included more bad news.
Reminder – the USFL's owner (Fox Sports) said before the season that they would consider an average television audience of 1.4 million viewers per game as being the goal for Year #1.  After the inaugural week achieved an average of 1.8 million television viewers for the four games, fan interest has been on the decline ever since.
According to one source, none of last weekend's four USFL games during Week #5 delivered even one million TV eyeballs.
Sunday – 11AM-2PM – Birmingham vs. Philadelphia – FOX – 905,000 viewers
Saturday – 2PM-5PM – New Orleans vs. New Jersey – FOX – 750,000 viewers
Sunday – 2PM – 5PM – Pittsburgh vs. Houston – NBC – 692,000 viewers
Friday – 7PM-10PM – Michigan vs. Tampa Bay – USA – 250,000 viewers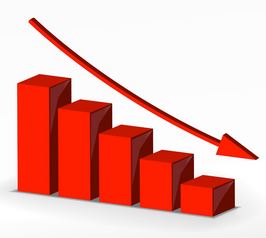 The four-game average viewership was 649,000 in the USFL's fifth week of operation.  That amounts to less than 50% of the Fox Sports goal of 1.4 million viewers per game in Year #1.
There are five more weeks to go in the regular season plus a two-week playoff still remaining.  Perhaps Week #5 marks a low point, but the patient's trend line has the doctors very concerned.
Sinking USFL viewership means is that the league's television advertisers will be demanding rebates or lower ad rates for future games as the games fail to deliver the promised audience.  With lower ad revenue coming from the television broadcasts, the viability of the USFL has now become a big concern at the halfway mark of this season.
Yet another lingering issue is the loss of interest in the league's designated home city of Birmingham, Alabama.  As your Southern born and bred writer predicted here, the local fans in Alabama's largest city are reluctant to risk getting serious sunburn in 90 degree heat to watch their own minor league football team (which now happens to be 5-0).  The crowd at Saturday's Birmingham Stallions game could not been more than 5,000 (I'm being generous).
The other three games being played in Birmingham every week are drawing (perhaps) a few hundred fans – even with tickets priced at a very affordable $10 apiece.
The brand new football stadium in Birmingham has already cordoned-off portions of the stadium to bring the "crowd" get a little closer together.  Though I can't confirm this, it sounds to me like the USFL has added artificial crowd noise help bring a little excitement to big plays and touchdowns in their nearly empty football stadium.
Despite everything which this incarnation of spring professional football has done right to minimize the costs of operation and put a solid product on the field for television viewers and local fans every week, the USFL may be proving, once and for all, that the American public simply prefers to watch its football during the traditional fall and early winter seasons.
Though every other spring professional football effort has failed (poor financing, lack of national television coverage, stadium issues, cost overruns, etc.), one thing remains a constant.
American football fans have proven, time after time, that a complete season of spring professional football isn't something which they are willing to support.  The costs of operation will exceed the potential revenues from local ticket sales and national television advertising.
Another factor in the USFL's television productions is how to deal with those empty seats.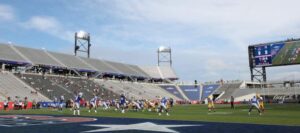 The same hot temperatures which chased fans away from the overheated aluminum bleacher seats in Birmingham last weekend will only get hotter in the five regular season weeks still to come.  The USFL management apparently thought us "dumb ol' Southerners" would still show up in decent numbers to watch football being played in 90-degree late springtime weather.
Yes, fans in the state of Alabama (and many big football states) show-up in large numbers to watch as their favorite college football team play its annual spring game.  It's quite another thing to ask those same fans to show-up and watch four games every single weekend for ten consecutive weeks.
Birmingham shouldn't shoulder all of the blame as I cannot think of another US city where local fans will turn-out in large numbers to support four games every weekend for ten consecutive weeks.  Birmingham just happened to have offered the USFL a terrific stadium arrangement (i.e. "cheap") to keep costs low.
Can the USFL still turn this around?   I doubt it, but we're going to find out soon enough.
Highlights from USFL Week #5 action:
Congratulations to the unbeaten Birmingham Stallions!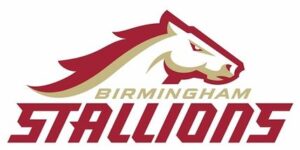 The USFL's local team remains the lone unbeaten team at 5-0.  Birmingham features an opportunistic offense and resilient defense.  This team never gives up and finds a way to win every week.
In last Sunday's early game, former Louisiana Tech quarterback J'Mar Smith came off the bench to pass for 203 yards to lead Birmingham from an early deficit and take a 30-17 victory over the Philadelphia Stars (now 2-3).   Smith passed for one score and ran for another in the win.  Running back C.J. Marable (who played collegiately at Coastal Carolina) added 114 yards on the ground to keep the Stallions unbeaten.
On the other side of the ledger, the Pittsburgh Maulers finally won their first USFL game of the season Sunday afternoon.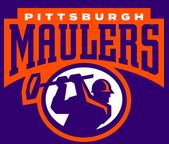 Pittsburgh (1-4) scored 12 points in the decisive fourth quarter to beat the Houston Gamblers 21-20.  After Houston (now 1-4) kicked a field goal to stretch their lead to 20-15 with 3 minutes left, the Maulers (paced by newly acquired back-up quarterback Vad Lee from James Madison University) rallied to score the winning touchdown on the game's final play as Lee connected on a 9-yard pass to wide receiver Bailey Gaither (San Jose State).
In the two other USFL games played last weekend, Tampa Bay improved to 3-2 with a 27-20 win over the Michigan Panthers (now 1-4) on Friday night.  The Bandits broke a 20-20 tie to score the winning touchdown with just over two minutes to play in the game.
The New Jersey Generals (now 4-1) displayed an impressive running game and a very tough defense to take down New Orleans Breakers 27-17 on Saturday afternoon.   The Breakers fell to 3-2 with the loss.
USFL Standings through Week 5:
North Division:
New Jersey Generals      4-1
Philadelphia Stars          2-3
Michigan Panthers                   1-4
Pittsburgh Maulers                  1-4
South Division:
Birmingham Stallions    5-0
New Orleans Breakers   3-2
Tampa Bay Bandits       3-2
Houston Gamblers                  1-4
Week #6 Games:
This weekend, NBC will televise two games on Saturday.  One is an early afternoon game and the nightcap features a prime time appearance by the unbeaten Birmingham Stallions.  FS1 and Fox will carry a Sunday afternoon doubleheader.  All game times shown are Central Time.
Saturday 5/21 – Tampa Bay Bandits vs. Philadelphia Stars – 12 Noon – NBC
Saturday 5/21 – Michigan Panthers vs. Birmingham Stallions – 6:30PM – NBC
Sunday 5/22 – Pittsburgh Maulers vs. New Orleans Breakers – 11AM – FS1
Sunday 5/22 – Houston Gamblers vs. New Jersey Generals – 3PM – FOX