Podcast: Play in new window | Download
Subscribe: RSS
Just over a week ago, I posted a story about the number of NFL quarterbacks who were changing teams in the upcoming season and teams which are hoping to hit the jackpot in the upcoming NFL draft.
Since that story, we have seen several new and dramatic moves involving NFL quarterbacks.  Green Bay's Aaron Rodgers, New Orleans Saints' Jameis Winston, and Tampa Bay's Tom "I'm back from retirement already!" Brady will remain in last year's cities.  However, there are a number of NFL quarterbacks are needing a moving van to head elsewhere for 2022.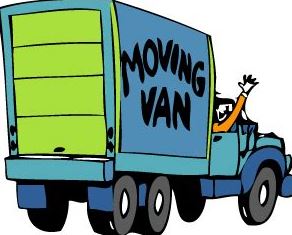 Let's start by updating our quarterback tote board!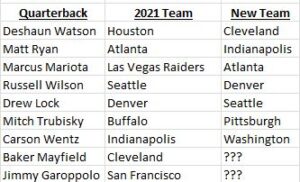 Deshaun Watson – The most controversial and expensive quarterback move took place last week after the Cleveland Browns signed former Houston Texans' starting quarterback Deshaun Watson to a whopping $230 million (all guaranteed) contract over the next five seasons.  That averages to $46 million/year for a quarterback whose attorneys still must settle 22 pending civil lawsuits involving a variety of message therapists whose accusations claim that Watson wanted more than a traditional message prior to the end of a session.
Analysis:  There is no question that Deshaun Watson's NFL resume is an upgrade from the Browns' former #1 overall pick, Baker Mayfield.  Mayfield's inefficient performances over the past few years and lack of support in the locker room from his teammates have earned him a trip out of town.  Cleveland decided to leverage their short-term future (sending three first round draft picks plus a couple of others for good measure over to Houston) in the deal for quarterback Deshaun Watson.  Will he really make that much of a difference at quarterback?  In the difficult AFC North (Cincinnati Bengals, Baltimore Ravens, and Pittsburgh Steelers), this is one heck of an expensive gamble for a team which still hasn't played in a Super Bowl game.  Grade:  C
Matt Ryan – The long-time Atlanta Falcons signal caller is heading to a playoff contender with the Indianapolis Colts.  Indy plays in the woeful AFC South (home to both the Houston Texans and Jacksonville Jaguars), so Matt Ryan's experience should pay immediate dividends on the field for the Colts.  At 37 years of age, though, Ryan must remain healthy enough so that the Colts will have a chance to subdue the current AFC South kingpin, Tennessee Titans.
Analysis:   The Colts are hoping that "Matty Ice" still has a couple of good years left in his throwing arm.  Indianapolis has a terrific ground game with Jonathon Taylor, but the team ranked #28 out of 32 teams in passing last year.  The Colts need to retain receiver T.Y. Hilton and/or improve via the draft to best utilize Matt Ryan's skills.  I like this deal!  Grade:  B+
Marcus Mariota – To replace Matt Ryan in Atlanta, the Falcons have just signed former Tennessee Titans and Las Vegas Raiders quarterback Marcus Mariota.  He reunites with his former Titans offensive coach Arthur Smith who is the head coach in Atlanta.
Analysis:  When compared to the consistent Matt Ryan, it appears that Atlanta has taken a step down as the former Oregon Ducks' star quarterback Mariota has been a borderline draft bust since arriving in the NFL as the #2 overall draft selection in 2015.  I just don't see him leading this team to the playoffs anytime soon.  Perhaps Atlanta may be planning to select another quarterback in the upcoming draft to develop in the event that Mariota should fail what will likely be his final opportunity as an NFL starter.    Grade:  D+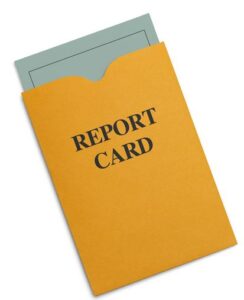 Russell Wilson – The former Super Bowl winning quarterback in Seattle comes into Denver carrying the hopes of Broncos Nation to deliver another championship to this football-mad city.  Whether the veteran of eleven NFL seasons can deliver will be another matter.  Denver's passing game will certainly improve as the team finished #20 in the league last season.
Analysis:  Denver's defense keeps them in most games.  If Russell Wilson (like Matt Ryan) is able to stay healthy and the Broncos provide him with plenty of help at running back and wide receiver, Denver should immediately become a thorn in Kansas City's side once again in 2022.  Grade:  B+
Drew Lock – The occasional starting quarterback for the Broncos was shipped to Seattle in the Russell Wilson transaction.  Lock has shown flashes of brilliance and poor decision making oftentimes within the same game.  He will get another chance in Seattle.
Analysis:  Drew Lock's inconsistent play at quarterback might improve as he gets a little older, but the clock is ticking on his time as a viable starter in the NFL.  Seattle is rebuilding, so this becomes Drew Lock's chance to shine or become a well-paid clipboard holder in the NFL for the remainder of his career.  I will be quite surprised if Drew Lock succeeds in Seattle.  Grade:  D
Mitch Trubisky – This is a fascinating acquisition by the Pittsburgh Steelers coming after long-time starter Ben Roethlisberger retired at the end of last season.  The 2017 #2 overall draft pick of the Chicago Bears, Mitch Trubisky did not develop into a successful NFL starter after a few years playing for the Bears.  He signed with Buffalo last season to back-up a younger quarterback, Josh Allen.  Like Drew Lock, Trubisky has been error-prone during his years as a starting quarterback in the NFL.
Analysis:   With the Steelers' defense improving by the year, the addition of Mitch Trubisky might be exactly what Pittsburgh needs to compete in the tough AFC North.  Pittsburgh has a number of talented pass receivers, but the team's offensive line is still suspect.  After being humbled by a season on the bench in Buffalo, Mitch Trubisky may have matured.  This seems like a solid addition for Pittsburgh.  Don't be surprised if the Steelers select a young quarterback when their first round choice arrives in the upcoming NFL draft, too.  Grade:  A-
Carson Wentz – Cast aside from his second team in as many years, the former first round draft pick from North Dakota State has now failed in Philadelphia and, most recently, with the Indianapolis Colts.  Recently, Wentz was traded to the Washington Commandos (that's what I call them) for a few measly late-round draft picks.  Like a few other quarterbacks we've already discussed (Marcus Mariota, Drew Lock, and Mitch Trubisky), this may represent Carson Wentz' final chance to be a starting quarterback in the NFL.
Analysis:  Wentz has performed at both heroic and woeful levels during his five years in Philly and his lone season with the Colts in 2021. The word "injured" is frequently associated with the name Carson Wentz as he has spent much of his career dealing with an assortment of issues which have kept him off the field.  With Washington playing in the relatively weak NFC East, Wentz may have a fairly good chance to succeed in his newest fresh start in Washington.  If not, he won't risk further career injuries by becoming a well-paid clipboard holder and back-up QB for the remainder of his NFL career.  Grade:  B-
Baker Mayfield – The Cleveland Browns are not likely to pay $19 million just to keep Baker Mayfield around as a temporary starting while the newly-acquired Deshaun Watson's likely NFL suspension (which might be up to half of the season) keeps him sidelined.  At this writing, the Carolina Panthers may still be shopping for an established NFL starting quarterback.  Carolina also holds the #6 pick in the first round of the NFL draft so they will have no trouble finding a talented rookie quarterback early in the draft.  The team still has an underperforming starter, Sam Darnold, under contract for just under $20 million next season.
Analysis:  Cleveland may not have received a lot of interest to trade Baker Mayfield to another team yet.  Though no one knows exactly what type of compensation Cleveland is asking in return for Mayfield, one report suggested that Seattle might be interested if "The Price is Right!"  Current Grade:  D–
Jimmy Garoppolo – The 30-year old San Francisco 49ers' starting quarterback just led his team into NFC Championship game last season against the eventual Super Bowl winner, Los Angeles Rams.  So what's the problem?  With an overly hyped rookie quarterback Trey Lance sitting on the sidelines waiting for his turn to become the team's starting quarterback, Jimmy G's on-field performance has proven that he is equally capable of leading the team to wins and also just as able to make a key mistake when the chips are down, too.
Analysis:   At a cost of $26 million this coming season, Jimmy Garoppolo isn't going to be cheap.  Perhaps the Houston Texans (with several draft picks in their pocket for Deshaun Watson) might be willing to make a deal to acquire Jimmy G.  However, Houston has a lot of needs which are more pressing than the quarterback spot, too.  It makes sense for the 49ers to be patient right now.  They may decide to hold onto Garoppolo as an expensive insurance policy in the event Trey Lance isn't ready for prime time (like so many of the other quarterbacks which we have discussed).  Current Grade:  B