Podcast: Play in new window | Download
Subscribe: RSS
Well, that didn't take very long!
On Tuesday morning, the Green Bay Packers announced that their talented but perpetually non-committed quarterback Aaron Rodgers had agreed to a contract extension to remain in Green Bay.
Literally a few hours later, the Denver Broncos announced that they had acquired talented quarterback Russell Wilson in a big trade with the Seattle Seahawks.  Denver now believes that they have the right quarterback to take their team back into the AFC playoffs next season.
Today (Wednesday), we are learning that the Indianapolis Colts have made a deal to send their one-and-done quarterback Carson Wentz to the Washington Commandos (I prefer that name much better than their recent choice of "Commanders").   Though Colts fans may be glad to see Wentz hit the road after just one year of very inconsistent quarterback play, I also don't sense a gleeful surge in season ticket sales from the NFL fans in the Washington DC area after this peculiar trade.
In less than 36 hours, three NFL starting quarterbacks have been involved in big news transactions.  Though the NBA and the NCAA March Madness had hoped to capture a larger share of the sports headlines after the NFL season recently concluded, these three football transactions will dominate the sports pages for a few more days as football fans need time to evaluate what these changes mean.
Yes, the NFL quarterback dominoes are starting to fall very quickly.
There are a number of football teams which still need to fill their quarterback slots as soon as possible.   The Pittsburgh Steelers saw the retirement of long-time QB Ben Roethlisberger at the end of last season.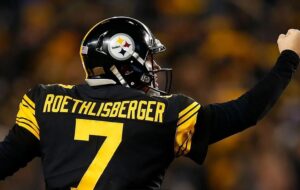 The Steelers' back-up trio (Mason Rudolph, Dwayne Haskins, and Josh Dobbs) are young but apparently not good enough to unseat Pittsburgh's aging starter last season, either.
The Steelers' defense remains one of the NFL's best.  The team's addition of former Alabama running back Najee Harris last season worked out well, too.  Pittsburgh's offensive line remains an ongoing area of need – regardless of the quarterback situation.
With the Steelers' current roster well under the NFL salary cap, the AFC's black and gold team had been hoping that, perhaps, either Green Bay's Aaron Rodgers or Seattle's Russell Wilson might be tempted to come to Steel City.  Neither did, so the Steelers must now look at other options (including the first round of this spring's NFL draft) to find their next starting quarterback.
Then there is the plight of the league's NFC black-and-gold team, the New Orleans Saints.  After Drew Brees retired a year ago, the 2021 Saints would start four different quarterbacks (Jameis Winston, Taysom Hill, Trevor Simien, and Ian Book) at times during the season.  Though Jameis Winston (who was sent packing in Tampa after the Bucs acquired Tom Brady two years ago) looked to be the starter early in the year, a knee injury ended his season in week #5.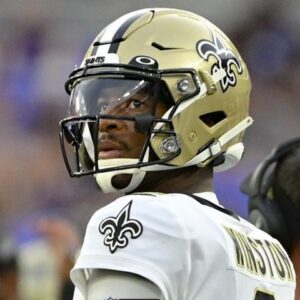 Jameis Winston's budget friendly ($5.5 million) contract with New Orleans was for just last season, and he has quickly emerged as one of the next NFL veteran quarterback dominoes to be changing uniforms and NFL cities soon.
Winston's football career has been the definition of ups and downs.  Winston's throws can be thrilling touchdowns or head-scratching interceptions.  Though there has never been a question about his physical skills, Winston's questionable decision-making going back to his college days at Florida State remain a lingering concern.
Another factor which might indicate that New Orleans and Jameis Winston won't be together much longer was the recent announcement that New Orleans' long-time head coach Sean Payton was stepping down to take a break from the game.  Sean Payton (who was a very good college quarterback at Eastern Illinois) was seen as a perfect coach to help teach Jameis Winston on how to become a more effective NFL game manager.  Without Coach Payton, Winston's apparent improvement in 2021 may retreat, too.
The New Orleans Saints' payroll is far above the NFL salary cap.  Other suitors for Jameis Winston are likely to offer him a much larger contract to obtain his services.  With other NFL teams shopping for talented veteran quarterbacks, our old friend "Economics 101 – Supply and Demand" favor other teams to bid up the price beyond the Saints' limits.  Like Pittsburgh, the Saints are in a proverbial quarterback pickle right now.
If you think those two teams have a quarterback issue, what about Indianapolis?
The Colts just lost their starting quarterback today as Carson Wentz and his $28 million dollar contract were both dealt to Washington, DC.  The team (which finished last season with nine wins just like the Saints and Steelers) has two untested quarterbacks on their bench with last year's rookie from the University of Texas, Sam Ehlinger, and second year pro James Morgan to choose from.  Neither of the two back-up signal callers played in a regular season game for the Colts during 2021.
If that's not bad enough, the Indianapolis Colts will now be looking at their fifth different starting quarterback in five years.  Andrew Luck (retired), Jacoby Brissett (now in Miami), Philip Rivers (retired), and now Carson Wentz (traded) have all been the starting quarterbacks for Indianapolis over the past four seasons.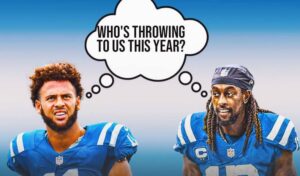 According to one source, Indianapolis has the most available salary cap room in order to spend money to lasso another veteran NFL free agent quarterback.  They need to hurry up as the Colts' first round pick in the upcoming NFL draft (the #16 spot) was traded to Philadelphia for the previously-mentioned one-and-done departing quarterback Carson Wentz.
What other veteran NFL quarterbacks might be moving to another team soon?  Free agents such as San Francisco's Jimmy Garoppolo, Denver's former starting quarterback Teddy Bridgewater, and former Chicago Bears' starter Mitch Trubisky are among the most likely to be changing teams soon.
Jimmy G. has been erratic though oftentimes effective.  However, the 49ers are placing a lot of confidence in their 2021 first round draft pick Trey Lance to become the future of this team.  That makes Jimmy Garoppolo expendable.  Jimmy G. served many years as the back-up for Tom Brady in New England, but he hasn't flourished the way the 49ers management expected after being shipped to San Francisco by the Patriots a few years ago.
Teddy Bridgewater is nearly the opposite of Garoppolo.  He is a meticulously accurate passer but is hesitant to throw enough deep routes downfield to open-up the opponents' defense.  Bridgewater played in New Orleans as a back-up for Drew Brees a few years ago.  It wouldn't be a surprise to find him back with the Saints again next season – if the price is right.
Then there is Mitch Trubisky.  The former #2 overall draft pick in 2017 by the Chicago Bears crashed and burned in the Windy City.  Trubisky found himself on the bench in Buffalo this past season as a back-up to Josh Allen.  Paid a relatively paltry $2.5 million last year by the Bills to warm the bench in chilly northwestern New York state, Mitch Trubisky had the chance to watch and learn in Buffalo.  I fully expect him to be moving to another team with another chance to become an NFL starter.
There is one other very intriguing quarterback "wild card" which we'll be watching closely.  Houston Texans' QB Deshaun Watson is finally heading to court at the end of this week to face accusers (22 in all) of sexual misconduct and harassment allegations over a year ago which kept the Texans' starting quarterback off the field in 2021.

This Friday (March 11, 2022), the Harris County, Texas grand jury will review evidence in Deshaun Watson's legal cases for possible criminal charges.  If the grand jury does not indict Watson, it is conceivable that he could be legally cleared by the NFL to play football this fall in 2022 while his attorneys rush to settle an onslaught of civil lawsuits filed in this case.  Watson's legal defense team should be ready to move quickly and earn their fees as their client's NFL contract pays him $35 million per season.
Would Indianapolis, Pittsburgh, or another NFL team be willing to make a deal with Houston to give Deshaun Watson a fresh start to play football in another NFL city?  If the Grand Jury doesn't push for criminal charges, I expect Watson will be on the move out of Houston soon.
Stay tuned!  This year's game of NFL quarterback dominoes is moving rapidly.