Podcast: Play in new window | Download
Subscribe: RSS
We are now a month into the 2021 college football season.  With a few of these "exhibition" games out of the way for most of the largest universities, we are starting to see a clearer picture emerge for this season.
I don't care for preseason college football polls as they are usually quite biased toward the same "big name" university programs.  Making it worse, how to you evaluate the quality of LSU 34-7 win over an FCS program just down  I-10 at McNeese State or quantify Alabama's 48-14 payday game played against the visiting FCS Mercer Bears from nearby Macon, Georgia.
There's absolutely no reasonable way to determine the best teams without having everyone start to play some meaningful football games.  That's why I wait for the first four games to be played before determining my first rankings of the year.
Drum roll…Back by popular demand, it is now time to unveil the first edition of the 2021 SwampSwami.com College Football Top 25!  Woo-Hoo!
Last year, I decided not to publish my wildly popular college football poll during the 2020 COVID-plagued season.  I didn't think it was fair to judge the teams playing in mostly empty stadiums and without each school's marching bands, cheerleaders and in-stadium excitement which we associate with the game of college football.
It's 2021 and, thankfully, college football as we remember it is BACK!  It's time your intrepid SwampSwami to help you better determine who the REAL power teams in college football are at this point in the new season.
Though the traditional media polls are swayed to favor the biggest names in college football, the SwampSwami.com Top 25 doesn't buy into that.  I will explain, in detail, how my weekly college football poll is determined:
We start the season with the assumption that the final Associated Press Poll of the prior year (2020) is still valid until a team from that poll loses their first game. In other words, Alabama will start this season as #1 and remain there as long as they remain undefeated.  The same privilege is afforded to every ranked team at the end of last season.  There are nine teams which fit that category in our first rankings of 2021.
After those legacy teams are ranked, then the poll is based on the remaining undefeated teams (those team who were not ranked in the final AP Top 25 at the end of last season). The first determining guideline is to evaluate the quality of each team's opponents.  I like to call it your team's "Best win".  I review the won-loss record for each team's opponents.  Unbeaten teams who have vanquished a 1-loss opponent will take precedence over another unbeaten team whose best win is over a 2-loss team, etc.
In the case of ties within these rankings, the margin of victory over your "best" opponent is generally considered. A 28 point win over a 1-loss team will take precedence over a 14 point win over a 1-loss opponent.
The same process is used for teams with one loss or two losses as the pool of unbeaten and one-loss teams dwindles each week of the season.
Wins over FCS (small school) opponents are discounted when compared to the value of defeating a winless FBS (large division) school. Though there is no question that many FCS schools can (and do) occasionally beat a larger division football team, it is simply too hard to predict those outcomes.
As of the week ending Saturday, September 26, 2021, there were 26 teams out of the 130 FBS large division universities which remained unbeaten after Week #4 competing for my top 25 slots.
Teams #1 (Bama) through #9 (Oklahoma State) in this year's initial 2021 SwampSwami.com College Football Top 25 are the other unbeaten schools who were also ranked in last season's final AP Top 25 poll.  Again, if those teams have not lost a game in 2021 since being ranked in last season's final poll, I believe that they are due a little more respect for coming out the chute unbeaten to start the new season.  Once one of those teams loses their first game, though, they are evaluated on the same basis as all of the other remaining teams.
The next eight teams in our first rankings of 2021 have all defeated an opponent which now has just one loss on the new season.  In the case of our #10 team this week, the University of Arkansas Razorbacks have handed both Texas and Texas A&M their only loss of the season.  The Razorbacks are definitely this year's early-season "feel good" story after suffering through so many years near the bottom of the SEC West.
Another surprise in my first Top 25 rankings for 2021 is the University of Texas – San Antonio Roadrunners!  Coming in at #17 this week, UTSA went on the road to hand Memphis (now 3-1) their only loss of the season.  This college football program in San Antonio (which competes in Conference USA) is now in just their tenth season after beginning to play college football program in 2012!
There were 26 teams which were still unbeaten through this weekend.  I normally will only rank the top 25 teams.  However, I will make an exception this week.
My ranking methodology shows the Army Black Knights as our 26th team.  Since my now-deceased father was in the Army during World War II, I will honor both my Dad and the West Point Cadets by granting them with a special extra placement into our first week rankings.  If Army keeps winning, they will keep moving up every week!
Without further ado, let's review the first SwampSwami.com College Football Top 25 (+ 1) through the weekend of Saturday, September 25, 2021: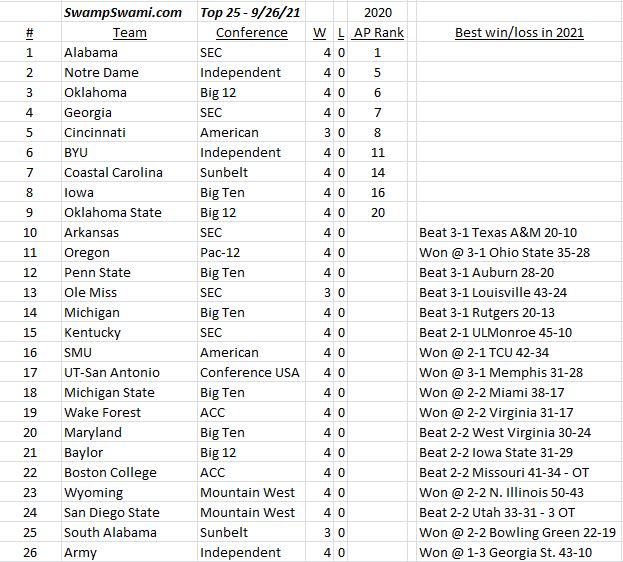 Come back next week to see where your favorite college football team is ranked!