Podcast: Play in new window | Download
Subscribe: RSS
It's springtime here in the Deep South. That means it's time to head outdoors for college football spring games, golf, fishing, mowing the lawn, the return of barbeque weekends, and spending more time in the great outdoors.
Here in the Deep South, spring also means the return of our annual tornado season. If your primary east/west interstate highway system starts with the numbers 10, 20, 30, or 40, you are likely aware of the possible dangers of these spring storms. They tend to occur when the last blasts of cooler winter temperatures clash with the South's increasing levels of heat and humidity at this time of year.
That's a reason why we have come to depend on The Weather Channel to bring us the latest advisories about those oncoming springtime storms, right?
Unless you happen to have bad weather after 12 Noon on a Saturday or Sunday afternoon, that is.
On Sunday afternoon and evening, several Mississippi cities from Yazoo City up to Tupelo (birthplace of Elvis Presley) were among the locations slammed by some dangerous springtime tornadoes. In all, 19 tornadoes were reported in Mississippi on Sunday. Fortunately, there were no fatalities but extensive property damage occurred.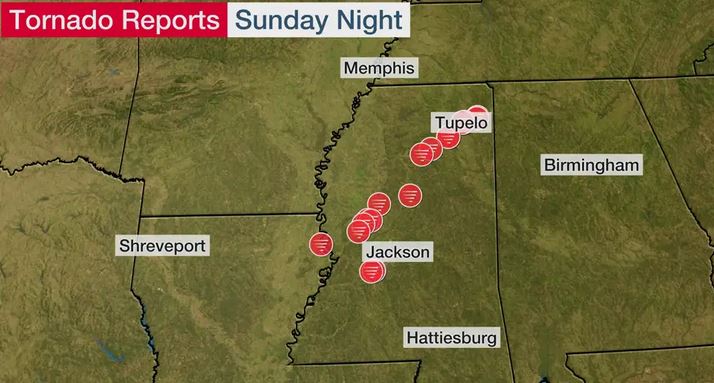 If you tuned-in to The Weather Channel on Sunday afternoon or evening looking for coverage of this tornado outbreak in the mid-South, you were sorely disappointed.
When I checked The Weather Channel Sunday night, it was airing another rerun of "Highway through Hell" (a Canadian documentary showing how tow trucks always save the day for vehicles in trouble along the treacherous road systems of western Canada). Or maybe it was "Heavy Rescue: 401" (same format – which is filmed in the Toronto and eastern Canada area).
Why would The Weather Channel run a recorded program about Canadian tow-truck operators rescuing endangered drivers instead of covering Sunday's storms in Mississippi?
As a former commercial television camera operator years ago, I can think of one good reason.
Live television programming is expensive to produce.
In addition to one or more on-camera meteorologists, you also need a couple of camera operators, a few technicians to find and load a variety of weather radar sources and create the screen graphics, a director to punch-up the right camera shots or cut to graphics, and a producer to tell the director how long each segment should be and what should be covered at the moment. At the very least, you're talking about a minimum of ten people needed to run studio operations during any "live" weather coverage.
That costs money.
Even though the Atlanta-based Weather Channel (which began operating in 1982) sells advertising to offset the costs of its live daily weather coverage, the number of viewers generally dwindles during certain hours. Those are the times where you will now find the network running non-weather shows such as the ones previously discussed.
You can be sure that top management of The Weather Channel knows exactly how much production costs run to produce their "live" daily weather shows and the advertising revenues generated in any particular hour of the day (on weekdays and especially on weekends).
That is the reason why you are not finding on-camera meteorologists on The Weather Channel after 7PM (central time) on weeknights or after 12 Noon every Saturday or Sunday.
Don't remind the good people of northern Mississippi about that today. By being AWOL during Sunday's dangerous weather outbreak, thousands of Mississippi residents were not kept informed by the one cable television channel which bills itself to be "The Weather Channel."
"Sorry, Mississippi. We'll be back to cover the weather on Monday morning at 5AM. Besides, your local television station should be there to cover the oncoming tornadoes on a Sunday night, right"?
In a moment of dramatic irony less than 18 hour after Sunday's tornado outbreak in Mississippi, I turned on The Weather Channel this morning (Monday, May 3) at 9:30AM.  Incredibly, a tornado warning had just been issued for the metro Atlanta area (home city of The Weather Channel, by the way).  The two weekday morning meteorologists provided some terrific detail and faithfully covered this dangerous storm for 45 minutes without a break until nearly 10:15AM.
In fact, one of the two Weather Channel meteorologists briefly mentioned that her daughter was a student at Georgia Tech (located near downtown Atlanta) as the storm was heading directly toward the university campus.  That extra tidbit added a very relatable human interest perspective during a serious live television moment.    
It also made for very compelling TV.
It's too bad that The Weather Channel did not take a similar attitude on Sunday afternoon and evening when the northern half of Mississippi was being threatened in a similar fashion.
Yes, The Weather Channel's management has developed its daily programming schedule to minimize the costs of providing live weather coverage while maximizing their own profitability by placing cheaper alternative programming during their non-peak revenue hours.
As The Weather Channel has retreated, start-up ventures such as WeatherNation have appeared on the scene to give a little bit of meteorological competition.
It is easy to see why viewership for The Weather Channel has declined over the years. Those of us who were around when the network debuted nearly forty years ago no longer feel as if we can depend on the network to cover breaking weather events during the networks' off-peak autopilot hours (which now comprise nearly 50% of the weekly schedule).
During its first twenty years on the air, The Weather Channel was 24/7 weather coverage. You could literally get to know the on-camera meteorologists due to frequent familiarity. Sure, the coverage could get slow and repetitive on some days. Cable television viewers (especially travelers and those who depend on current weather information such as the agriculture and transportation industries) could count on The Weather Channel to be on top of breaking weather stories faster than most local television affiliates.
Not today.
The network's management apparently thinks it is wiser to avoid losing money during certain dayparts than to build long-term viewer loyalty.
Today's current iteration of The Weather Channel doesn't even run its own "Local on the 8's" feature the same way anymore.   In years past, the network would run a local 60-second insert of your city's current weather conditions, radar, and forecast every eight minutes during the entire broadcast day.
If you tune in today, the "Local Weather on the 8's" segment only occurs at :18 and :48 minutes past the hour (and only while The Weather Channel is running live programming).  Talk about bait and switch! 
Besides, who needs local weather information during springtime severe weather season when you can watch another truck slide off a slick road in western Canada on a Sunday night.   
You would think that a network which bills itself as "The Weather Channel" would provide viewers with local weather information at least three or four times every hour – regardless of what type of programming they are running.  But once the money changers at this weather outpost have put the network into its daily "sleep" mode, you might as well forget about receiving any relevant national or local weather information during naptime.
When I consulted my wife about this story, she suggested that, perhaps, The Weather Channel should have one person at the Atlanta studio dedicated to monitoring the nation's weather conditions at all times 24/7.  Whenever a legitimate severe outbreak occurs (such as Sunday's tornado outbreak in Mississippi), that person would contact a stand-by weather "on-call" team whose job it is to immediately come to the studio and spring into action. 
Like the network's hurricane coverage, The Weather Channel could even pre-negotiate one or more financial sponsorships (such as one of the major insurance companies and/or a big-box home improvements store) to offset the incremental costs associated with covering a severe weather event.    
That seems like a very practical idea! It would check the boxes for management and viewers alike.  It would also provide a valuable public service for the people in the severe weather area along with their concerned relatives and friends around the country who are watching in hopes of learning more information. Plus, the network would be helping to save more lives in the affected storm areas as it rebuilds trust with viewers.     
Otherwise, maybe it's time to consider changing the name to "The Missing Meteorologists Channel".