Podcast: Play in new window | Download
Subscribe: RSS
This Sunday evening at 5:30 PM Central time, millions of Americans and a worldwide audience will tune their television sets to watch the NFL's final football game of the season.
The AFC Champion Kansas City Chiefs will appear in the 2020 "Big Game" for the first time in fifty years and play the NFC Champion San Francisco 49ers.
Though you and your friends may go ahead and call this event "Super", this is a friendly reminder to you (and your business or church) to do so at your own peril.  The very wealthy NFL has their very hungry lawyers on 24/7 alert this week in the unfortunate event that you name your business sale or even something which includes the word "Super" and charge money for a product or admission to the event.    
Yes, even churches!
Back in 2008, a Baptist church in Indianapolis attempted to charge a small admission for a church-sponsored "Super" party for families at their facilities. The NFL's lawyers intervened, and the church was advised that they should cease and desist using the term "Super" for their event.
In 1969, the National Football League has trademarked the names "Super Bowl", "Super Sunday" and their graphic Super Shield. *
*Note to NFL – I apologize in advance for this one-time unauthorized use for illustrative and educational purposes only.
If you hear an advertiser (such as a national beer company) utilizing the word "Super", you can be sure that they are paying the NFL for that precious right.
Creative businesses resorted to producing television and radio commercials which are now referring to the game on Sunday as "The Big Game".
The NFL tried (but failed) to grab that moniker, too! A few college football teams had already been referring to their annual match-ups as "The Big Game", so the NFL doesn't own that name (yet).
I think it's a super idea for us to expand our vocabulary to find another way to refer to Sunday as something other than "The Big Game".   Let's turn to the dictionary and identify other names we should start to use.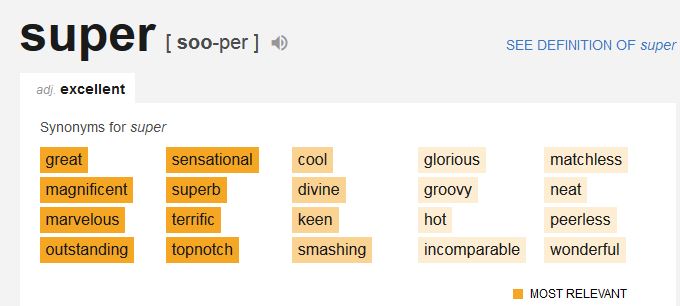 A used car dealer might try this. "Come on down to Mr. Haney's AutoMart and check out our Sensational Sunday car line-up and pick up a superb deal prior to kick-off this weekend!"
A local pub could try another tact. "Hey, everybody! Moe's Bar is featuring a Magnificent Sunday special! Come in to watch this outstanding football game on our 100 televisions with topnotch half-price food and drinks!"
Here's something else to consider for this Sunday's NFL football finale.
Did you know that the halftime entertainment for the first 25 of these football games did not involve an entire halftime filled with headline-grabbing, big-name entertainers?
Yes, those of us who are old enough to remember 1967 (the very first Big contest), it wasn't until 1991 when pop group New Kids on the Block became the first headliner musical act to be featured as the primary halftime entertainment for the game.
Before that, halftime shows included an assortment of talented college marching bands, precision drill teams, a singing and dancing group called "Up with People", and a few well-known entertainers also made appearances as a minor part of halftime festivities.
In 1989's final NFL game in Miami (#23), the featured entertainer was someone named Elvis Presto!  The halftime event had millions of television viewers wearing 3-D glasses (courtesy of a major diet cola company) as Mr. Presto performed a unique card trick which required viewers to wear those glasses in order to see how it turned-out. 
After 1991's New Kids on the Block, the halftime shows have featured a mix of pop, country, and other then-famous entertainment groups. Even Michael Jackson was the featured performer back in 1993's halftime show.
Jennifer Lopez and Shakira will be performing at halftime of this weekend's football game.
Though many people watch for the football game and others for halftime entertainment, there is another group who will tune-in Sunday for the commercials themselves.
This year's price tag for a 30-second television spot has risen to $5 million!  Regardless, that hasn't deterred political candidates along with companies peddling beverages, automobiles, and other products from lining-up to pay to reach an audience which is usually nearly 100 million US residents. 
If you consider that the network (Fox will handle the program this year) will sell about one hour of commercials during their nearly 4-hour football game, that means that $600 million (that's correct!) will be spent by advertisers trying to garner your attention this Sunday.
Not everyone, though, is happy with America's annual football finale coming on Sunday.
Employers and schools routinely see massive absenteeism on the Monday morning following the NFL's final game of the season on Sunday. On the east coast, the football game won't end until nearly 11PM. Many adults may party a little too hearty during the Sunday evening extravaganza.
One enterprising 16-year old boy from the state of New York wants the NFL to move their annual finale to be played on Saturday instead of Sunday beginning next year.   He (quite smartly) said that more people would be able to watch the games and have Sunday off to rest before going back to work and school on Monday.
I like this young man's idea!  If you want to sign the petition, click on this link.
In the meantime, the NFL's final football game is scheduled to kick-off Sunday evening in Miami. Since thirty of the NFL's 32 teams won't be playing, the league is hoping that the combination of football action, interesting commercials, and high energy halftime entertainment will offer enough enticement for even casual football fans to watch all or a portion of the game.
At $5 million per 30-second spot, the advertisers for this big game are sure hoping that you will be watching as the price tag for the Super commercials keeps trending, "Up, Up, and Away!"