Podcast: Play in new window | Download
The good news is that, no matter what happens next, my fantasy football team (Swamp Gas) will not go winless this year! The Methane Marauders captured victory in its first match-up of the season by a final score of 126-83.
Victory is sweet!
With our ten-team league, my Fantasy Football team is in a five-way tie for first place after week #1. Woo-hoo!
Let's take a look at how my starting players performed against the competition: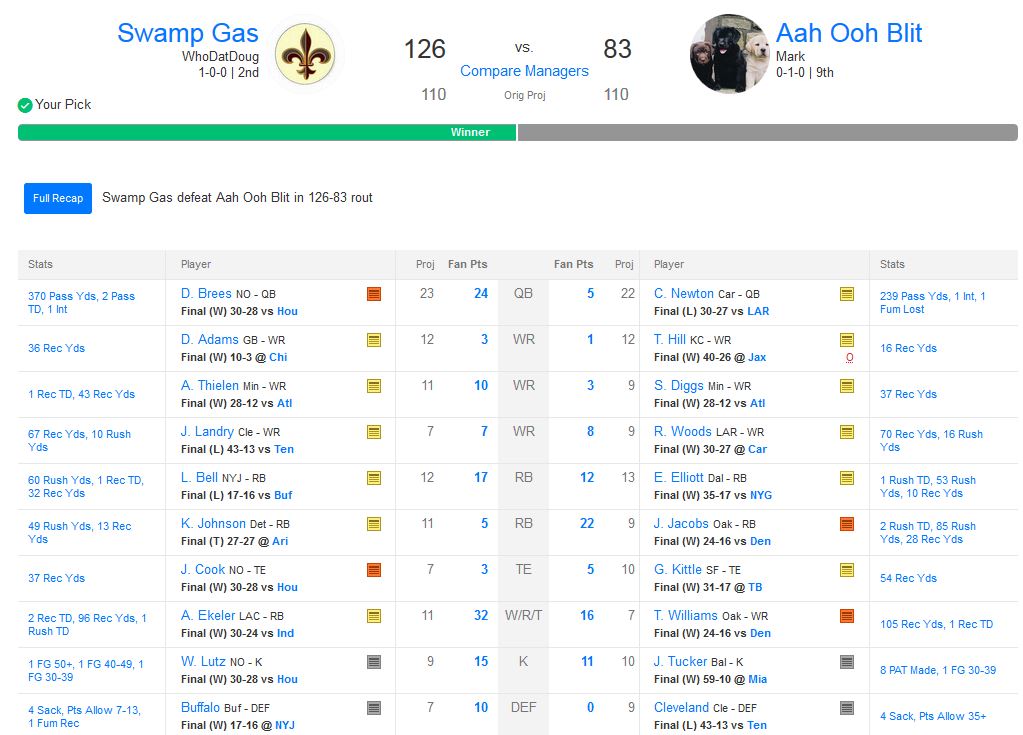 Today, I am awarding myself the "Wile E. Coyote – Super Genius" moniker (for one week) for the brilliant 5th round draft selection of  LA Chargers' running back, Austin Ekeler.  Ekeler played like a man on a mission!  He scored three touchdowns (two via the run and one pass reception for a TD) and scored 32 fantasy points to lead the Chargers (and Swamp Gas) to victory!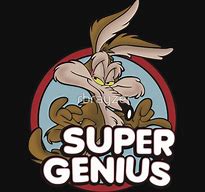 As you may remember from last week's Week 1 post, the Yahoo! Sports team chastised my "wasted" pick on Austin Ekeler in Round 5.
To Yahoo! Sports, I say, "Go away, or I shall taunt you a second time"!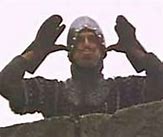 Let's also give a Swamp Gas "Game Ball" to our placekicker, Wil Lutz, of the New Orleans Saints. Not only did he lead the Saints to victory with a 59-yard field goal to give the WhoDats a win over the Houston Texans, his kick gave our team five points and a game total of fifteen points (vs. a projected score of nine). Great job!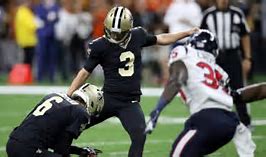 My starting group generally performed better than the guys I left on the bench. Last week, the biggest bench surprise was that Swamp Gas back-up rookie tight end (T.J. Hockenson – Detroit Lions) had a terrific week (19 points) and outperformed starting tight end, Jared Cook (Saints – 3 points). Cook and Drew Brees are just getting started, so we'll watch the Cook vs. Hockenson battle for another week or two. This week, I'm staying with Cook, though.
Injury update – Washington (and former LSU) running back, Derrius Guice, injured his right knee and is likely unavailable for the next few weeks. This is sad to hear, because Guice (only in his second year as a professional) injured his left knee as a rookie last season. Otherwise, the remainder of our team came through the week just fine.
Underperformance – I was disappointed that rookie wide receiver, Andy Isabella (Cardinals), didn't even have one catch in Game 1. Though he was used as a kickoff return man, those yards won't earn us any points. Bad start for the rookie!
GM decisions today – Yahoo! Sports allows the teams to make cuts/additions beginning Wednesday morning. That means any player decisions need to be made today.
Hence, I think it may be time to drop WR Andy Isabella if he's not seeing the ball to start the season. I just submitted a request to drop him and add WR John Ross (Cincinnati Bengals). The "undrafted" Ross had 158 yards and 2 TD's for the Bengals in week 1.
This transaction is unlikely to be completed. Why? Yahoo! Sports gives the league teams with a losing record a priority over teams with a winning record when multiple teams try to claim the same player. This is a play to upgrade our bench. Nothing ventured, nothing gained, right?
This week's opponent – Our next opponent will be the always tough, Houston Hard Hitters (Triple H). They are a recent league champion and are usually among the best teams every season. They come into this week at 1-0.
Coaching decisions – Time to set our fantasy line-up for Week 2 since there is a Thursday night game every week this season (playing again on Thursday is such a bad idea for players' health – don't get me started!). I am planning to stick with my starting line-up again this week, since our first team performed so well in Week 1.
Here is our starting line-up for Week 2 of the Fantasy Football season: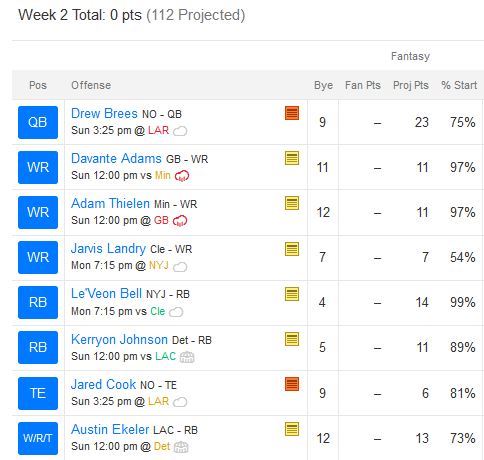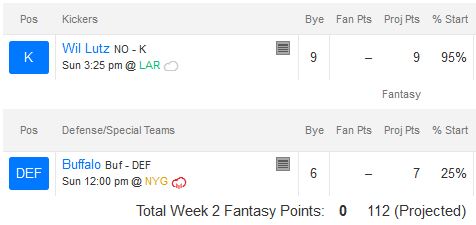 Let's hope for the best! I will return next Tuesday to post the weekly results and strategize on how our Fantasy Football squad should proceed for our next game.
Let's Geaux, Swamp Gas!