Podcast: Play in new window | Download
Subscribe: RSS
You already know the tune, so let's add a brand new verse about Tom Brady.  Sing along!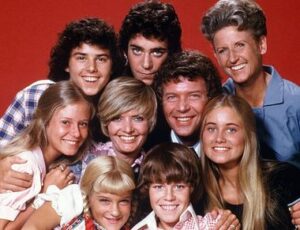 "Here's a story
Of the Bucs Tom Brady
He's the QB with seven rings of his own!
A divorced man
Handsome and single…
Yet he lives all alone!
'Til one Monday when his arm turned into Jello
And he knew that it was much more than a hunch
He's now facing – a tough decision
One more year and he could end up getting crunched!
I've got a hunch…he won't get punched
Where's the next place Tom Brady eats his lunch?"
Just one year ago, NFL quarterback legend Tom Brady told football fans that he was finally done.  He retired at age 44 to spend more time with his wife and three children.  Good for him!  After appearing in a record ten Super Bowl games (winning seven), this man earned it.
A few months later, Tom Brady abruptly changed his mind and returned to the Tampa Bay Buccaneers.  A few months later, we learned that Brady and his wife were getting a divorce.  The separation became permanent in October.
Moving forward in 2022, Tom Brady played another season for Tampa Bay.  In doing so, he posted the first losing regular season as a starting quarterback in his durable and incredible 23-year NFL career.  Though the Bucs finished a mediocre 8-9, they still won the pitiful NFC South.  As a reward, they hosted a first round home playoff game against the 12-5 Dallas Cowboys on Monday night.
Dallas hardly broke a sweat in winning this Wild Card mismatch by a 31-14 margin.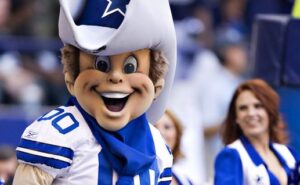 The only drama in this football game was watching the Dallas placekicker, Brett Maher, miss four straight extra point attempts before Tampa Bay even scored a point.
For his part, Tampa Bay quarterback Tom Brady passed the ball an incredible 66 times in this game and completed 35 of them for 351 yards.  That works out to a measly 5.3 yards per pass attempt for Brady.
Brady's "dink" passing game reminded me of the other two older gentlemen who I watched the game with last night – Peyton Manning and his brother, Eli.  ESPN2 featured interesting commentary from the Manning brothers – winners of two Super Bowls apiece.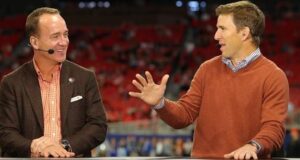 Peyton Manning is now 46 years old (just one year older than Tom Brady), while Eli is 42.  Both of them retired from the NFL around age 40.
As a young quarterback, Peyton Manning used to heave the ball downfield with ease.  By age 38, Peyton Manning (like Tom Brady) was unable to throw the ball downfield with his usual zip.  He had to adapt to the realities established by Father Time.  Though Manning won a final Super Bowl game with the Denver Broncos in 2013, he rarely passed the ball more than 15 yards downfield with any velocity.
Tom Brady has now entered that stage of his career.  He rarely runs (a smart idea for a 45-year old quarterback).  The Dallas defense simply moved most of their players within 15 yards of the line of scrimmage in the playoff game and dared Brady to beat them deep.  It didn't happen.
So, what's next for Tom Terrific?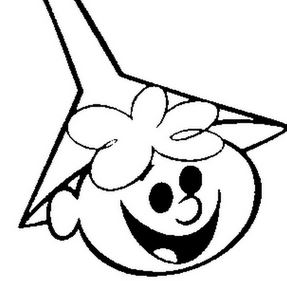 He holds nearly every NFL quarterback record.  Though he still throws an accurate pass, he must release the ball quicker to avoid the increasingly quick defensive pass rushers.  That doesn't give Brady's receivers enough time to get more than ten yards downfield before the ball is already heading their way.
Father Time may have finally defeated Tom Brady this year.
Other than his recent divorce (he and his wife have three children), Tom Brady has a standing offer for a whopping $37.5 million per year for ten seasons to join the broadcast booth as an analyst for Fox Sports.
That is what most of us would call "stupid" money.  Seriously, what is he waiting for?  Fox made that offer to lock-up the NFL's greatest quarterback as longtime Fox NFL hosts such as Terry Bradshaw and others finally retire.
With Tom Brady's 46th birthday coming this August, does Tampa Bay want him back again next season?  What other NFL teams would be willing to spend millions of dollars to lease football's vintage Lamborghini?  Yes, that car still runs but has high mileage and bad wheels.
Let's examine a few teams who may be interested in Tom Brady for next season: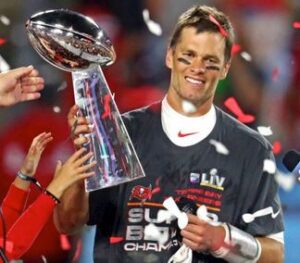 Tampa Bay – Tom Brady moved south to Tampa three years ago for a change of pace and to avoid those cold winters in New England.  A very accomplished golfer, Tom Brady is able to play golf year round in Florida.
When Tom Brady came to Tampa Bay, the Buccaneers featured a great defense but needed more experience and leadership at the quarterback spot.  It seemed like a perfect match on both sides.
Tampa Bay was able to utilize Tom Brady's skills to squeeze out a Super Bowl victory in his first season with the team.  In three years with the team, the Brady Bucs have gone 11-5 (Super Bowl winners), 13-4 last year (losing in the second round to the Los Angeles Rams) and 8-9 this season (losing to Dallas in the first round).
Like Tom Brady, Tampa's former head coach (and offensive specialist) Bruce Arians announced his retirement after the 2021 season.  Unlike Tom Brady, Arians did not have a change of heart and return after his own retirement announcement.
Tampa Bay appointed defensive coordinator Todd Bowles to become the Bucs' new head coach in 2022.  It's hard to know how much of a difference this coaching change had on the team's offensive play this year.
The Bucs QB bench is thin.  Long-time journeymen Blaine Gabbert (Missouri) and Ryan Griffin (Tulane) are both 33 years old.  Plus, Tampa Bay kept second year player and former Florida Gator QB Kyle Trask on the roster, too.  Many had hoped that Trask would learn from Tom Brady and, perhaps, develop into the team's future starter.  That has not happened.
Tampa Bay will have the #19 pick in the first round of the 2023 NFL draft this spring.  It is not necessary for the Buccaneers to select a new quarterback in the first round.
Tom Brady was a sixth round pick back in the year 2000.  Last weekend in the first round of the NFL playoffs, we have seen seventh round rookies Brock Purdy (San Francisco) and Skylar Thompson (Miami) play very well.  Undrafted free agent Tyler Huntley (Baltimore) also had a solid performance though the Ravens lost a close game at Cincinnati last weekend.
Tampa Bay absolutely needs a better running game!  Finishing dead last in the NFL at #32 this year, the Bucs averaged only 76 yards per game on the ground.
Perhaps some of those running game woes were due to Tom Brady's lack of downfield passing.  When the team's quarterback continues to make short five to ten yard "dink" passes, the other team's defense can stack the line.  This will stop the run and hurry the passer.
Tampa Bay now faces a hard choice.  Tom Brady is a free agent and can sign with any NFL team.  If the price is right, Brady may consider a final year playing in Tampa Bay.  If Brady's three children are still living in Florida, it would make sense to consider staying with Tampa Bay.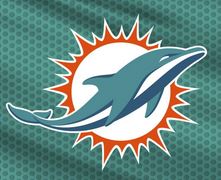 Miami Dolphins – The AFC East Dolphins have struggled at quarterback in recent years and made previous sales pitches to Tom Brady in the past.  I think the biggest problem with Brady going to Miami at age 46 would be the inability to utilize the Dolphins' well-paid speedy receiver Tyreek Hill on deep passing routes.   Brady's inability to move around in the pocket tightens up defenses and shrinks the field.  If Brady's family remains in Florida, Miami has to be considered a serious possibility for next year.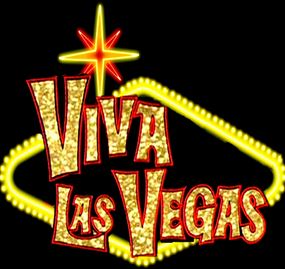 Las Vegas Raiders – With a head coach who was Brady's former offensive coordinator in New England (Josh McDaniels) and a General Manager (Dave Ziegler) who spent nine years with the Patriots, the Las Vegas Raiders might be willing to roll the dice (in America's gambling capital) on Tom Brady.   The Raiders also have the #7 pick (a lucky number?) in the first round of the upcoming NFL draft.  They could select a quarterback to learn from Tom Brady for a season or two.
And now for the Long shots…
New Orleans Saints – The hot rumor has been that coach Sean Payton would return to the Saints and bring Tom Brady along as the new QB in the Crescent City.  In doing so, Brady would be playing against his former team in Tampa Bay twice per year.  Though not impossible, it's quite doubtful both of these events would happen.
New England Patriots – Tom Terrific heads home to New England for a farewell tour?  Neither Patriots coach Bill Belichick nor Tom Brady seem to be very sentimental.  If so, this plan would have occurred three years ago.  Tom has stated that doesn't like to play in cold weather anymore.  I don't see this happening.
San Francisco 49ers – With a dominant running game, great defense, and effective short passing game, San Francisco might be able to utilize Tom Brady at quarterback for a year or two.  That said, today's version of the 49ers are a playoff team without Tom Brady.  Why would they decide to ditch their current quarterbacks to "rent" a 46-year old Tom Brady?  It is intriguing but very unlikely.
Tennessee Titans – Whoever thought that Ryan Tannehill (a former wide receiver in college at Texas A&M) was a top-level NFL quarterback was fooling themselves.  Though he has played well enough at times, Tannehill's playoff performances (like Kirk Cousins in Minnesota) leave a lot to be desired.  Tom Brady's 46-year old legs aren't going to help him escape the oncoming rush in Tennessee any better than they did in Tampa.   This may be the longest shot of all.
The final and most obvious thing for Tom Brady to do is to take a final gracious bow from professional football and become an All-Pro at his new job as a commentator with Fox Sports.
Tom Brady has led a charmed football career.  Still in good health, he has nothing left to prove.  NFL fans do not want to see a much more brittle Tom Brady carted off the football field with a significant injury next season to end his legendary career.
Go out with class, Tom Brady!  DO NOT pull a Brett Favre stunt again and "unretire" once again this spring or summer.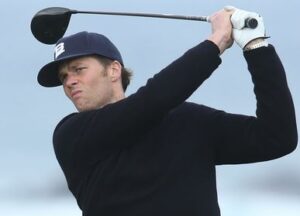 You become eligible to qualify for the PGA Champions Tour at age 50, Tom.  Go for it!