Podcast: Play in new window | Download
Subscribe: RSS
No matter where you work, there will always be someone that makes the most money on your team.
In the NFL, the highest paid person on most football teams is usually the quarterback.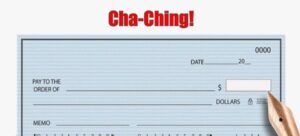 In this weekend's opening round of the NFL playoffs, there will be 12 talented quarterbacks playing in the six first-round games.
Of the 25 highest paid players in the NFL in 2022, the top 12 spots were all quarterbacks.  Occupying the 13th spot was Aaron Donald, the talented defensive lineman for the Los Angeles Rams.  After that, there was a mix of quarterbacks, wide receivers, and defensive standouts.
Drum roll, please!  The winner and highest paid NFL player in 2022 was…Aaron Rodgers!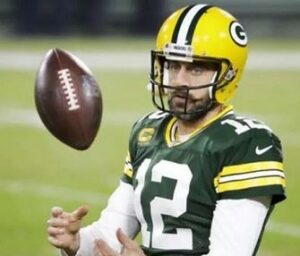 In Green Bay, 39-year old Aaron Rodgers was paid $50.3 million this season.  His team finished a weak 8-9 and failed to qualify for the playoffs.  Rodgers' salary is nearly 20% of the team's total payroll.
How would you feel if you were one of his Packers' teammates earning "just" $1 million this season (or 2% of Rodgers' pay)?   Would you believe that your offensive leader earned his paycheck this year?   Would the team be better served without such a highly paid prima donna quarterback?
At your office, how would you feel to learn that the senior person in your work group earned 50 times what you made last year?  Though the senior staffer's job may be slightly more difficult, both of you still work hard to meet departmental goals and objectives.
Whether it is in the huddle on the football field or in your office, the pay disparity is bound to cause friction with at least a few teammates.
Meet the second-highest paid NFL player – Denver quarterback Russell Wilson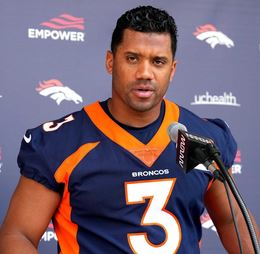 The second highest paid player in the NFL last year was Denver Broncos quarterback Russell Wilson.  Like Aaron Rodgers and the Packers, the Denver Broncos did not qualify for the playoffs, either.
In 2022, Russell Wilson (who formerly played in Seattle) was handed a nifty $50 million signing bonus by the Broncos!  He will continue to earn about $50 million per season for another four years.
Denver finished 5-12 this season with Russell Wilson.  They went 7-10 last year without him.
The Denver Broncos' locker room doesn't seem to like Russell Wilson, either.  Though he led Seattle to a Super Bowl win years ago, his passing and running skills have obviously diminished.
It's not Russell Wilson's fault that Denver offered to pay him such a lucrative deal.  The Denver Broncos' management should take the blame for that.  The team will pay for this mistake for years to come.
Coming in at #3 was Arizona quarterback Kyler Murray!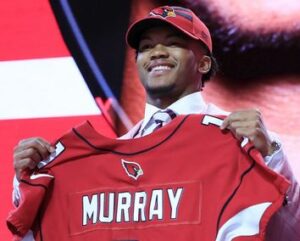 As you may have surmised, the 3rd highest paid player in the NFL plays for a team which also posted a losing record.  After finishing 4-13 this year, the Arizona Cardinals immediately fired their head coach, Kliff Kingsbury.
That's because it is cheaper to fire the team's head coach than to dismiss the entire football team (which was paid $230 million this year).
Arizona Cardinals ownership and management (like in Green Bay and Denver) are to blame for offering such a big money contract to their young but petulant quarterback.
Kyler Murray often whined about how underpaid he was.  After the Cardinals surprised the NFL by going 11-6 to reach the playoffs in 2021, the quarterback immediately demanded to be paid as if he was a top level NFL quarterback.
He even took to social media to announce it by saying (in all caps – just in case we were deaf), "ACTIONS SPEAK MUCH LOUDER THAN WORDS IN THIS VOLATILE BUSINESS."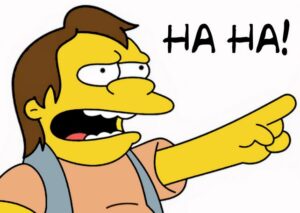 It worked!  His brand new contract paid him a cool $46 million in 2022.  He also gets another four years with even higher pay.  What a great deal…for him.
Today, reports began to surface that Kyler Murray's Arizona teammates weren't very happy with his attitude or performance this season after receiving that lucrative new contract.
When a team regresses from 11-6 to 4-13 in one year, the highest paid guy on the team should expect to hear some criticism.
Of course, Murray denied those allegations and claimed that he worked harder than ever before in 2022.   Kyler's hard work didn't translate into wins for his team, though.  The Cardinals went 3-8 in his eleven starts this year.
Coming in at #4 on the list – Deshaun Watson – Cleveland Browns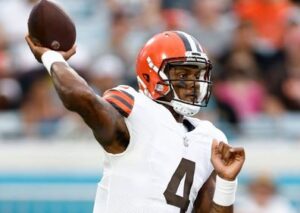 Deshaun Watson (best known for settling personal lawsuits with massage therapists in Houston) was not allowed by the NFL to play until Game #11 this year.  The Browns were already a mess by the time Watson finally took the field for the Browns' final six games.
Last summer, Cleveland made an offer to Houston to take quarterback Deshaun Watson off their hands.  Watson signed a new 5-year contract with the Browns.  That's $46 million per season.  Though Deshaun Watson went 3-3 as a starter in the 2022 season, Cleveland (like Green Bay, Denver, and Arizona) did not make the NFL playoffs.
Here are the remaining 12 highest paid NFL players in 2022 (all quarterbacks):
#5 – Patrick Mahomes (Kansas City – in the playoffs) $45 million
#6 – Josh Allen (Buffalo – in the playoffs) $43 million
#7 – Derek Carr (Las Vegas – not in the playoffs) $40.5 million
#8 – Dak Prescott (Dallas – in the playoffs) $40 million
#9 – Mathew Stafford (Los Angeles Rams – not in the playoffs) $40 million
#10 – Kirk Cousins (Minnesota – in the playoffs) $35 million
#11 – Jared Goff (Detroit – not in the playoffs) $33.5 million
#12 – Carson Wentz (Washington – not in the playoffs) $32 million
Of the 12 top paid NFL players in 2022, only four of this dozen will be in the NFL playoffs beginning this weekend.
Here's another way to look at this.  Eight of the top 12 highest paid NFL players played on the 18 worst teams in the NFL.
Oft-injured Baltimore Ravens quarterback and former NFL MVP Lamar Jackson will be trying to ring the NFL "Jackpot" contract bell this spring as he become a free agent.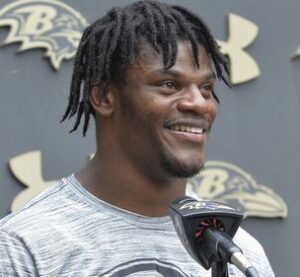 As we've just shown, Baltimore's future playoff chances may actually decrease if the Ravens should break open their piggy bank to pay the recent "going rate" for top quarterbacks.
At some point, it might be nice to see an NFL owner say, "No, thanks!  And good luck with your next team!"
I don't blame the players for accepting the incredible money being offered.  The owners (as always) are the primary culprits for the rising costs of the players.
They have a very nefarious reason to do so.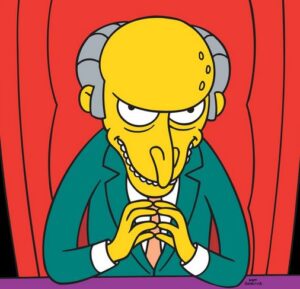 As covered here on numerous occasions, the average NFL franchise owner was already quite wealthy prior to purchasing a team as an investment vehicle.  The owner simply wants that new investment to earn a profit every year and, more importantly, grow in value over time.
Hopefully, that NFL franchise will increase in value more than if the owner had invested his or her money into stocks and bonds.
As long as NFL fans continue to pay increasing prices for tickets, parking, and concessions at NFL stadiums as a variety of television providers bid-up the rights against each other to televise every game, the owners' franchise values are growing quite nicely.
Some franchise owners just like to be part of this elite club.  Dallas Cowboys owner Jerry Jones is always ready to be seen on camera, while others prefer to remain in the background.
For the owners of the 14 NFL franchises which qualified for this year's playoffs, they should be pleased that their team has succeeded.  Don't expect any significant organizational changes from most of these 14 playoff teams once their season ends.
After all, there can only be one Super Bowl winner.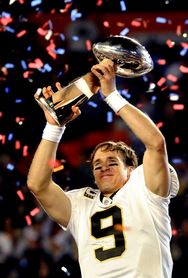 This weekend, the other 18 NFL franchises' players and organization will be at home watching on television– just like the rest of us.
Some of the non-playoff teams (like 9-8 Pittsburgh and 9-8 Detroit) finished strong and have momentum moving forward.  Don't expect many changes for them.
Others like 7-10 New Orleans and 7-10 Tennessee will likely tweak a few things in the offseason as they hope for a return to the playoffs next year.
Some teams have already fired their head coach and others within the organization.  All they can sell their fans is "hope".
Even the lowly Houston Texans (who, by going for a two point conversion in their final game at Indianapolis, cost themselves the #1 pick in next spring's NFL draft) will try to create the illusion that things will improve soon as hope springs eternal.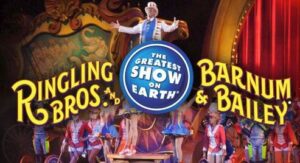 Circus owner P.T. Barnum had it right over a century ago when he reportedly said, "There's a sucker born every minute!"