Podcast: Play in new window | Download
Subscribe: RSS
You've gotta hand it to the Cleveland Browns.   They want to play in their first Super Bowl so badly that they were literally ready to make a deal with the devil in order to do it.
The Browns are one of only four NFL teams which have never played in a single Super Bowl game since the AFL merged with the NFL back in the middle 1960's.   The other three teams are the Detroit Lions, Jacksonville Jaguars, and the Houston Texans.
The Browns shocked the sports world last Friday by enticing the heavily lawyered-up quarterback Deshaun Watson to accept a trade away from the Houston Texans to Cleveland.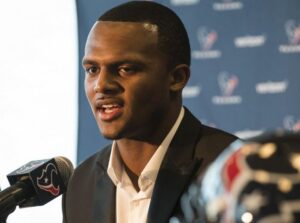 The 26-year old former Houston Texans quarterback didn't play a single down for the Texans last season as he awaited a local Grand Jury to convene and decide whether he would be held criminally liable for charges filed by 22 different women.  The women work as independent message therapists and claimed that Deshaun Watson requested or demanded that they render additional "personal services" beyond the scope of what they were hired to do.
These alleged incidents all occurred during the NFL's COVID season of 2020.   Apparently, Houston's traditional men's clubs must have been open fewer hours that year as well.
Earlier this month, a Harris County (Houston) grand jury chose not to charge Deshaun Watson (who, by the way, is not married) criminally in these cases.  That means that the lawsuits will probably be settled in a civil court setting.  For the women involved, it is just a matter of time and money to resolve those lawsuits.  Watson will not face any jail time.
Based on Watson's brand new $46 million/year guaranteed money contract in Cleveland (up from $35 million/year in Houston), I expect that his accusers will hold out for a little more money, too.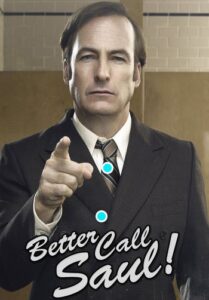 Fair is fair.
After Deshaun Watson was not charged criminally, several NFL teams with quarterback needs lined-up en masse trying to entice the Texans and their quarterback (who publicly stated that he wanted a trade out of Houston) to come and join their team instead.
Every team in the NFC South (sans Tampa Bay) has been shopping for a quarterback upgrade since the season ended in January.  The Carolina Panthers were the most desperate team of the bunch and seemed to be the early favorite to land Deshaun Watson.  The Panthers reportedly were willing to toss-in perennial All-Pro running back Christian McCaffrey in addition to an assortment of high draft picks.   Watson said, "No, thanks!"
The New Orleans Saints found that life after Drew Brees wasn't a picnic last year, either.  The Saints reportedly restructured the contracts of several key veteran players in order to create enough salary cap room to absorb the gigantic paycheck required to sign Deshaun Watson.  Though many people felt like Watson was quite interested in playing for the Saints, he passed on the Saints' offer, too.
Today, the Saints re-signed last year's starter, Jameis Winston, to a new two-year contract.
That brings us to the Atlanta Falcons.  Long-time starting quarterback Matt Ryan just concluded his 14th year in the NFL.  The Falcons have been searching for a replacement for the soon-to-be 37-year old Ryan and hoped that Deshaun Watson would be a terrific fit since the quarterback is a Georgia native and played college football at nearby Clemson.
So much for home state overtures, because Watson turned down the Falcons' offer, too.
Today, Atlanta's quarterback needs just became even more pressing.  Matt Ryan was just traded by the Falcons to Indianapolis for a lowly third round pick in the upcoming NFL draft.   Nice job, Indy!
In this offseason's new game of NFL Quarterback Musical Chairs, San Francisco quarterback Jimmy Garoppolo may become Atlanta's newest target.  If that fails, the Falcons will have the eighth pick in the first round of the upcoming NFL draft to, perhaps, select a new quarterback.
This brings us back around to Deshaun Watson and why he decided to take an offer with the Cleveland Browns.  If he was looking for the most likely franchise to win a Super Bowl, he should have chosen New Orleans.  If he wanted to get closer to home, he should have chosen Atlanta or Charlotte (Carolina).
He chose…Cleveland?  Why?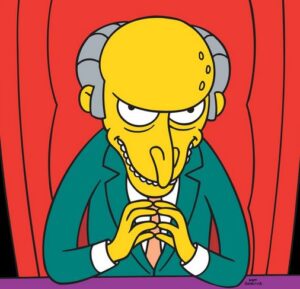 Though we'll never know the particulars of the trade offers which the Houston Texans fielded last week for Deshaun Watson, remember that the quarterback's current contract in Houston allowed him the right to nix any trade which he didn't like.
The Texans were desperate to get rid themselves of a player who slimed his own reputation in Houston and insulted the local team's fans by demanding a trade out of the city.  The Houston Texans, who are quite the experts at shooting themselves in the foot when personnel moves are involved, were pushing hard to find a deal which would give the team high draft picks and/or valuable veteran players.
Meanwhile, the Cleveland Browns just watched their AFC North rival Cincinnati Bengals make it to a Super Bowl this year riding the leadership of second year quarterback Joe Burrow.  The Browns had selected former Oklahoma Sooners' quarterback Baker Mayfield with the first overall pick in the 2018 NFL draft.  Mayfield helped to lead the Browns into the 2020 NFL playoffs as the team finished 11-5.   Unfortunately, the team regressed to 6-11 in 2021 and Mayfield's penchant for throwing nearly as many interceptions as touchdowns hurt the team.
Baker Mayfield is scheduled to be paid nearly $19 million this season in the final year of his rookie contract in Cleveland.  He apparently knew the end was coming in Cleveland as he sent a "Thank you, Cleveland" tweet four days prior to Deshaun Watson being signed by the Browns.  Mayfield's future destination may be cloudy, but he might be benefit from a fresh start somewhere else.
So, Cleveland's management decided they were "all in" for Deshaun Watson – baggage and all.  Houston wanted to move Deshaun Watson quickly – baggage and all.  Deshaun Watson wanted what was best for Deshaun Watson's personal finance – regardless of where he was going to play next.
The agent for Deshaun Watson gave his client every reason to sign with Cleveland after negotiating a brand new 5-year $230 million contract ($46 million per season) with all of the money guaranteed.  He has just received an $11 million/year raise to leave Houston and will get paid whether he is successful in Cleveland or sits on the bench.   The new contract was  structured to minimize Watson's financial hit if he is forced to sit-out up to half of the 2022 season as punishment (cough, cough) dished out by the NFL for his bad conduct.
For the Houston Texans, the team will receive three #1 draft picks from Cleveland.  In 2022, Houston receives Cleveland's #1 pick (13th overall).  In 2023, they receive Cleveland's first round and third round picks.  In 2024, the Texans get the Browns first round and fourth round picks.
Though some in Houston want to make this sound like they received a deal like the Dallas Cowboys did when they sent Herschel Walker to Minnesota, the Texans' management has proven to be one of the most inept in all of sports.  Houston fans should temper their enthusiasm as the Texan's draft selections have been less than impressive for years.  At least, the team and the city of Houston may now bid adieu to the cancerous Deshaun Watson saga.
Cleveland has landed the quarterback which they apparently coveted.  Deshaun Watson received his wish to leave Houston and was signed a more lucrative contract than he already had.  The fans of the Cleveland Browns (bless 'em) must now hope that their football team might be able to compete for an AFC title soon and, perhaps, finally play in their first Super Bowl game.
Despite all of the hype in Cleveland, only two things are guaranteed.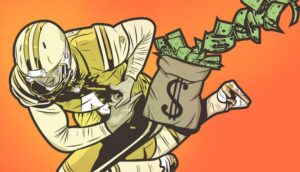 The first is Deshaun Watson's new $230 million guaranteed football contract which, by the way, doesn't have any significant incentives to encourage him to lead the Browns into that long-sought first Super Bowl appearance.   Whether he plays or sits on the bench, Watson will receive about 20% of his new team's 53-man payroll all by himself.
The other guarantee is that a few Houston-area attorneys are going to cash-in their portion of 22 potentially-lucrative civil suit settlements very soon.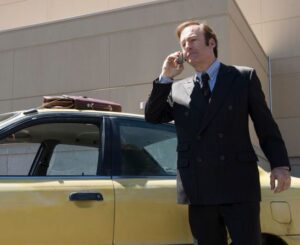 In both cases, the rich get richer.