Podcast: Play in new window | Download
Subscribe: RSS
Though I will admit to having a vivid imagination, I am not a conspiracy theorist.  As an accounting major, I do tend to be happier when the things which I care about the most remain in neat and orderly places.  It can make me a little uneasy when things go sideways or don't add up evenly.
With my advancing age, I am noticing more unusual trends and often ponder why some are happening.  Perhaps some things have always been that way, and I am now slowing down enough to notice it more lately.
Here's a good example.  The BCS playoff rankings are coming out tonight.
Despite the fact that I watch a lot of college football and feel like I know a good bit about all of the top teams, I will guarantee that you will not find 8-0 UT-San Antonio mentioned in the top eight teams you will hear about tonight.  I will also be shocked if the current leader of the Atlantic Coast Conference – by two full games – Wake Forest (now 8-0) makes it into great eight, either.
Through last weekend, there are now just six unbeaten teams remaining in major college football.
There will only be four teams who make it into the big money BCS playoffs after the conclusion of the regular season.
What about 8-0 Cincinnati, you ask?  Cincy is unbeaten, ranked #2 by the Associated Press (and #3 in last Sunday's SwampSwami.com Top 25 rankings) and proudly points to its early season win at 7-1 Notre Dame to prove that it should belong in those top four teams tonight.
I will be surprised if we find Cincinnati ranked as one of tonight's top four BCS teams.
Nobody will flinch if Georgia is #1 in the BCS rankings.  They've earned it on the field and have displayed the best college football defense we've seen in many years.   No arguments from me.
After Georgia, why not Cincinnati?  I'm hearing that 7-1 Alabama will likely be ranked as the #2 team.  Sorry Bama fans, but why should the Crimson Tide be ranked #2?  After eight games, let's review how Alabama's 2021 opponents are currently faring through last weekend:
Miami (FL) – is now 4-4
Mercer (FCS) – 6-2
Florida – now 4-4
Southern Miss – 1-7
Ole Miss – now 6-2
Texas A&M – the team which beat Bama – is now 6-2
Mississippi State – 4-4
Tennessee – 4-4
After eight games, Alabama's opponents are now just 35-29 on the year.  That doesn't sound very impressive to me.
Before you accuse me of being a Bama hater (which I am not), I have the utmost of respect for the accomplishments of Coach Nick Saban over his career.  I usually root for Bama against almost every non-SEC team.  This isn't a knock on Alabama (historically, speaking).
Can anyone point to one specific reason why THIS YEAR's Alabama team is worthy of being ranked #2 this week over five other teams which are currently unbeaten (Oklahoma, Cincinnati, Michigan State, Wake Forest, and UTSA)?
It's because the BCS (more correctly named "Beauty Contest Show") is rigged toward the same group of name brand schools.
What about Michigan State?  They are certainly an established name from the Big Ten, right?  Michigan State is now 8-0 and just beat arch-rival and formerly unbeaten Michigan last Saturday.  Why wouldn't 8-0 Michigan State be ranked above a one-loss Alabama team?  Isn't it better for a team to win all of its games than to lose one game?  What more can Michigan State or Cincinnati do?
Simple.  Because it's a rigged contest.
As you watch the stellar BCS rankings handed out to 7-1 Alabama and 7-1 Ohio State tonight, remember the other 7-1 teams who are having a great season.  Oregon (which beat Ohio State…in Columbus), Baylor, Oklahoma State, Houston, SMU, San Diego State, Coastal Carolina, and Louisiana Lafayette are also 7-1 and have actually beaten one or more tough teams this year, too.
Here's a hint on why the "Beauty Contest Show" works the way it does.  It's RIGGED.
Do you think ESPN (who pays a lot of money to college football to televise the college football final four) would attract more viewers to watch a national semifinal game of Wake Forest vs. UT-San Antonio or for a game pitting Ohio State vs. Alabama?
Which game would get the bigger television ratings?  You guessed it.
Here's another rigged game associated with college football.
Have you ever noticed the annual rankings showing how college football teams fared in signing the "highest quality" high school athletes for their schools?
Every year, it is usually the same cabal of schools which are assigned the top recruiting class awards.  You'll find Alabama, Ohio State, LSU, Georgia, Texas A&M, Oklahoma, Texas, Clemson, Michigan, and Oregon in or near the top ten most every year.
In 2020, one national media company said that 8-0 Cincinnati had the #41 ranked recruiting class.  8-0 Michigan State was ranked #43 that year, too.  In a huge bit of irony, the Arizona Wildcats (now 0-8) were ranked with the #59th best recruiting class in 2020 and one spot ahead of this year's 8-0 and ACC-leading Wake Forest team.
Why do people even try to rank high school players coming into college?  Money, of course!
There are media entities which sell a lot of magazines and on-line subscriptions to keep zealous college football fans fed with a glimmer of off-season hope by determining (in their minds) who the best high school players are every year and whether their favorite college has recruited them.
Though these compilations are generally based on a high school athlete's physical measurables, many other incredible high school football players are a little bit shorter, lighter, and not quite as fast but have a great deal of competitive focus, heart, and leadership ability.
Truly, who is able to accurately predict which of these young high school football players will have a better college career?  The schools with the highest ranking recruits are also likely to have the fans who buy the most of these recruiting products, too.
Let's now turn our attention to that fine honorable sport called the NFL.
Last Sunday in Houston, the lowly Texans trailed the Los Angeles Rams by a score of 38-0 starting the fourth quarter.  The Rams rested their starters while Houston came to life in the final 15 minutes of play.  With two minutes to go, the Texans scored their third touchdown of the fourth quarter to make the score 38-20 pending the extra point.
For some odd reason, the Texans went for two points instead of kicking the extra point.  Though the media will tell you that the Texans were trying to get within 16 points with two minutes to go (and have a one-in-a-million chance to score twice in the last minutes and tie the game), there was another reason why Houston went for two points down by 18 points.
The point spread in this game was 16.5 points.  By kicking the extra point, the Rams would have won by 17 points and "covered" the betting spread.  By going for two points and getting it, the Texans "won" the game if you had bet on them and took the 16.5 points (38.5 to 38).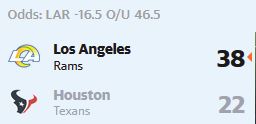 Isn't that special?    
How many times have we watched an instant replay or a referee's call (or non-call) which decided a close professional football game?  New Orleans Saints fans will never forget the call which kept the Who Dat Nation and beloved signal caller Drew Brees out of a second Super Bowl in the January, 2019 NFC Championship game in New Orleans.  An obvious missed pass interference call late in the game kept the Saints out of the end zone and helped the Rams get the game into overtime.
Fans of every NFL team can probably point to a key error made by officials which have prevented their favorite team from winning a very important football game in the past.
How about a different kind of rigging?
How else to you explain why a bumbling team like 1-7 Houston sends former NFL All-Pro running back Mark Ingram back to the contending 6-2 New Orleans Saints last week?
After making the trade, Texans wide receiver Brandin Cooks (also a former draft pick by New Orleans) posted on social media, "This is bull$#@!.  Such a joke!"   Right you are, Brandin!  Cooks' current team is taking steps to cut its payroll and signaling it is now trying to "tank" the rest of the season in hopes of snagging the top draft pick in 2022.
Yesterday, the Denver Broncos (4-4) sent perennial All-Pro linebacker Von Miller to the 7-1 Los Angeles Rams.  The Broncos have lost four of their last five games and are slipping fast.  Denver was not willing to pay enough money to keep a possible Hall-of-Fame linebacker on the team next year as his contract expires soon.  Slyly shedding a big salary also means a weaker defense which, in turn, probably means that Denver will likely have a good chance to move up in next year's player draft, too.
I challenge you (assuming you have the internal fortitude) to watch teams like Detroit (0-8), Houston (1-7), Jacksonville (1-7), Miami (1-7), and the New York Jets (now 2-5 after being gifted their second win last week against Cincinnati) over the course of the second half of this NFL season.  Watch as they shed relatively expensive players to other teams, bench some of their best players, make questionable coaching decisions, and generally stumble and bumble their way to the finish line in an effort to have the worst record this year and the number one pick in the draft.
Just like there can only be one Super Bowl winner every year, there can only be one team which will "win" the chance to draft the first player in next year's NFL draft.
One final prediction – the NFL and Fox Sports are salivating over a possible TV ratings bonanza post-season playoff match-up featuring "America's Team" Dallas Cowboys against "American ladies' favorite team" of Tom Brady and Tampa Bay.
Hmm…what are the chances of that happening? 
Rigged?  Nah, no way.