Podcast: Play in new window | Download
Only sixteen teams remain undefeated after the sixth week of college football games concluded play during the first weekend in October. Those sixteen teams are atop this week's SwampSwami College Football Top 25 rankings for the week ending October 5, 2019.
That means that 114 teams are now looking up at our leaders. The others are hoping that the second half of the college football season brings a one or more timely losses to the teams now atop our weekly poll.
Here is my Top 25 after week #6 of the college football season: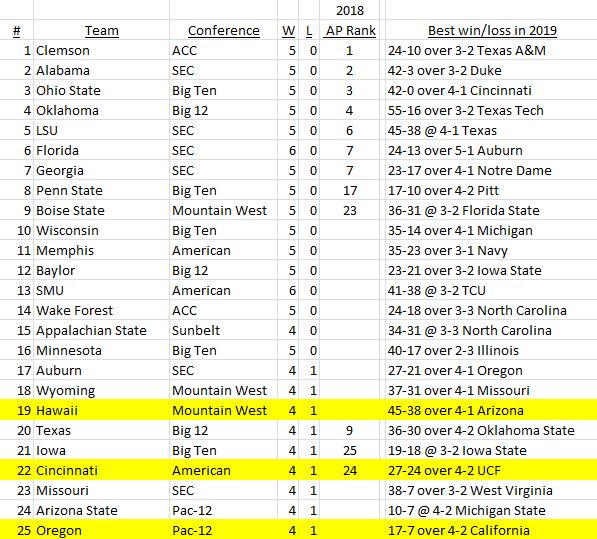 By virtue of my steadfast rules, all undefeated teams are placed at the top of the board until they should lose a game. Seriously, what more can a team do than win every game?
So, Auburn (which lost its first game last weekend to undefeated #6 Florida) must patiently wait and hope that some of their remaining SEC foes (such as LSU and Alabama) go down to defeat in order for the Auburn Tigers to move back into contention for an elite final position in my poll.
After our sixteen unbeaten teams, we now have a big log jam with thirty (!) one-loss teams vying to grab the final nine positions in this week's Top 25 poll!
What shall we do?
By following our own rules, of course!
This group of one-loss teams has been ranked based on their most impressive win of this season (who have you beaten, and what is that team's record this week?).
That means "traditional" names such as 4-1 Notre Dame (whose best win was over 3-2 Louisville) and 4-1 Michigan (whose best win was in double overtime to 3-2 Army) were left out of this week's poll.
Instead, a 4-1 Wyoming team (which handed 4-1 Missouri its only loss) and 4-1 Hawaii (which defeated 4-1 Arizona for the Wildcats' only loss of the season) are in this poll at #18 and #19 this week.   
And welcome into this week's Top 25 poll:
Aloha to #18 ranked Hawaii of the Mountain West at 4-1(the only team to beat 4-1 Arizona)
#22 Cincinnati of the American at 4-1 (after taking down 4-2 UCF last weekend)
#25 Oregon of the Pac 12 at 4-1 (after defeating 4-2 Cal on Saturday night)
The SwampSwami College Football Top 25 poll values "Who have you beaten?" this year more than "How big are your TV ratings and alumni base?" that the other major polls seem to most impressed with.
In all seriousness, how can a 3-2 Texas A&M (who has lost to unbeaten Clemson @ Clemson and to one-loss Auburn at home) be ranked at #24 in the AP poll this week?
In the meantime, those are the same people who left two undefeated teams (Appalachian State and Minnesota) completely out of their Top 25!
Balderdash!
Never fear, Mountaineer and Golden Gopher fans! SwampSwami has you covered this week!
Just in case you were wondering, below is a list of the remaining 1-loss teams who are just outside of my Top 25 this week after the conclusion of last weekend's play: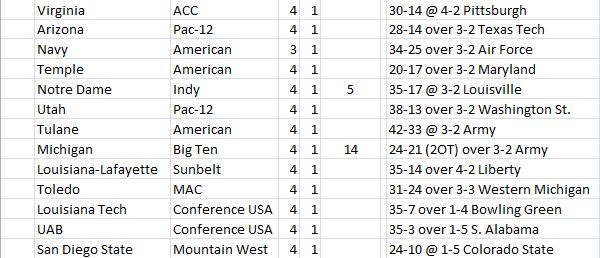 Next week will bring even more changes as we take analyze the results of every game being played by the 130 FBS large division football programs in order to bring you the SwampSwami College Football Top 25!
Just keep winning!