Podcast: Play in new window | Download
"There's no need to fear – UnderDog is here"! That's a line from one of my favorite Saturday morning cartoon shows while growing up.
As we follow the ins and outs of my Fantasy Football team (Swamp Gas), the Yahoo! Sports statistical prognostication was "Doom!" for my Methane Marauders last weekend.
My team was forecast to lose last week by a 96-92 count. That was logical as my fantasy football team has been beset by concussions, turf toes, and other assorted injuries.
Thankfully, my bench players rallied to support their proud owner in rolling to a 118-82 win over last week's opponent and move our squad to a 4-1 record (third place).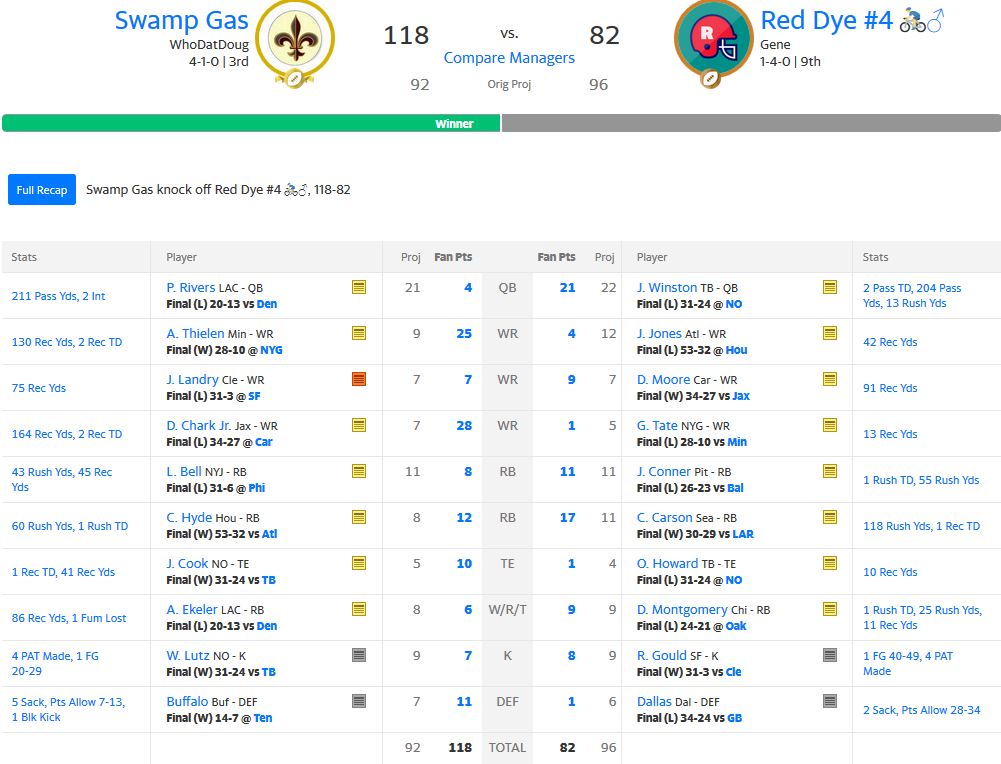 I'm so proud of this team that I might (consider) taking them to dinner this week for such a stellar performance! Well done, indeed!
Through the masterful player moves by our General Manager (me) and the deft game time decisions made by our Coach (me) to start the right players this week, our team was able to cobble together an improbable victory.
OK – I was just plain lucky!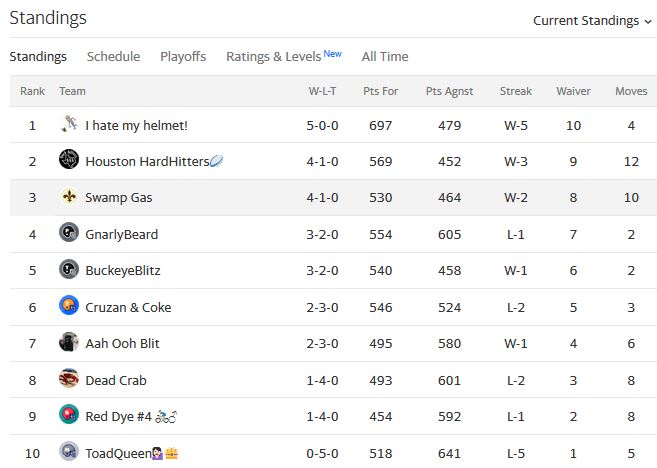 But with starting QB Drew Brees (Saints) not expected back until Week 10 (uh-oh) and our top wide receiver Devante Adams (Packers) still nursing a turf toe (week-to-week) and our stellar defensive unit (Buffalo) having their bye week, we have many decisions to make entering Week #6 of the Fantasy Football season.
General Manager Comments – We made a few moves last week to adjust the roster. Some worked and others didn't. With starter Devante Adams of the Packers out of commission, we picked-up the third-rated Packers receiver, Geronimo Allison.
After we grabbed him, though, we learned that Geronimo may get scalped as Packer QB Aaron Rodgers didn't "trust" him very much. That turned out to be correct as Geronimo was nearly "scalped" with only 28 yards on just two catches against Dallas. Fortunately, our Coach kept him on the bench last week.
We also traded Pittsburgh Steelers wide receivers. Our Second year WR James Washington went to Oklahoma State with Steelers QB Mason Rudolph. It was hoped that he would perform well with his old college quarterback, but it just has not happened. So, we dropped Washington in favor of Steelers teammate, rookie WR Diontae Johnson. Though Johnson remained on our bench, he caught five passes (Yea!) but for only 27 yards (Boo!).
We will need to grab another defense for this week (Buffalo is on a "bye" week). I'll try to take Tennessee – which plays at low-scoring Denver this Sunday.
Also, we're considering adding Jacksonville's exciting QB, Gardener Minshew, but we'll have to see if he remains available. The rookie QB has been very impressive.
Coach comments – Though it rarely happens, nearly every decision as to starters versus bench players worked out quite well this week! In hindsight, our only bad decision was to start QB Philip Rivers (Chargers) instead of concussion-injured Josh Allen (Bills). Rivers scored a lowly 4 points at home against Denver compared to Allen's 20 in a game at Tennessee.
Otherwise, we awarded a game ball to back-up WR DJ Chark (Jacksonville) who came through with a whopping 28 points and starting WR Adam Thielen (Minnesota) who contributed another 24 for our squad Sunday.  Our back-up RB Carlos Hyde (Texans) scored a touchdown and scored 12 points while our remaining healthy TE Jared Cook (Saints) scored his first touchdown of the season and chipped-in 10.  Well done, team!
This week, Swamp Gas will play a very tough 3-2 BuckeyeBlitz team.  They feature Seattle quarterback Russell Wilson and Baltimore QB Lamar Jackson.  Fortunately, he is only permitted to play one of his two high scoring QB's against us this week! 
From our perspective, starting RB Kerryon Johnson (Lions) back from his bye week.  He will return to our starting line-up this week alongside RB Le'Veon Bell (Jets). 
A tough last-minute decision will be whether to use RB Austin Ekeler (Chargers) or RB Carlos Hyde (Texans) at our "flex" (RB/WR/TE) position.  Right now, I'm leaning toward Ekeler due to his history of productive games in 2019.
Based on the Yahoo! Sports projections, Swamp Gas is heading into yet another week as the underdog again.  Will my Fantasy Football team respond to another week of new challenges and bring home another victory?
Come back next week, and we'll find out!