Podcast: Play in new window | Download
Subscribe: RSS
Around the college campuses in Baton Rouge and Tuscaloosa, this week is known as "Hate Bama" or "Hate LSU" week.  They don't really hate each other as much as both schools really get fired-up to play football against one another in the first weekend of November.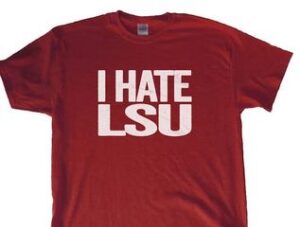 As a person who grew up in Louisiana, the annual football game between LSU and Alabama has been special since I was very young.
Back then, Alabama's coach was the legendary Paul "Bear" Bryant.   All he did was win six national championships with the team (1961, 1964, 1965, 1973, 1978, and 1979) and 13 SEC titles during his 25 years as the head football coach in Tuscaloosa.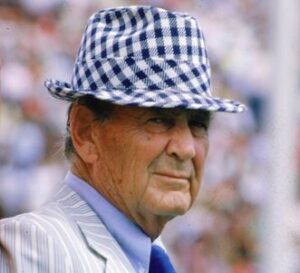 A former college football player at Alabama, Coach Bryant finally retired at the conclusion of the 1982 football season.  A heavy smoker for most of his life, he had developed several health problems in the years leading up to his retirement.  He died just four weeks after his retirement in January, 1983 as a result of a heart attack.  He was just 69 years of age.
During that same period, the LSU Tigers were no cupcake on the football field, either.  The coach who had the misfortune to coach the Tigers against much of Bear Bryant's era at Alabama was Charles McClendon.  Affectionately referred to as "Cholly Mac" in Louisiana, Coach McClendon led the Fighting Tigers football team from 1962-1979.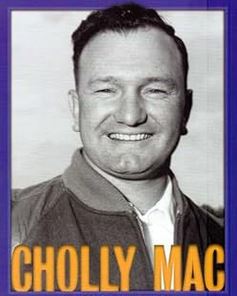 During Cholly Mac's 18 years with the Bayou Bengals, LSU posted just one losing season (going 5-6 in 1975).  Coach McClendon's career record in Baton Rouge was a solid 137-59-7.
I remember watching my first LSU vs. Alabama game on a black and white television set at home.  Back then, the TV coverage actually featured the halftime show with the Golden Band from Tigerland and the Million Dollar Band of Alabama taking the field, too.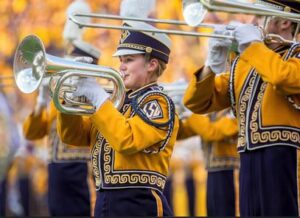 If you are in favor of giving us the bands at halftime instead of watching a few talking heads and 12 minutes of commercials, please raise your hand! 
At some point in my youth, I learned that LSU and Alabama really disliked each other.   Like most southern states, Louisiana folks take great pride in our football and, especially, the results of the flagship university's team in Baton Rouge.
In most seasons, both Alabama and LSU were ranked in the AP Top 25 prior to this game being played in early November (which started in 1964 and has continued ever since).
The annual battle between these two college football giants has always been quite intense.  That's part of the fun – for fans in the stadium and those watching at home.  The crowd noise just never seems to stop during these games.
Unfortunately for Louisiana football fans, the University of Alabama "owned" LSU for most of the Cholly Mac vs. Bear Bryant years.  Bama won 13 of the 15 meetings during Coach McClendon's time at LSU.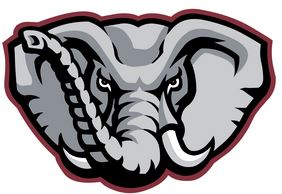 From 1971-2000, Alabama won every single meeting with LSU when the game was played in Tiger Stadium in Baton Rouge.  Yes, you read that correctly.
Perhaps that is why more and more LSU fans developed a little hatred toward Alabama every football season for the past half century.
In the year 2000, a college football coach by the name of Nick Saban entered this SEC rivalry in a big way.  After his arrival in the Deep South, Coach Saban has personally dominated the LSU/Alabama series for the past 23 seasons.
Nick Saban left Michigan State to become LSU's head coach beginning with the 2000 college football season.  In his five years at LSU, Nick Saban's Bayou Bengals won four of their five meetings with rival Alabama.  Coach Saban led the 2003 LSU team to the school's second national championship.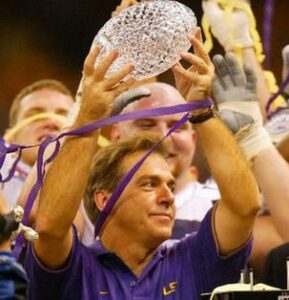 Nick Saban had become the "King of Louisiana" after winning the 2003 national title!
After the 2004 college football season, Saban left LSU to become the head coach of the NFL's Miami Dolphins.  The Dolphins went 9-7 in 2005 but collapsed to 6-10 in 2006 (which remains the only losing season in Nick Saban's head coaching career).
After Coach Saban left Baton Rouge, LSU selected Oklahoma State's Les Miles to take the top job beginning in 2005.  Coach Miles would have great early success and led LSU to the school's third national title in 2007.
Meanwhile, Nick Saban was restless and unhappy as a coach in the NFL.
The vacant head coaching position with the Alabama Crimson Tide was offered to him beginning in 2007 (along with a boatload of money).  LSU fans quickly took note that Nick Saban told reporters for weeks that he was NOT going to accept the Alabama coaching job.
He took the Alabama job anyway.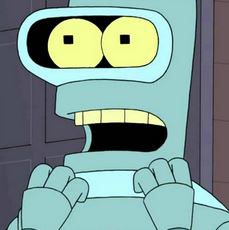 As Bama fans rejoiced, LSU fans' hatred of Alabama became even more intense.  It really stung LSU supporters that their former coach was returning to lead the Tigers' biggest SEC West rival – Alabama.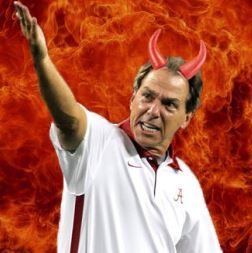 The King of Louisiana was quickly renamed Nick Satan in the Bayou State.
While LSU's new coach, Les Miles, was leading the Tigers to the national championship in 2007, Nick Saban's new team at Alabama struggled in his first season back in college football.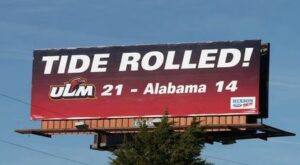 The Crimson Tide even lost to Sunbelt member UL-Monroe (which celebrated their victory over Alabama with a massive billboard along I-20 in North Louisiana to taunt Bama fans for the next year).  Coach Saban's first year at Alabama ended with a 6-6 record.
Meanwhile, ecstatic LSU fans rejoiced their 2007 championship season as they laughed at Coach Saban's first year troubles in Alabama.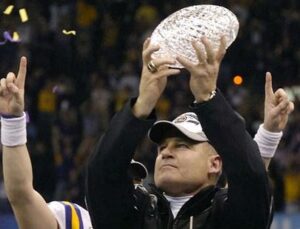 Though revenge may have felt sweet at the time in Louisiana, it's never a good idea to taunt Nick Saban.
Beginning in 2008, Alabama's football team has posted ten or more wins in every season under Coach Saban's leadership.  The Crimson Tide won the national championship in 2009, 2011, 2012, 2015, 2017, and 2020.   Along with his 2003 title at LSU, Nick Saban now has seven national championships in his career.  He now owns the all-time record formerly held by Alabama's other coaching legend, Paul "Bear" Bryant (who won six).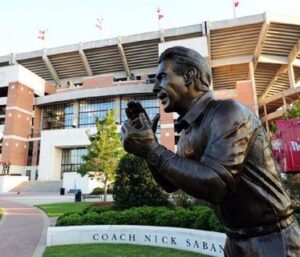 There are now statues of both Bear Bryant and Nick Saban at Alabama's Bryant-Denny football stadium.
If you're a fan of Alabama football, you should be happy about the way things have played out against LSU during the past half century.  The annual football games against the LSU Tigers will bring out the best in both teams each season.
There is a mutual respect among the players and coaches on the football field.  As for the fans of LSU and Alabama, that's the other part of this story.
LSU supporters have more understandable reasons to despise Alabama's football team than the other way around.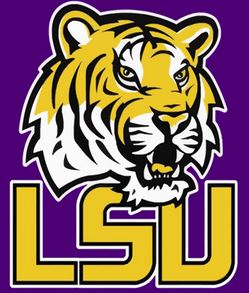 The Tigers faithful had to endure the 25-year reign of Coach Bear Bryant's teams.  Then, Alabama "stole" LSU's former football coach, Nick Saban, in 2007.   Since becoming Bama's head coach, Saban currently owns a commanding 12-5 edge in the series going into Saturday night's match-up in Tuscaloosa.
LSU fans aren't thrilled with the arrogant attitude of Bama fans, either.  Though Alabama has a significant edge in victories over LSU in past decades, the team's fans seem to gloat about their success.
Ever heard the "RammerJammer" song which Bama fans like to sing after a win over your team?  The "Hey Song" was modified to add a few words which are used by Alabama's fans to taunt the losing team immediately after every Alabama victory.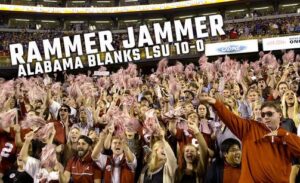 That doesn't help Alabama's image of being a bit full of themselves.
On the other side of this rivalry, I am trying to understand about why Alabama fans have such a reciprocal dislike for LSU.
Bama fans know that this annual November game with LSU usually serves as the biggest road block for their team on its way to the SEC Championship game (sorry, Auburn, but it's true).  That might help to explain some of Bama's anger toward LSU.
Animal rights people such as PETA don't like that LSU keeps a live tiger named Mike on the campus.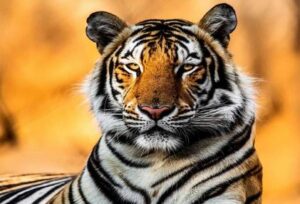 Mike-the-Tiger lives in a lush $3 million, 15,000 square foot habitat located just across the street from LSU's Tiger Stadium.  He is lovingly cared for by the staff of LSU's School of Veterinary Medicine just a few blocks away.  Mike-the-Tiger even has his own webcam!
Perhaps Alabama people don't like being referred to as "Tiger Bait" when they visit the LSU campus every other year.  Yes, LSU's notoriously well-lubricated tailgating fans are prone to use that term in a more serious tone as some visitors walk by their tents.  Bama fans should remember that EVERY SEC opponent who wears the colors or gear of that week's opposing team will be referred to as "Tiger Bait" on game day.  You are not alone.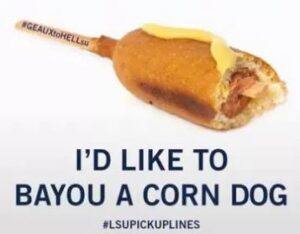 The most bizarre story about LSU fans (from the Alabama perspective) is that they smell like corndogs.  A few internet stories reveal (jokingly, I hope) that LSU Tiger fans in Baton Rouge smell like corndogs.
Au contraire (that's French – for those living in Tuscaloosa)!
I have yet to see one corndog being served by a vendor or anyone among the hundreds of legendary tailgate cooking locations scattered among the stately oaks and broad magnolias on the LSU campus.
My lovely wife suggested that the corndog smell may be from the heavy aroma of oils, flour, and sausage (or other meats) being browned to become part of a roux.  The roux then becomes a vital part of many fine tailgate meals such as gumbo.
Tailgate chefs and foodies on the LSU campus (one the nation's finest outdoor dining experiences) will try to cook or fry just about anything (just ask Florida Gator fans).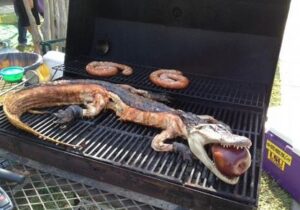 Corndogs?  No way.
This Saturday night at 6:45PM (CDT) on CBS, the 6-2 LSU Tigers visit the 7-1 Alabama Crimson Tide with the SEC West division crown up for grabs if LSU should win this game.
CBS selected this particular game for its lone Saturday night prime time game of the season.  They know that America loves to watch these two SEC foes go head-to-head with a title on the line.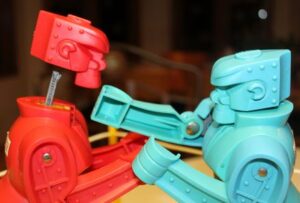 LSU and Alabama are bitter rivals.  Each team has won multiple national championships.  The players have an enormous amount of mutual respect for each other.  The fans of each team want to win this game as badly as their football players do.
Hate week?  Nah.  This game is the annual test to see determine which of these football giants is championship caliber.
I can't wait!