Podcast: Play in new window | Download
Subscribe: RSS
There are 133 college football teams which are competing this season in the top division FBS.  After the weekend of November 4, there are now just seven unbeaten teams remaining.
In a game played at Denver's Mile High Stadium last Saturday night, the Air Force Academy fell from the unbeaten group.  The Falcons coughed-up six turnovers in a 23-3 loss to the Army Black Knights (now 3-6).  The Air Force Academy dropped to 8-1 and tumbled to #17 this week in the SwampSwamiSports.com College Football Top 25 rankings.
My weekly rankings give the most weight to teams which have the fewest losses.  Ties are broken by determining that team's best win of the season (over a team with the best record as of this week).  Road wins carry more weight than home wins over teams with the same record.
It's quite objective and very simple!
A team which beats every other team on its schedule for the season can do no more.   I believe those teams should be rewarded with a higher ranking over any team which has lost one or more games.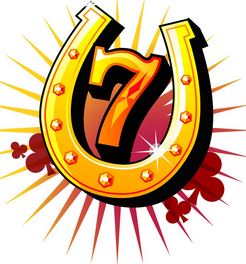 There are now just seven teams which remain undefeated with only a few games left in the 2023 college football season.
Only the Big Ten Conference (Ohio State and Michigan, as usual) has two teams without a loss.  Those two teams will finally play each other on the Saturday after Thanksgiving.  Penn State (now 8-1) can spoil Michigan's dreams of a perfect season this Saturday when they will host the 9-0 Wolverines at 11AM on ABC.  If the Nittany Lions should win this week, it's quite possible that the Big Ten might have three teams at 11-1 by season's end.  What a wonderful mess that would be to sort-out!
The other five conferences with unbeaten teams this week are the ACC (Florida State), Conference USA (Liberty University), Pac-12 (Washington), SEC (Georgia), and the Sunbelt (James Madison).
After those top seven teams, there are now just ten teams with one loss for the year.  Another 14 teams have two losses after games played through the week of November 4.
The End of Bedlam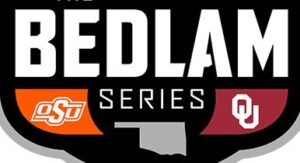 After 118 seasons of playing college football games against each other, the long-time series between the University of Oklahoma and Oklahoma State University ended on Saturday evening in Stillwater.  OSU rallied late to claim the win in this year's 27-24 Bedlam football finale.  Next year, the Sooners will move into the SEC, while Okie State remains in the Big 12 Conference.
The series name of "Bedlam" has a variety of origins.  Here's the one I like best.
After Oklahoma A&M (as it was called then) finally won its first game in this series in 1917, an Oklahoma City newspaper reporter wrote that "bedlam broke loose" in Stillwater with massive celebrations taking place on the campus and in town.
As this long-time rivalry ends, the Oklahoma Sooners remained comfortably on top with a 91-20-7 record.  From 1946 through 1964, OU won an incredible 19 games in a row over OSU.
During the past few decades, most of these football games have been decided in the final minutes with thrilling finishes.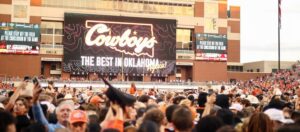 Oklahoma State's Pistol Pete had the last laugh as the Pokes took two of the final three football games played in the Bedlam series.
The Aggies are now 7-3!  No, it's not Texas A&M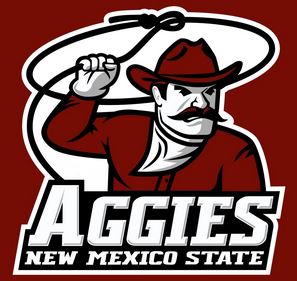 The football fans of 5-4 Texas A&M might be busy passing around a few Texas-sized ten-gallon hats to collect the $70 million which is needed to buy-out Coach Jimbo Fisher's guaranteed contract at the school.
In Las Cruces, New Mexico, a different team of Aggies is doing great!  They just became bowl eligible with their 7-3 record this season.
The New Mexico State Aggies' football program has struggled mightily in the 21st century with only two winning seasons in the past 22 years.
The team's football coach has a familiar name.  Coach Jerry Kill led a dramatic turnaround of the Big Ten's Minnesota Golden Gophers football program from 2011-2015.  The fiery 62-year old coach has endured several health setbacks (seizures) over the years, though.  He left Minnesota after the 2015 season to step back and deal with his health concerns.
His exit didn't last very long.  The coach jumped back into the profession by taking a couple of different assistant coaching roles.  In 2022, Jerry Kill accepted the head coaching position at New Mexico State, and the program has zoomed upward ever since.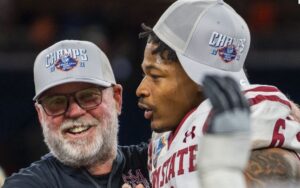 The New Mexico State Aggies finished 7-6 in 2022 during Coach Jerry Kill's first season.  The school participated in just its second bowl game since 1960!
This group of Aggies plays in Conference USA.  They are currently tied for second place (behind 9-0 Liberty University) at 7-3.  Coach Jerry Kill has put together a tough defense which allows just 20 points per game.  The New Mexico State Aggies have rolled-off five straight wins heading into this Saturday's C-USA road game at 5-4 Western Kentucky.
How 'bout dem Aggies?!!!
Sam Houston State finally breaks through for its first win of the season!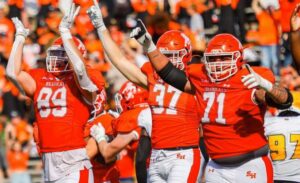 Going into last weekend, 132 of the 133 FBS teams had at least one win this season.  Would it finally be the week for Sam Houston State University to break into the win column?
The Bearkats from Huntsville, Texas started the season with eight straight losses.  On Saturday, Sam Houston finally won its first game of 2023 with a 24-21 thriller over FCS Kennesaw State (Georgia).  The Bearkats kicked a 35-yard field goal as time expired Saturday to gain its first win of the year.
It was BEDLAM (Huntsville, Texas style) on Saturday night in southeast Texas!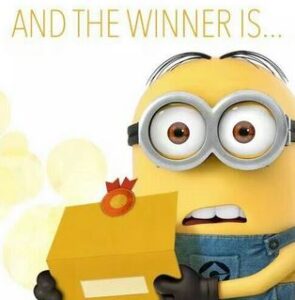 Now, let's check the numbers to discover the SwampSwamiSports.com Top 25 team rankings for the week ending Saturday, November 4, 2023: