Podcast: Play in new window | Download
Subscribe: RSS
This week's MACtion college football game on Wednesday night featured a snowstorm as the visiting Western Michigan Broncos beat Central Michigan Chippewas 12-10.  It made for a lovely sight to behold for those of us watching on television in the warmth of our homes.
An ESPN announcer even got into the act with a call of "Dashing through the snow" as a Western Michigan running back broke loose in the snow for a long touchdown.  The director of the telecast frequently featured camera shots showing a variety of snowmen in the stadium to highlight the snowy conditions of this Wednesday night college football game.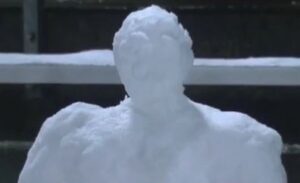 Wait a minute.  Wednesday night college football?  Yep.
In case you didn't know, another Mid-American Conference (MAC) game was played on ESPN the night before.  Tuesday's TV line-up featured the Bowling Green (Kentucky) Falcons grounding the Toledo Rockets.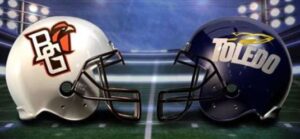 In fact, the Mid-American Conference played all five of its conference football games on Tuesday (two games) and Wednesday (three) this week.   Welcome to mid-week MACtion during November on ESPN.
But why are they doing this?
These mid-week college football games have been incorporated into the fall television schedule as part of an ingenious and rather diabolical plan devised by the worldwide marketing wizards at ESPN.
But wait, there's more!
There is a Thursday night college football game (on ESPN, of course) featuring American Athletic Conference teams SMU at Tulane.  On Friday night, ESPN2 rolls-out another AAC game (South Florida at Tulsa).  Just a few hours later, Fox Sports' FS1 will take you to the Mountain West Conference for San Diego State at New Mexico to end Friday night's college football fiesta around the midnight hour.
Try to get some rest!  On Saturday morning, college football resumes with the first game kicking-off at 10AM Central on ESPN2.  The games continue non-stop on a variety of networks until well past midnight.
Though the NFL currently "owns" Sunday, Sunday night, and Monday night football games, the clever advertising marketeers have moved quickly to capture their target audience on the other days of the week via college football telecasts.
FOLLOW THE MONEY!
In a nutshell, competitive football games (college and professional) bring in viewers – especially as the temperatures drop in the northern states.  Reliable numbers of viewers translates into golden marketing opportunities to sell products geared toward one particular segment of the American television audience.
Football games deliver a primary audience comprised of nearly 75% males in the valuable "buying" 25-49 year old age demographic.  Sure, many younger people watch the games.  Same for the old guys like me!
But this younger male target market for advertisers is known for its propensity to spend money buying new cars, home furnishings, cell phones, insurance policies, fast food, snacks, beer, and, at this time of year, expensive jewelry for that special someone!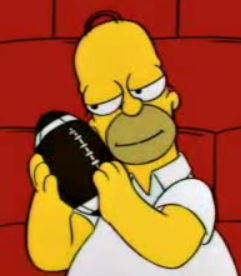 Most televised college football games played during Saturday afternoons and evenings feature the major conferences.  Those games will reliably deliver a target audience of one million to, occasionally, upwards of ten million viewers.
These relatively new weeknight college match-ups can still deliver from 500,000 to one million of those same coveted advertising pigeons.  Midweek games generally feature the same products being pitched to viewers.  The networks simply charge those advertisers a lower rate based on the reduced number of eyeballs watching those games.
With an hour or more of commercials being crammed into many of these telecasts, the television networks are doing just fine!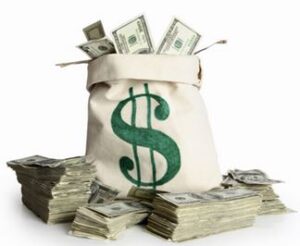 From an advertising perspective, ESPN and the other broadcast outlets are able to tell potential clients that they can deliver this rather elusive demographic primarily comprised of adult males.
In restaurants and bars around the country, the television sets are tuned to ESPN (and other networks) to provide football fans with "live" games seven days per week for the four months from September through December.
As we've covered here (and will cover again, I'm sure), that is why you will see a seemingly never-ending parade of mostly meaningless college football bowl games during the final two weeks of December and into the first week of January.
As the weather chills and you find yourself stuck inside while visiting Grandma's house during the holidays, you can still receive a reliable "fix" of college football on television.
Most of the college football bowl games will deliver advertisers about one million television fans per game regardless of the match-ups.  Did you know that ESPN also owns a growing number of these college football bowl games?  Many of these local bowl games simply can't afford the team payouts without some financial assistance from with ESPN (which gladly pays a little money in order to have a nightly advertising vehicle for their list of holiday sponsors).
Meanwhile, ESPN's virtual monopoly on non-Saturday college football games is growing, too.
WHAT ABOUT THE STUDENT-ATHLETES IN THESE MIDWEEK GAMES?
The college football players can make the adjustment from playing on a Saturday to another day in the week as long as there is a minimum of one week to prepare physically.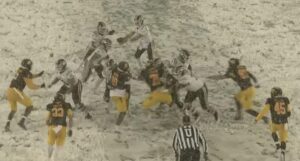 I'm not sure how I would feel as an athlete knowing that (a) my team is playing on national television but (b) most of the rest of the country's best teams will be playing on Saturday.   It probably feels like they are back in high school playing in a junior varsity game during the middle of the school week with the varsity watching on.
WHAT ABOUT THE FANS?
The biggest losers for these midweek games are traveling fans.  Saturday football games allow for travel to and from game sites without having to use any vacation days.  The student body may like the idea of playing a weekday home football game to leave their weekend open for other plans.  I doubt that a change in game day makes much difference to most college students.  The MAC's home attendance is the lowest in major college football with an average of less than 20,000 fans per game.
HOW DO THE SCHOOLS FEEL ABOUT PLAYING MIDWEEK GAMES?
By "selling out" to the television networks which cover the conference football games, the kickoff times and even game days are now being changed by the networks with as little as one week of notice.  The current MAC television deal with ESPN's family of networks was negotiated back in 2014 but continues through the 2026 football season.  It called for each conference school to receive about $670,000 per year from ESPN.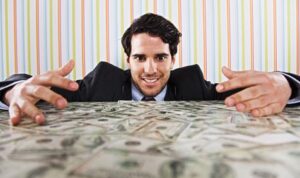 At the time, that may have been a dandy number.   Today, it is an outright bargain for ESPN.
During the month of November, the Mid-American Conference football teams are featured on Tuesday and Wednesday night games.  These "MACtion" games have become a bit of a novelty to the conference's fans and teams.
For ESPN, the sales team gets a chance to load-up on additional lucrative November holiday advertising spending by reaching a coveted buying audience prior to Thanksgiving and the annual Black Friday holiday shopping day.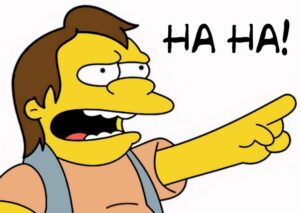 Who do you think is getting the last laugh?
IF YOU CAN'T BEAT 'EM…
Last week, Conference USA signed a new television deal with CBS Sports Network and ESPN.  The agreement calls for C-USA college football games to be played on (you guessed it) Tuesday and Wednesday nights in October beginning next season in 2023.
The league's commissioner, Judy Macleod, wants the league to receive more television exposure.
She said, "Obviously, revenue is important, but what kept coming up with our membership was exposure.  How do we maximize our potential and move forward? This is our chance to prove ourselves and then hopefully we'll go back to the market (in five years) and increase our value."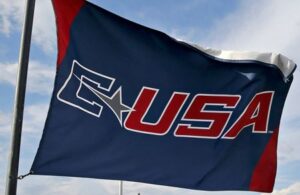 Conference USA features teams from mostly medium-sized television markets spread across several states.  A few former C-USA members (Marshall University, Old Dominion, and Southern Miss) joined the Sunbelt Conference in 2022 primarily due to C-USA's weak television marketing deals.
I don't think playing October mid-week football games on a relatively small television platform like CBS Sports Network is going to accomplish the lofty goals of C-USA's commissioner.
IN SUMMARY
Like it or not, college football has "sold out" to television.
Each conference has media deals which provide additional revenue to each member school.  This helps to support not only the football team but other sports on campus which likely operate at an annual loss.  That can be a very good thing.
However, if you purchased tickets in August to attend a football game in person this season, you may learn that your particular game has been moved from a nighttime kickoff to 11AM (a big difference).  In some of the smaller conferences like the MAC and Conference USA, your football game could even be moved to a Tuesday or Wednesday night.
While the college football players and their in-stadium fans have to deal with a scrambled schedule, the national television networks are now pulling the strings and laughing all the way to the bank.