Podcast: Play in new window | Download
Subscribe: RSS
The rebirth of the spring professional football league called the USFL is almost over.  After ten weeks of regular season games by the league's eight teams – all played in Birmingham, Alabama – the season draws to a close this Sunday night at 6:30PM Central on FOX. (Update 7/5/22 – Ratings for the USFL championship game won by Birmingham 33-30 indicated only 1.07 million viewers for the season finale)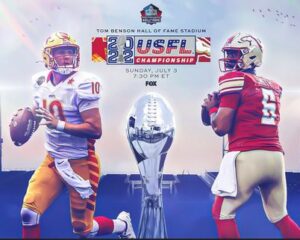 The South division champion Birmingham Stallions (now 10-1) will face the Philadelphia Stars (7-4) from the North Division.  The Stars pulled an upset last weekend by taking out the North Division's regular season champion New Jersey Generals 19-14.   Birmingham had no trouble downing the error-prone New Orleans Breakers (6-5) 31-17 to reach the championship game.
Just like the Super Bowl, the USFL is playing its championship game on a Sunday night.  I think that Sunday night's television viewership will show the league and its supporters just how viable this new league is after a full season of play.
As I have reminded you throughout the USFL's first season, Fox Sports owns 100% of this football league.  Before the first week of play, Fox Sports stated that they would consider the USFL to be a success if the average weekly television audience averaged 1.5 million television viewers or more.
That didn't happen.
Though the first weekend of USFL football games had an average television audience of more than 1.5 million curious fans, the USFL's average audience decreased slightly for nearly every weekend thereafter.  The final week of the regular season failed to have one game attract more than 650,000 viewers.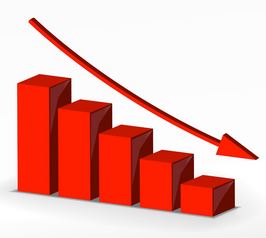 Last weekend's semifinal playoff games didn't exactly light up the TV viewership scoreboard, either.
The opening game last Saturday afternoon on FOX (Stars vs. Generals) netted 957,000 viewers.  The second semifinal game (Stallions vs. Breakers) pulled 998,000 viewers on NBC on Saturday night.  I'm sure the league was hoping to draw more than 1 million for both of these USFL semifinal playoff games.
On the bright side, the USFL was competitive with the meager viewership totals for other sports last weekend.  Here's how the USFL's two semifinal games ranked against other televised events last weekend:
NHL Stanley Cup Game 6 – Sunday – Tampa Bay vs. Colorado – ABC – 5.82 million
Major League Baseball – Sunday – Dodgers vs. Braves – ESPN – 1.73 million
Formula 1 Auto Racing – Sunday – ESPN – 1.72 million
College World Series Game 1 – Saturday – ESPN – 1.63 million
USFL – Semifinal – Stallions vs. Breakers – Saturday – NBC – 998,000
USFL – Semifinal – Stars vs. Generals – Saturday – Fox – 957,000
Auto Racing – Superstar Racing Experience – Saturday – CBS – 951,000
PGA Golf – Sunday – Hartford Open – CBS – 850,000
Auto Racing – NASCAR – Nashville – USA Network – 800,000
UFC – Fight Night – Saturday – ESPN – 672,000
Lacrosse – Premier Lacrosse League – Saturday – ABC – 452,000
WNBA – ESPN (recent weekly average) – 300,000
The NHL's viewership for the Stanley Cup Game 6 was expected to be the top draw last weekend.  The College World Series Game #1 between the Oklahoma Sooners and the Ole Miss Rebels also easily topped the two USFL playoff games.
Yes, the ratings for the USFL's two playoff games last weekend were competitive with most of the other regularly scheduled sporting events.
However, the USFL predicted that American football fans would salivate for the chance to watch any kind of professional football during the spring months.
That theory has been disproven as of July, 2022.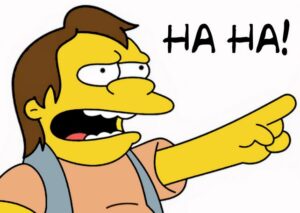 The USFL's on-field product was solid all season.  The waning interest shown by the television viewers every weekend speaks louder than the hype heard from the USFL and the hopeful media before this season started.
The USFL was not an overnight success, but it certainly was not a bust like other recent attempts at spring professional football have been.

If you read last week's blog about the USFL, I gave the new league an overall score of "C" for Year #1.  For the USFL's impressive level of play on the football field and the solid television production quality, it earned a "B" score from me.  However, having a nearly empty football stadium in Birmingham and the inability to generate any excitement for any team not-named-Birmingham should have been expected by Fox Sports, too.
This was a "meh" year for the new USFL.  If the USFL decided to quietly fade away before its second season, I doubt that the average American sports fan will notice.
Fox Sports operated this spring football league as cheaply and professionally as possible.  They were very smart.  Whether the USFL's first season was a money loser for Fox Sports will be the subject for another day.
I give the USFL a lot of credit for completing its entire slate of Season 1 games with a quality on-field football product.  The league's players were quite talented (though generally not ready for the NFL) and played hard.  The USFL was worthwhile viewing for those who simply craved watching any type of professional football on television after the NFL goes on vacation.
So, why didn't more people watch the USFL?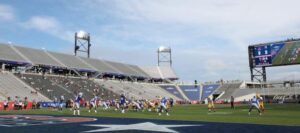 Answer:  Because every sport has a "season".  Professional football is no exception.
Having watched at least one USFL game per weekend for the entire season, the USFL's product was good enough on the field to satisfy my needs to watch spring professional football.
I just never developed a passion for any particular USFL team which would make me want to tune in every weekend during Year #1.  Even though the Birmingham Stallions had a coach (Skip Holtz) and quarterback (J'mar Smith) who came from Louisiana Tech University (my alma mater), I never developed that "must see" feeling to watch Birmingham play every single weekend.
The USFL was an eight team league in 2022.  Most games (perhaps because of the mostly empty stadium for any game not involving Birmingham's team) felt like I was watching an NFL preseason game every weekend.  The players were good, but I never developed a feeling that "Wow, you gotta see this guy!" attitude toward any players in this league.
Let's face it.  Football is a great sport to watch when the temperatures are cooling down in the fall and into the winter.  Football is not such a great sport to watch when the outdoor temperatures are rising toward 90 degrees by the middle of spring in the South.   Staying inside to watch a spring sporting event (instead of going outside to enjoy other activities) requires a lot of dedication from the average sports enthusiast.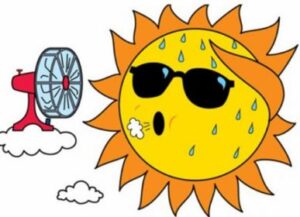 By not having each of its teams playing games in their own home city's football stadium definitely hurt the USFL in its ability to grow of a fan base in cities around the country.   However, the high costs associated with having the eight USFL teams play games in separate football facilities with separate staffs has been proven to be economic suicide for several other spring football leagues.
I applaud Fox Sports for trying to see if the USFL could work in their very creative cost containment environment during the first season.
If the USFL plays again next spring, how should they grow the league?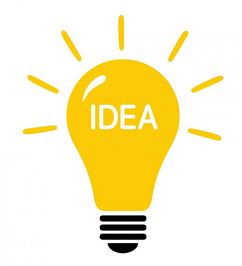 Let's say (for this example) that the USFL would be able to increase its weekly television audience by 50% if the league plays one weekend's slate of football (four games) in the home football stadium of each USFL team during the regular season.  If the USFL kept its league administrative office, practice facilities, and the players' home base in Birmingham, the league would be paying for the travel and accommodations to a different USFL city and football stadium each weekend to play all four games.
There could be some small cost savings by consolidating travel costs, lodging arrangements, and football stadium logistics to just one city each weekend (instead having four different game sites per weekend).  Each different USFL city would finally get one week to "shine" in the national television spotlight by hosting all four weekend football games in the same market.
This idea would be similar to wrestling's WWE.
The wrestling company transports its own its ring, referees, wrestlers, and television production crew to a different city and arena for events every week. The USFL could use a similar model.
Would the added costs of getting the entire league to fly to a different city every weekend cost the USFL/Fox Sports more money than the incremental advertising revenue to be gained by having higher television ratings?
Yes, this plan would cost the USFL's owner (Fox Sports) a lot of extra money.  However, the league would be able to identify which of the eight USFL cities has the most supportive fans, too.
Don't forget that the USFL is going to have some competition in its second year (assuming there is a Year #2).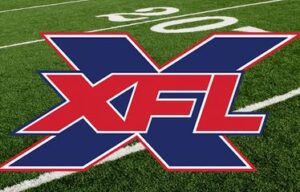 The third incarnation of the XFL will take place next February beginning the week after the NFL's Super Bowl leaves the stage.
The XFL's television package is with the ESPN family of outlets (including ABC).  The XFL will compete for viewers against the NCAA college basketball season and its March Madness tournament, too.
At last report, the XFL is planning to play all of its weekly games in the home cities of each team.  As the XFL should have learned from its own previous attempts at playing a spring football schedule, the cost of playing home games in each city is very expensive.  It is the primary reason why most other spring football leagues have folded.
The new XFL-Version 3 should be concerned by the less-than-impressive television ratings posted by the USFL this spring.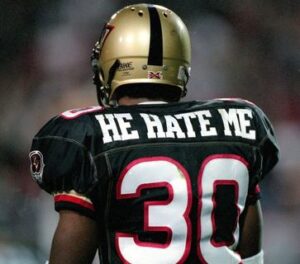 The XFL's history is already questionable.  The XFL has folded operations twice before.  Football fans have every reason to be suspicious of the latest incarnation of the XFL next February.
Meanwhile, the USFL has already signaled that they intend to keep the same April/May/June schedule should they return for Year #2.
There is one big problem, though.  There is no evidence to believe that spring football fans will support two different leagues next season.
I don't think that that USFL's television ratings justify a second year of operations.  Perhaps the USFL (Fox Sports) is hoping to cut a deal with the NFL to make the USFL into the official developmental league.  That would certainly be a very smart idea if they could make it work.
In summary, I say, "Congratulations to the USFL and the hearty fans in Birmingham and Canton, Ohio" for providing an entertaining first year of spring professional football.   It was fun, but it never developed into must-see football TV, either.
Don't be surprised if Fox Sports decides to close its checkbook after the USFL's first season ends this weekend.
A successful business model for a spring professional football league simply does not exist.  It is time to end this charade.  America does not have an untapped sports market willing to line-up and pay for stadium tickets or even watch spring professional football games at home on television.
The USFL's Year #1 has just proven it.  No one could operate a spring football league as professionally and cheaply as they just did.
Professional football has one true season, and it is definitely not during the spring!