Podcast: Play in new window | Download
Subscribe: RSS
This Sunday afternoon at 2PM in the big Pirate Ship in Tampa Bay, the Buccaneers will be led on the field again by their swashbuckling, never-aging seven-time Super Bowl winning quarterback Tom Brady.   At 44 years of age, Brady is the oldest active player in the NFL and still plays well enough to be in the running for this year's NFL MVP award.
Across the field from Brady on Sunday afternoon in Tampa, the second oldest active player in the NFL will suit-up for the Los Angeles Rams.
Former LSU offensive tackle Andrew Whitworth turned 40 in December and is still considered one of the premier offensive linemen in the NFL.  At 6'7" and 330 pounds, Whitworth has suited up and played in over 92% of his career NFL games since coming into the league way back in 2006.
He is also just the fifth offensive lineman to play in an NFL game after turning 40 years of age.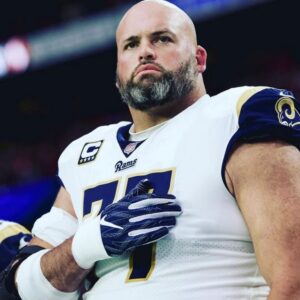 Four years ago, Tom Brady (then in New England) ruined Andrew Whitworth's first chance to win a Super Bowl ring as the Patriots downed Los Angeles 13-3.  That was Tom Brady's sixth Super Bowl championship while in New England.  He would later move to Tampa Bay in 2020 and win his seventh ring as a member of the Buccaneers last season.
These two old warriors will meet once again this Sunday afternoon in Tampa in one of the two NFC semifinal games.
Andrew Whitworth was born in Monroe, Louisiana and played high school sports at one of the state's most fertile football programs in West Monroe.  While in high school, Whitworth's football teams won two state championships.   This big offensive lineman was also nimble enough to be a championship caliber tennis player and an excellent golfer while in high school.
While quarterback Tom Brady was riding the bench during his first few years at the University of Michigan during his college days, Andrew Whitworth was winning a national championship at LSU.   No, he didn't play for LSU's former head coach Ed Orgeron's 2019 15-0 national championship team.  He also wasn't around for the 2007 championship team of former Coach Les Miles.
Sophomore Andrew Whitworth was the starting offensive tackle in all 14 games for the 2003 LSU national champion team coached by none other than Nick Saban.
Just how long ago was that?
Coach Saban would later leave LSU for the NFL, coach two seasons in Miami with the Dolphins, and return to coach college football at Alabama in 2007 where he has won six more national championships.  Andrew Whitworth was in Nick Saban's first recruiting class – when he arrived at LSU.
Twice named to the All-SEC first team as an offensive tackle, Andrew Whitworth was drafted in the second round of the 2006 NFL draft by the Cincinnati Bengals.  Prior to last weekend, it was back in 1990 when the Bengals had last won a playoff game.
Whitworth spent the first eleven years of his professional football career with the Bengals through the 2016 season.   Twice named to the first-team NFL All-Pro team and playing in the annual Pro Bowl game four times while in Cincinnati, Andrew Whitworth's Bengals teammates actually reached the playoffs (and lost in the first game) six different times during his eleven years in southern Ohio.
After the 2016 NFL season, Andrew Whitworth left Cincinnati and moved west to play for the Los Angeles Rams.  His head football coach, Sean McVay, is four years younger than him!   The young coach made it point to recruit the big talented offensive lineman to join the team before his first season on the field as the team's head coach.
"He sure has meant a lot to this organization both on and off the field", McVay said recently.  "I think sometimes you take for granted that he's 40 years old.  If you didn't know with the bald head and stuff like that, I mean he moves around like he's young and he's got great athleticism."
Since arriving with the Rams in the 2017 season, Andrew Whitworth still anchors the offensive line in the very important left tackle position.  Since right handed quarterbacks must turn their back to oncoming rushers attacking from their left side, his ability to provide some extra time for his quarterback is a key factor in the team's passing game success.
Andrew Whitworth likes being a teacher for the younger Rams players, too.  Some of his fellow offensive linemen (mostly in their 20's) were still in grade school when Whitworth started playing NFL football.
Rams offensive lineman Rob Havenstein told reporters, "I've been making the joke, which isn't really a joke, for years now, that he's actually getting younger."
Andrew Whitworth is married to the 2003 Miss Louisiana (Melissa Clark – who went to Louisiana Tech).   Off the field, Whitworth is still a terrific golfer (the big fellow is a 3-handicapper).  His wife said that Andrew is a terrific dancer, and she thinks he would do quite well on TV's "Dancing with the Stars".  The couple also has four children who might like for their Dad to be home more often than he currently is.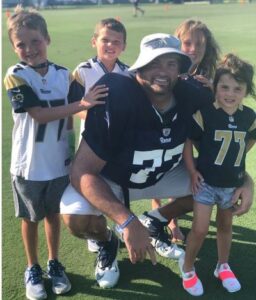 For a short period last season, it looked like the Whitworth kids might get their wish.
Last year in 2020, 39-year old offensive tackle Andrew Whitworth suffered a torn MCL (knee injury) halfway through the season.  Though some players his age might have thrown in the towel and retired, Whitworth missed only seven games.  Being as strong, mentally tough, and blessed with good genetics as he is, Andrew Whitworth recovered quickly and returned to the team just in time for the playoffs.  The Rams would eventually lose to Green Bay in round 2 of the NFL playoffs last year.
Andrew Whitworth wants the Rams to go much further in the playoffs this season.  He is quite focused on winning his first Super Bowl ring this season.
The big lineman voluntarily took a $3 million salary cut with the Rams this year to help the team sign other valuable players.   Whitworth has proven to be the ultimate team player.
He said, "I've been invested in this team and this organization, and it's a lot more than just playing. This place means a lot to me. It's more than just a football team to me."
This Sunday afternoon at Tampa's Raymond James Stadium (home of that big pirate ship in the end zone), the two oldest players in the NFL will do battle one more time.
Louisiana's own Andrew "Gray Beard" Whitworth will get another chance to see if his teammates can finally take down Captain Tom "No Beard" Brady's Tampa Bay Buccaneers and advance in to the NFC Championship game next week.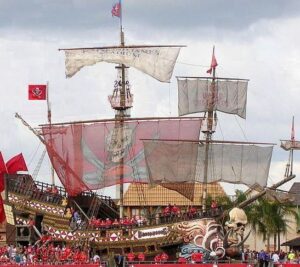 Yo Ho!   The loser will get to walk the plank!