Podcast: Play in new window | Download
Subscribe: RSS
On Saturday, ESPN's popular Saturday morning college football kick-off program ended with Lee "Not So Fast!" Corso donning the wrong head gear again.  He picked UCLA to beat the Oregon Ducks.  Oregon held-off a late charge from UCLA to win the game 34-31.
After the pre-game show, ESPN's 11AM football game was 7-0 Oklahoma at 1-5 Kansas.  The Jayhawks were a huge 38-point home field underdog as Kansas has not defeated a Top 25 football opponent in over 11 years.  Heck, they haven't beaten a FBS (large division) school in nearly two seasons.  Oklahoma hasn't lost to Kansas in 24 years (1997).
I opined to my lovely wife "Why would ESPN choose to show this game?  This is probably going to be a disaster."
For the first three quarters of the game, it was.  If you were rooting for Oklahoma, that is.
Early in the first quarter, the electricity went out at the stadium and across the University of Kansas campus.  ESPN apparently had back-up generators.  On the field, the referees conferred and decided they would keep the time and score themselves.  It was 11AM with there was plenty of light, so on with the game!
Kansas took the ball in the first quarter and cleverly dissected the overrated Oklahoma defense with impressive short passes and bruising runs up the middle.  Kansas matriculated down the field to grab an early 7-0 lead.  OK, I'm hooked on this game now!
By halftime, the power had returned as the Jayhawks were nesting on a 10-0 lead over the unbeaten Sooners.  OU fans (who comprised half of the crowd at Kansas – with plenty of unsold seats remaining) were looking as dazed and unsettled as your office mates on a Monday morning when you declare that there is only packet of coffee left – and it's decaf.  Nooooo!
Oklahoma apparently upzipped some packets of 2-hour Energy at halftime and played like it.  Though Kansas nursed a 17-7 lead late in the third quarter, the momentum had started to swing.
With OU finally taking a 21-17 lead in the fourth quarter, I saw one of the strangest fourth down plays I can remember.  Near midfield and facing a fourth down and two situation, Oklahoma took an unnecessary chance and opted to run the ball.  The running back was stuffed short of the first down marker when OU's quarterback, Caleb Williams, literally grabbed the ball away from his teammate.  Shockingly to the Kansas defense and anyone watching in the stands or on television, the OU quarterback slithered his way ahead for about five yards and the game clinching first down.
Oklahoma won the game 35-23 on one of their typical (sorry, OU fans, but you know I'm right)  "Let's run up the score for style points" touchdown in the final minute to make the final score look better on paper for any Associated Press college football voters who don't do their homework on Saturday.
Since Oklahoma has been the SwampSwami.com College Football Top 25 kingpin for two consecutive weeks, I will allow them to remain #1 again this week, because I must remain objective.  However, OU fans should remember the old saying, "Karma is a *itch" when they lose a future game at a most inopportune time.
For the University of Kansas football fans, the game represented a true coming-of-age moment for their new head coach, Lance Leipold.  KU did its homework before the game, exploited OU's weaknesses, controlled the clock, and played one heck of a football game.  Kansas football is finally looking up!
There are just nine unbeaten teams remaining atop this week's SwampSwami.com College Football Top 25 rankings.  Though Oklahoma State and Coastal Carolina both lost their first games last week by three points each, the Cowboys dropped to #12 in my poll and Coastal Carolina fell to #20.
We needed to "draft" a few two-loss teams this week as there are now just 23 teams who remain unbeaten or with one loss in 2021.  Since I give priority to teams who have defeated the "best" opponents, this week's #24 spot is filled by 5-2 Texas A&M (who upset 7-1 Alabama a few weeks ago).
I have declared a "tie" for the #25 spot this week.  Since 5-2 Iowa State gave Okie State their first loss by three points and 5-2 Appalachian State likewise took down unbeaten Coastal Carolina by three points, your benevolent SwampSwami sees that both teams are worthy (for now) of appearing in my weekly poll.
Speaking of polls, it's time to reveal the SwampSwami.com Bottom Ten (plus one) Worst College Football Teams in America according to my rankings.
All eleven of these teams have either (a) not won a game this year or (b) their only win came over a smaller division FCS team.  I do not attempt to evaluate how all of the FCS teams should be ranked compared to the 130-team BCS group.
So, how should the bottom tier of teams be evaluated?  I take a look at the quality of the teams which have beaten them.  Teams which have been vanquished by an unbeaten foe are considered more favorably than teams whose "best loss" came against a one, two, or three loss foe.
There are two teams remaining with no wins whatsoever.  #129 in my rankings is UNLV of the Mountain West.  The Rebels are 0-7 with their best loss coming at the hands of 8-0 UTSA.
At #130 – representing the worst team in this week's rankings – are the Arizona Wildcats of the Pac-12.  At 0-7, the team with the best record to have beaten them in 2021 is 6-2 BYU.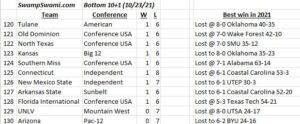 Now for the top 25 teams for college football through Week #8.
*As my weekly reminder, I consider those college football teams who were (a) ranked in the final 2020 AP poll and (b) have not lost a game in 2021 to receive a priority over any other unbeaten teams moving up this year.
A new feature this week is that I will display the AP's Top 25 to the right side of my list so that you may compare.  For the record, the AP's #18 team (5-2 Auburn) is my #33 team.  AP#20 Penn State is #30 in my rankings and AP#25 BYU comes in at #28 in my poll .
Let's unveil this week's SwampSwami.com College Football Top 25 (plus one) rankings for the week ending Saturday, October 23, 2021: