Podcast: Play in new window | Download
Subscribe: RSS
While watching the final nine holes of the Women's US Open at the famed Olympic Club in San Francisco on Sunday, I had this funny feeling as if I had seen this happen at some time before.
It appeared that 26-year old American professional golfer Lexi Thompson had broken away from the pack with just nine holes to go.  At eight under par for the tournament, she led by a whopping five shots as her closest challengers struggled to keep pace on the front nine.  Starting her final nine holes, Lexi smiled after booming a 300-yard drive right down the middle of the fairway on #10 to start what appeared to be a victory march to claim her second women's major championship.
Lexi Thompson would try to keep the proverbial "pedal to the metal" as her prodigious drives were finding the fairways while her playing partners struggled in the Olympic Club's exceptionally deep and gnarly rough hole after hole. After missing a relatively short birdie putt on the tenth hole, Thompson led by five with just eight holes to go.
Then, I remembered.  Didn't Arnold Palmer lead a US Open at this same place years ago and blow a big lead on the final nine holes?
Indeed!
The year was 1966 when Arnold Palmer led playing partner Billy Casper by seven shots with just nine holes to go. Arnie's drives would find that evil rough at Olympic Club several times on the final nine holes as he dropped shot after shot. Meanwhile, "Buffalo" Billy Casper's game steadied down the stretch.
Neither Arnie nor his Army of fans (on the course or watching on television) could believe this was happening to him. With every passing hole, Palmer was handing another shot or two to his playing partner, Billy Casper. On the 18th hole that Sunday, Arnold Palmer had to sink a difficult downhill four foot putt just to get into a playoff with Casper the next day.
"Biggest putt I've ever made," he would later say.
Palmer would lose that Monday playoff with Billy Casper, and he never won another major golf tournament in his sparkling career. He never got over that loss at the Olympic Club in 1966.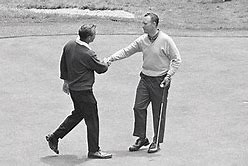 Lexi Thompson wasn't even born until 1995. Though Lexi probably knew who Arnold Palmer was and perhaps had even met him before his death in 2016, she likely had no idea of what final nine tragedy had befallen one of American golf's biggest stars at Olympic Club back in 1966.
The six-foot tall Thompson is a trailblazer in women's golf. She was good enough by age 12 to qualify to play in the women's US Open. She did so well as an amateur golfer that the home-schooled golf prodigy asked to turn professional at the age of 15. Lexi became the youngest winner on the LPGA Tour as she claimed her first win at age 16 and then won her first (and only) major championship in 2014 at age 19. Best known as being one of the longest drivers in women's golf, Lexi Thompson hammers the golf ball nearly 280 yards on her average drive.
Now in her middle 20's, Lexi Thompson has remained a regular winner with ten wins on the LPGA Tour. She is also one of the dwindling number of American golfers on the women's tour who are able to successfully compete against an increasing contingent of excellent golfers arriving from the Asian continent every season.
Lexi Thompson's winning smile and lengthy drives has helped her to become a crowd favorite around the world.  The one glaring weakness in her golf game is putting – especially under pressure.  In 2021, Thompson ranks a mediocre #76 in putting on the LPGA Tour, but that is a significant improvement from being ranked #114 in putting in 2020 and #135 back in 2019.  On average, she needs more than two putts per round more than the top players on the women's tour. 
That adds up, especially in major championships.
Much like Phil Mickelson on the men's tour (who has six runner-up finishes in the US Open), Lexi has struggled to capture her elusive first women's US Open trophy. Coming into last weekend's event, golf fans at the Olympic Club in San Francisco were pulling for Thompson after she finished in the top five in two of the past three US Opens.
With a five shot lead and just eight holes to go on Sunday, Lexi Thompson's driver started to find the heavy rough at Olympic Club. From the rough, she would drop several shots over the final holes as her playing competitors were moving back up.
As Thompson's lead dwindled down the stretch, there were two par-5 holes where she might be able to utilize her length off the tee and rally for a win. Unfortunately, the drives found the rough and her putting betrayed her once again.
On the final hole, Lexi Thompson's five shot lead had evaporated as she had dropped into a three-way tie for the lead at four under par. Taking an iron off the 18th tee, Thompson finally found a fairway and was just 130 yards from the green. Unfortunately, her approach shot fell short in a sand trap in front of the final green.
After putting her sand shot about 20 feet past the hole, she faced that same horrible feeling that Arnold Palmer faced back in 1966. They had both blown huge leads over the final nine holes at the Olympic Club and had to make a tough downhill putt to force a playoff.
Lexi Thompson's putt came up short, and she was left out of the two-hole playoff between Japan's Nasa Hataoka and Yuka Sasa of the Philippines. Sasa would win the championship and take home a record first prize of $1 million.
Though she was devastated after the loss, Lexi Thompson was gracious enough to offer up a few comments to the press.
"I really didn't feel like I hit any bad golf shots. That's what this golf course can do to you." She added, "I'll take today and I'll learn from it and have a lot more weeks ahead, a lot more years."
Arnold Palmer was 36 years old when he lost a big lead in the men's US Open. At a very mature 26 years of age, I think Lexi Thompson will work hard to improve on the weaknesses in her game and become a much tougher golfer to beat under pressure in the years to come.